Maruti Baleno Crashes Into Volvo SUV – Volvo suffers zero to nill damages while Maruti crumbles up – Occupants safe, impact absorbed, but at a cost of totalled car
With the increase in number of vehicles on road in India, the accident rate also has been increased. Now as many buyers are opting for safer cars with superior build quality and latest safety kits, the number of deaths has been decreased. But accident due to high speed, rash driving, negligence towards road safety rules hasn't been decreased.
Here in these pictures we can see that a Maruti Suzuki Baleno has rammed into a Volvo head on the roads of Kerala. The front end of the Baleno seems to be completely destroyed and with a closer look we can also see that the front dual airbags have been deployed. Looking at the position of the Baleno on the road it can been assumed that the driver was trying to overtake on single lane road. Most of the damage is towards to the passenger side but almost the whole front end has been destroyed with the bonnet just crumpled up. The front end seems to have absorbed all the stress and no amount of damage is seen towards the cabin of this hatchback.
On the other hand, from the pictures it can be clearly seen that the Baleno has banged into the rear right hand side of the bumper of the SUV. The Volvo seems to have some minimum damages thanks to the superior build quality from the Swedish manufacturer. The Volvo just got some scratches on the bumper along with some small dents on the right hand side and only the black trim near the boot has been damaged. As the collision was at the rear the damages to the Volvo is also less.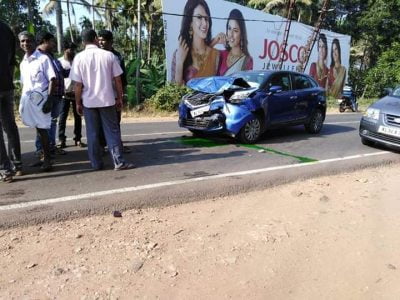 Although our modern cars in the Indian market have now become safer thanks to the safety norms now getting strict. It is advisable to always drive safe and always follow all traffic rules. Its just people like you and me that can help make a difference and make our roads much safer for each and everyone.