Maserati Ghibli Nerissim Edition is a rich superhero friendly car that should be your new wallpaper
Maserati has chosen the background of New York City to unveil a new special Ghibli model, it is called the Nerissimo Edition. Limited edition model of which only 450 will be produced. The debut of the Ghibli Nerissimo will showcase an edgier vehicle with a deep black palette that Maserati has used. The name Nerissimo is based on the Italian expression for "extremely black."
The Nerissimo will be available as Ghibli, Ghibli S and Ghibli S Q4. Maserati Ghibli Nerissim Edition will include Glossy Black finish 20-inch Urano wheels, black door handles, black window trim and black grille features. The Ghibli series wioll come with a black extended leather interior featuring red stitching and gear-shift paddles, INOX sport pedals, red brake calipers, Dark Mirror interior trim, Sport Seats and a Sport Steering wheel.
Maserati Ghibli Nerissim Edition will also feature standard blind spot assist, front and rear parking sensors and remote start. Meanwhile the Ghibli S and S Q4 versions of the Nerissimo will additionally be equipped with Harman Kardon stereo systems. Each Nerissimo vehicle will have a badge located on the center console highlighting the fact that it is one of only 450 total produced. For 2017 the Maserati Ghibli Maserati introduces two new packages, Luxury and Sport. Something that will help` enhancing the standard features of every Maserati. The packages are designed to appeal to customers with differing tastes, making it bespoke.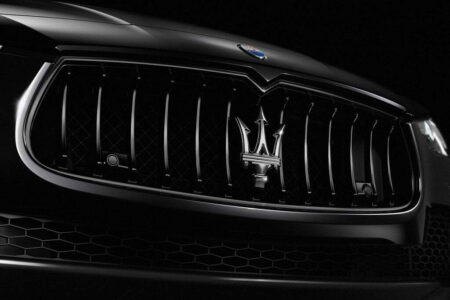 Maserati Ghibli Nerissim Edition will continue with Ferrari-built, Twin Turbo-charged 3.0-liter V6 engine with an 8-speed ZF automatic transmission mated to it which will also be featuring a Start & Stop function. The Ghibli S Q4 Nerissimo in specific has 404 horsepower with Q4 intelligent all-wheel drive which helps it accelerates from 0-100 km/hr in 4.8 seconds and reaches a top speed of 280 km/hr.
Additional new and varied offerings on display as always includes the first SUV, the Levante, one of which features the exclusive Ermenegildo Zegna Edition interior. Maserati also had the Quattroporte S Q4 GranSport and GranTurismo Sport Special Edition on display. However, we are sure Ghibli Nerissim Edition stole the show despite its black but it bought light in couple of hearts, including ours!
Read this too: Maserati Ermenegildo Zegna Edition – read here about it