As enthusiast we always keep demanding performance cars from manufacturers. Mercedes heard and made AMG cars. They bought in India as well. Little did they knew that just like performance cars, AMG cars would be a success as well. The manufacturer then downsized the AMG cars to a certain degree and kept the character alive gave us six-cylinder AMG cars. V8 as you know, is the cornerstone of AMG cars around the world. V12 were there for some time of the history, but they continue to fade away from normal cars. Most AMG cars now are six, eight and even four-cylinder units. AMG promises, the fun is always there. So we decided to try the V6 to begin with. The C43 was great and GLC 43 was also sent to us for test and we thought SUV with a same drive-train should be interesting in our conditions. How did it end up being? Let's find out!
The Coupe exterior is the highlight of the SUV. The flush fitting LED tail and headlamps with a diamond grille with a single slat grille and subtle use of chrome all around which includes the stepping board with rubberised grippers on top of them add to practicality and aesthetics.
The rear profile is a hit or a miss as the smoothened out lines, specially post the C-Pillar is something we think will take time getting used to. The lines are surprisingly in conjunction with the Mercedes design language and most elements such as tail-lamp, bumpers, diamond-cut-ish wheels and spoiler along with performance exhaust tips and faux diffuser help it stand out but not a pretty sight.
All black interior is the theme on the inside with red stitching. Needless to say, quality and finish is top-notch inside the cabin. The dashboard continues from the C-class which we personally are not big fans of as it cuts of abruptly on the passenger side. Infotainment system has all the options and can be controlled via the dialer below along with the touch pad which has button and can be used to scribble words as well. There are dedicated buttons for all functionalities as well. The A/C controls have typical aircraft style buttons that make the cabin look special.
The theme also can be seen in air-vents which are very turbine-like. Feature list includes all connectivity options, ambient lighting, sunroof, steering mounted controls, paddle shifters, front and rear parking sensors, reversings camera, automatic IRVM and oRVM with heating function, automatic wipers and headlights, two zone climate control, and a great Burmester sound system is on offer. GLC does offer good space in the back but the headroom is tight and boot space is taken away with the spare wheel.
Thrust comes from a bi-turbo V6 motor making 367 BHP of power and 520 Nm of torque. With those numbers coming from a decently high revving petrol motor, things already look spicy on paper and it is. The 0-100 km/hr under 5 seconds is very fast and it does 250 km/hr in no time given roads conditions. It could redline higher but then we all know turbo's are not about that anymore. Sprinting is quite good thanks to 4-matic AWD on offer. It still isn't Nissan GTR style AWD launch.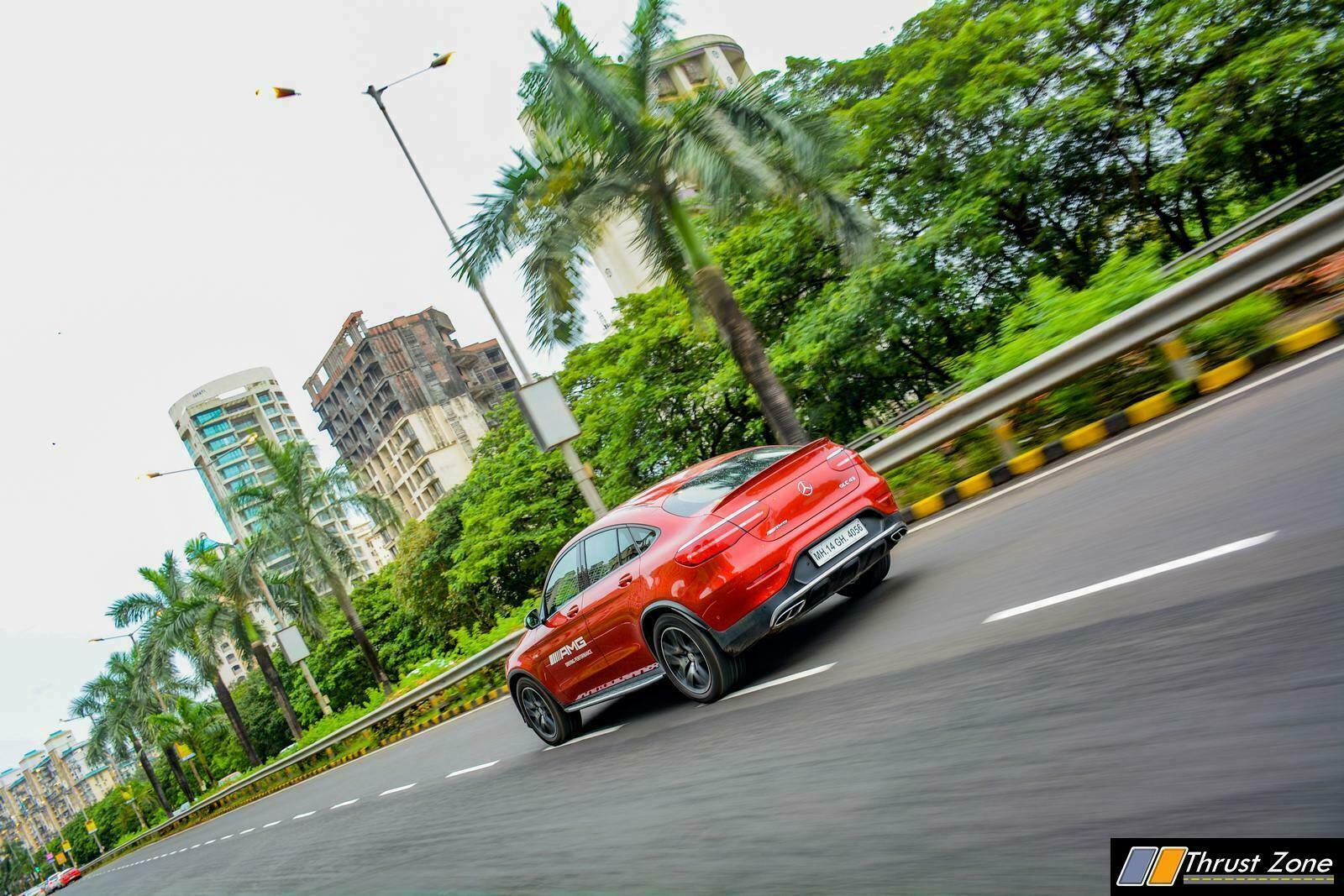 The AMG noise does exists in a slightly muted way over the V8 in comparison. The rumble of the flat-crank isn't there but it is snarly, sonorous and loud enough to wake up everyone and when you overtake someone, it will fill their normal hatchback with a quite lot of extra noise than usual. The gearbox is the 9-speed and we don't like its clunky nature in sport mode or in normal mode.
This car behaves 'normally' in ECO mode where everything is dialled down, including the gearbox so you can cruise in town in peace. Even hitting comfort is witnessing the shifting RPM getting higher and in sport mode all hell breaks lose and it shifts even higher. The shifts are smooth its just AMG's tune is a bit to aggressive and even normal mode is a bit to extreme. Pedal to medal can bring fuel economy numbers to as low as 5 km/l. In normal driving you can expect it to deliver 8-9 km/l.
Dynamically, body roll is well controlled, there is a lot of grip from the 4-matic AWD. Going fast over all types of surfaces is possible and without the fear of digging yourself into something is always reassuring. Brakes and tyres were good, but our test car was a bit weak in this area as if they just came from a track day usage. Steering feedback is good, it is precise to all inputs but it doesn't get heavy as you expect on the highway.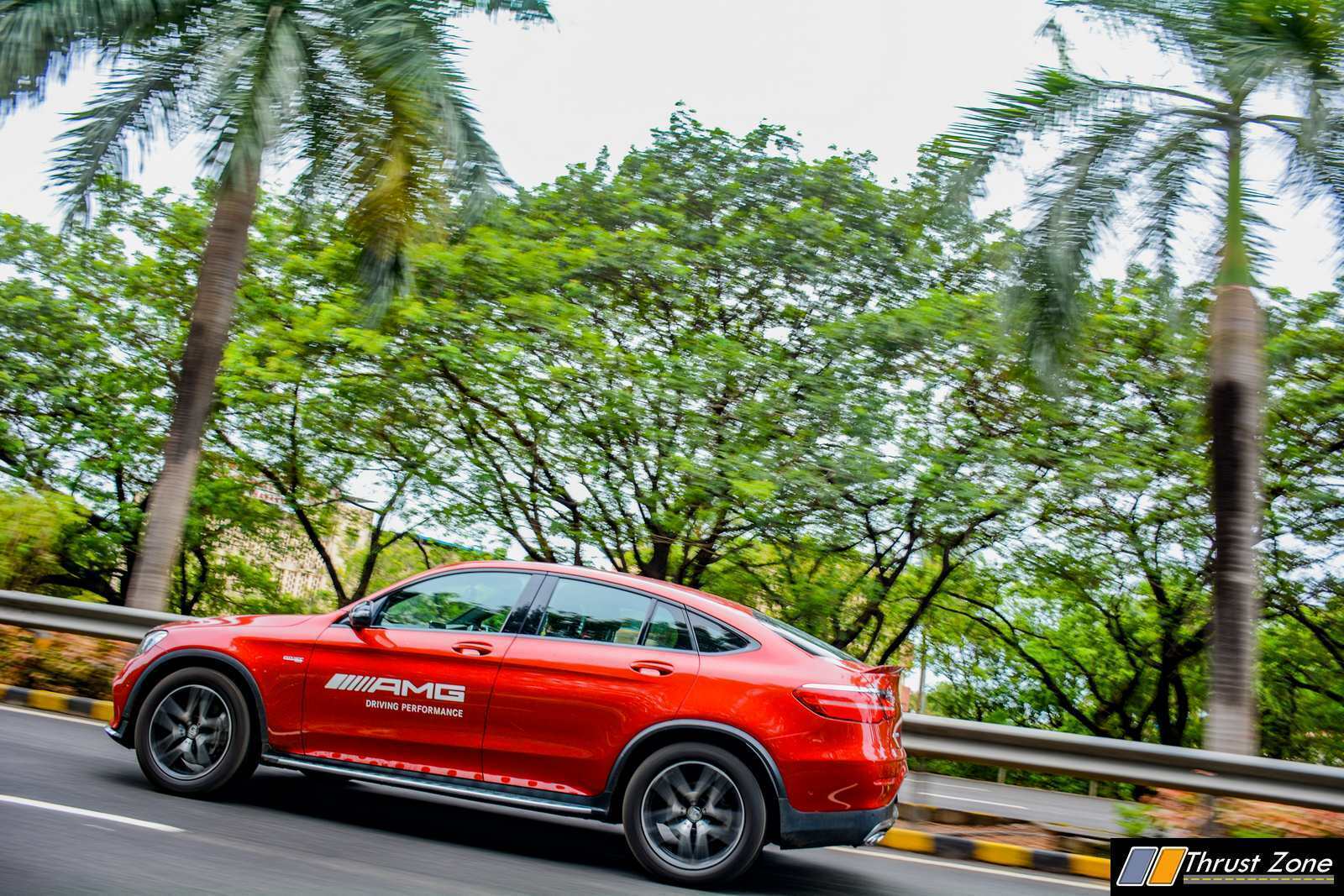 Everything feels artificial in the steering part when it comes to high speeds. however, it is still confidence inspiring to not feel hairy. The SUV does feel agile in the corners to a certain extent and is nimble too in the city make it a good daily driver if you wanted to as you could go over bumps normally, instead of super carefully like you would do in the C43. Practicality is the highlight here and the ground clearance is clearly a big boon in this area.
Mercedes GLC 43 AMG India Review, Verdict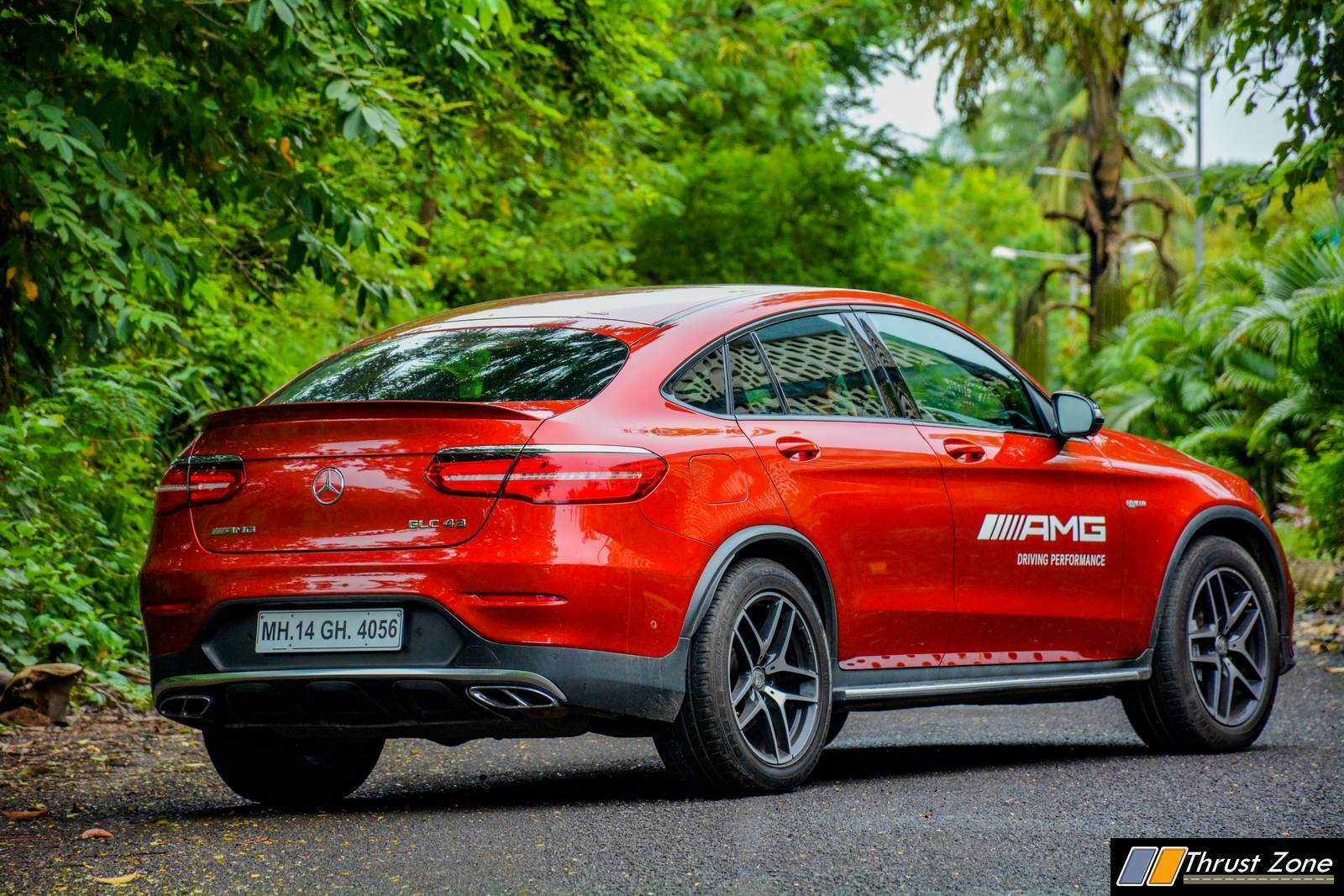 No wonder the GLC 43 and GLE 43 AMG are great on the sales chart. They are also widely seen AMG cars in the country as they fit the bill just right before you go to the big bad AMG's. The GLC 43 AMG is priced right as well at RS. 78.00 lakhs ex-showroom. The GLC 43 AMG is practical enough but it could offer more practicality when it comes cargo and interior space by a certain margin. Nevertheless, this is the car to drive and not driven in. The extra ground clearance over the C43 (which was also not a big issue) certainly does make life easier to live with this GLC 43 AMG. We would pick it just for this reason and of course it's an AMG after all.
GLC 43 AMG India Review
Design

Interior

Space

Features

Performance

Dynamics

Practicality

Value

Safety