Mercedes‑Maybach, the luxury legend that keeps reinventing itself, is embarking on the next chapter of its historic journey with the Maybach Atelier. In keeping with the brand's sophisticated yet progressive design, the Ateliers will offer: salons privés for more private conversations and meetings in an exclusive setting, physical and digital art programmes, 3D haptic configuration and a new concept for digital installations. And of course, you will be able to purchase a car, expertly guided by Maybach consultants.
On October 21, 2022, the world's first Maybach Atelier opened in Shanghai – a city bursting with creativity and inspiration – in the heart of the metropolis, located at No. 558 at the Bund Finance Center. The exclusive opening event was themed 'Heritage with Innovation'. Investors, artists and high-end customers were invited to experience the brand's core elements in connection with contemporary Chinese 'rites' such as the Arts, music and culture.
An Art Exhibition, which opened officially at the Shanghai Fosun Art Center, was curated to express the Mercedes‑Maybach brand and MANUFAKTUR label – to unite creators and connaisseurs in redefining the boundaries of culture. The Exhibition saw Maybach collaborate with three Chinese artists on individual installations that spanned the mediums of paper cutouts, ink graffiti and immersive digital. Three highlight cars were presented over the course of the event, they were: the Project MAYBACH show car, Mercedes‑Maybach S 680 by Virgil Abloh (WLTP combined fuel consumption: 14.3‑13.4 l/100 km | combined CO₂ emissions: 326‑304 g/km)[1], and a Mercedes‑Maybach S 680 MANUFAKTUR (WLTP combined fuel consumption: 14.3‑13.4 l/100 km | combined CO₂ emissions: 326‑304 g/km)1. Equipped with the Dolby Atmos® and the Burmester® high-end 4D Surround Sound System, the Maybach by Virgil Abloh provided guests the ultimate in-car audio experience. The MANUFAKTUR model showcased an even more individualized experience to meet customers' needs at the top end of the Mercedes‑Benz portfolio.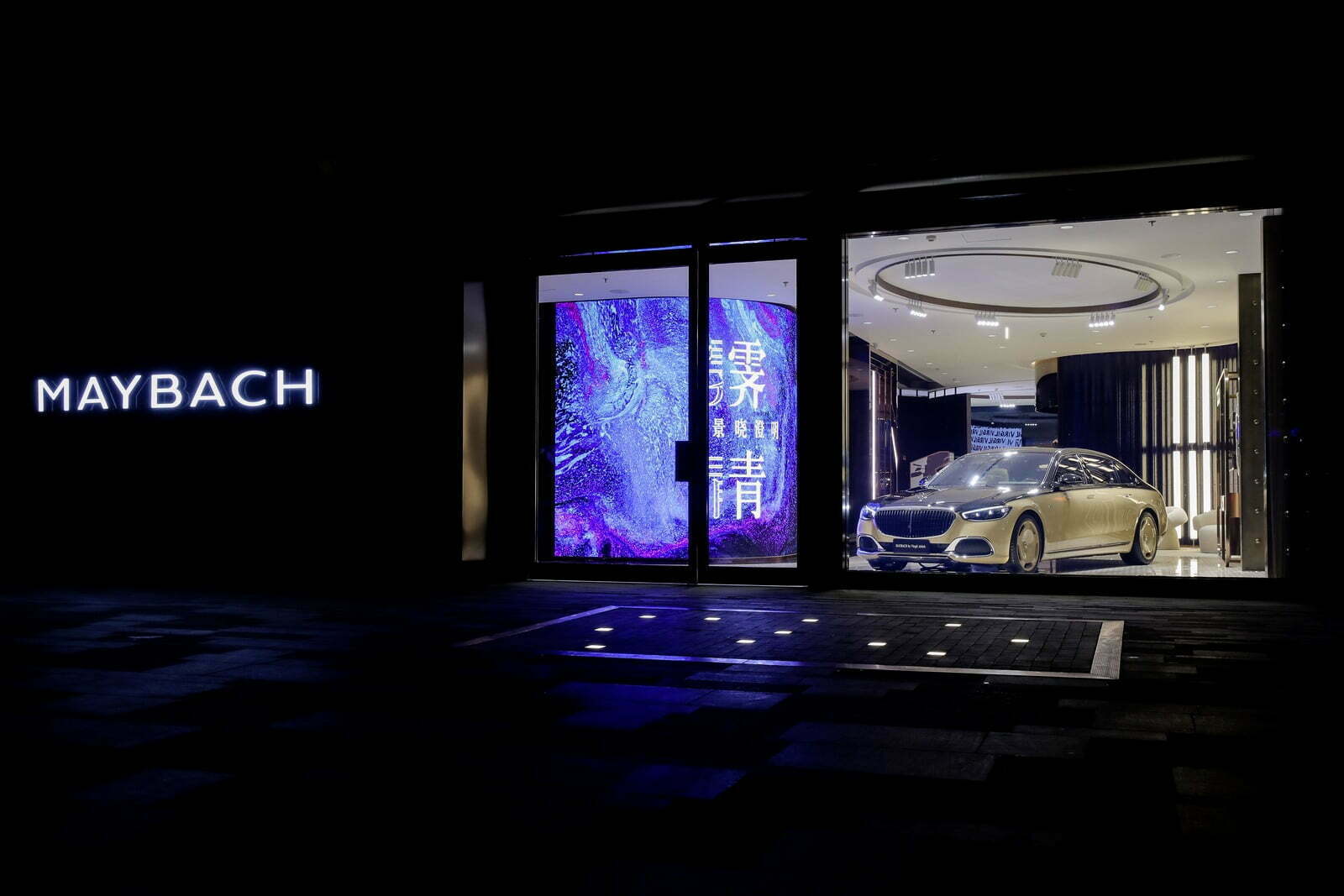 The Shanghai Atelier is merely the beginning, as more Maybach Ateliers and other brand dedicated retail formats will open around the world over the coming years through to 2030. In tandem with the Atelier launches, sales channels and concepts will evolve to embody the true personality of Mercedes‑Maybach and create further awareness for the brand within the Mercedes‑Benz portfolio.
At its heart, Mercedes‑Maybach stands for state-of-the-art technology, exquisite craftsmanship and discerning luxury – driven by its aspiration of creating the 'best of the best'. The brand has ever since inspired royalty, world leaders, luminaries and connoisseurs alike. Now, through Maybach Atelier, there is a dedicated space to demonstrate how Mercedes-Maybach continues to create new experiences by combining tradition with visionary concepts for the requirements of the future.