Mercedes X-Class Pick-Up Truck is a luxurious take for an everyday pickup driver who loves performance and demands luxury
The Daimler owned company Mercedes-Benz has finally introduced the X-Class premium pick-up truck last night in Cape Town, South Africa. The new X-Class is based on the Nissan Navara. The X-Class is the first ever pick-up truck that the German car manufacturer has launched and combines both power as well as luxury which will help to raise the standards of pickup segment.
Mercedes has tried making the exterior look good and practical too at the same time. Being a pickup the tailgate opens 90 degrees and if that's not quite enough the rear bumper can be deleted, increasing the opening angle to 180 degrees.
Talking about the styling the Mercedes-Benz pickup has SUV design which is quite typical of the brand with twin-louvre and a three pointed star grille at the front. The X-Class units exemplary characteristics of a utility vehicle like functionality, strength and off-road capabilities while carrying the very well-known strengths of Mercedes-Benz design, driving dynamics, comfort and safety.
The interior carries the typical Mercedes-Benz look. The pickup comes in nine colors and three wheel options 17,18 and 19 inches. The cargo area comes standard with lighting, and a light underneath the center brake light illuminates the entire bed. The bed is quite wide enough to fit a Euro-spec pallet flat in between the wheels with a 12 volt charging outlet.
The Mercedes X-Class, which was introduced as a concept last year, will be available in Germany by November 2017 and other European countries this year, followed by America and South Africa in the beginning of 2018. By early 2019, the truck will head to Argentina and Brazil.
Mercedes X-Class will be available in three trim levels to the buyers Pure, Progressive and Power, which are designed to suit different lifestyles. The X-Class comes with variety of option with four engines, two transmissions, and three types of driving systems.
There are two 2.3-litre inline four diesel engines: a single turbo engine creating 164 bhp and a bi-turbo engine churning 190 bhp. It also reports that Mercedes-Benz will offer a range topping 258 horsepower V6 diesel engine. Transmission duties are carried out by three transmissions for different trims, a 6-speed manual and two 7-speed automatic transmissions.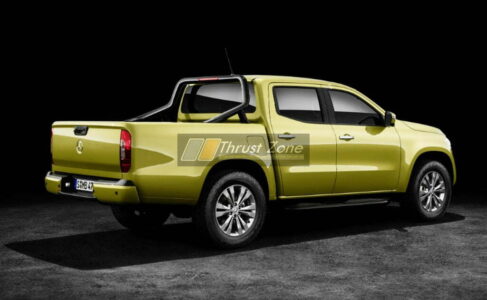 The X-Class comes in rear wheel drive, selectable or permanent four-wheel drive. The X-Class pickup is available with safety feature like lane-keep assist, active emergency braking, traffic sign recognition and 360 degree camera. The pickup is after all a Mercedes-Benz product. Mercedes has already started taking several reservations for the X-Class in the UK, despite being no official conformation on pricing yet.