We have a few favorite cars from the recent launches in the last three years and one of them is the Skoda Kodiaq. Quite clearly, all Skoda products have appealed as much as to their customers as they have to us. We get to experience them from time to time, while people who can buy it, enjoy prolonged driving pleasure.
Kodiaq has been tested by us earlier in detail and this time we have the L&K version that has come for test and it has a few tweaks to make more appealing to the premium audience. As you know, L&K variant is the top of the line variant that gets more goodies all around, which is inside-out that should appeal to its prospective buyers. We spent some time with it to tell you the details about this 7-seater Skoda SUV that has changed the way yet again people look at the Skoda brand.
On the outside, the Laurin & Klement badge can be seen on front fender of the SUV. There is chrome in lower section of the SUV such as the bumper and diffuser to make it stand out. The rest of the SUV continues to be the as it is has enough presence despite being a bit shorter in height than other SUV's, but it is long and wide to have a great stance on the road with its 18-inch wheels and bright paint job.
Inside you get the logo of Laurin & Klement on the seat, above the infotainment screen and a Laurin & Klement aluminum scuff plates are on offer as well. The rest of the car continues to be spacious in all three rows with headrest acting neck-rests as well. Interior is bright beige which makes it premium and glass area is huge with a large sunroof.
The L&K technology highlight is the virtual cockpit which can show multiple layout of the instrument cluster which display everything you, as a driver would need and not even go over to the main middle screen. Rest of the feature list continues to be the same including a 8-inch touch screen which is great and has Apple Car play, android auto, 10 speaker Canton system and all connectivity options you need including navigation.
Driving the SUV remains the same as before. All wheel drive with a 7-speed DSG gearbox that is mated to the 2.0 litre diesel motor that makes 150 PS of power and 350 Nm of torque. As always, it is lugging almost 2 tonnes of weight so performance is just above adequate, not plenty. You can cruise at 120-140 km/hr all day and enjoy torque in the lower part of the rev range for good driveability. Engine is smooth, rev happy and refinement as always is also top notch. All though, not entirely creamy as smooth as before diesel gate but still good enough. All of these attributes has made the 2.0 litre TDi motor from VW group the best and infact the benchmark in the business.
Gearbox has been smooth and this is the refined and more reliable version of the older DSG sold in India which has been fuss free since day one of its launch, so VW group has proven that it can deliver reliable DSG's now as well. Getting 11-13 km/l is quite easy with the Kodiaq. Driving it in ECO mode can deliver more and sport mode can give you more performance and response.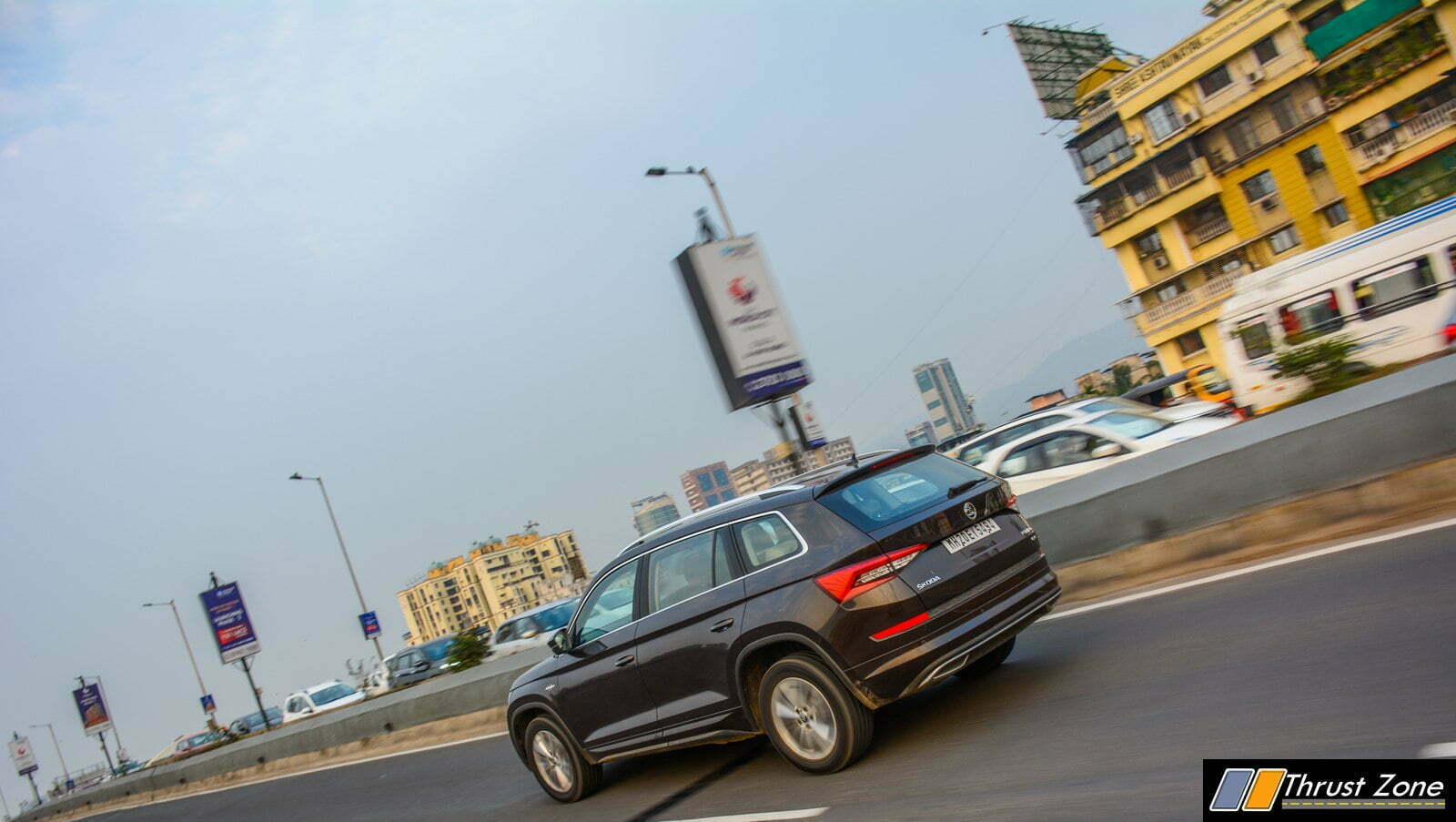 Dynamically, the Kodiaq is also very impressive which makes it quite likeable. It is one of the best riding Skoda cars and infact, the VW groups car sold in India. A hint of sportiness and yet good ride quality that makes it stand out thanks to proper suspension travel and wheel/tyre size choice. Steering feedback is good and weighs well on the highway. Stability is good and so is braking thanks all wheel disc brakes backed with all electronics aids such as ABS, EBD and traction control.
New Skoda Kodiaq L&K Diesel Review, Verdict
Clearly, the Kodiaq is the best product Skoda has brought into the market after the acclaimed Superb and Octavia. With petrol motors coming in shortly along with more variants planned for all its best selling cars, Skoda is going to set a benchmark when it comes to offering everything. Three key things in that list include Value, luxury and practicality with a hint of sportiness which keeps both sides of consumers happy, which include the enthusiasts.
While there are more burly SUV's out there that challenge the Kodiaq, it remains unphased is because there is a niche for something which is big, but not in your face and suits the enthusiasts need who love driving on the road and not off it all the time. The Skoda Kodiaq remains the top choice in the monocoque SUV for its practicality and just because it has a simply clever approach in this complicated world.
To know more details of the car check the review earlier and the L&K launch report seen below.
2019 ŠKODA KODIAQ LAURIN & KLEMENT Launched in India – Know Details