Ashish Raorane, India's top privateer rally raid racer, is all set to participate in the Africa Eco Race 2020. The AER, which began in 2010, is a rally that follows the route of the original Dakar race from Monaco to Dakar, Senegal, traversing over 6500km over a period of 14 days. Ashish will be the first Indian to participate in the rally.
This is Ashish's first international rally raid event since he finished 12th in the FIM Baja series previously, in July 2019. He will be riding his steed of choice — a KTM 450 EXC in the navigation-based rally. Coming straight out of a brief hospitalisation due to illness, he has his work cut out for him. "With the worst possible timing, I contracted Dengue in Mumbai while prepping for my departure. I've recovered just in time for the rally, and I hope to pace myself for the long haul. The goal is to finish," said Ashish.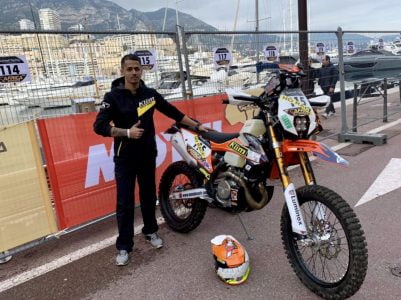 The Africa Eco race series began in 2010 as an answer to the cancellation of the 2008 Dakar rally. It puts emphasis on individual awareness and ecological responsibility. The organisation aims to leave minimal impact from the race, and takes steps to reuse, renew and give back to the communities the race touches. Bivouacs tend to be far from cities and airports, and participants typically find themselves in the middle of the desert. For 2020, the race traverses 3 countries through 12 stages over a period of 14 days.
About Ashish Raorane (If you didn't know already)
Ashish Raorane is a professional rally raid motorcycle racer, and the only Indian to campaign at international series as a privateer. A marine engineer by profession, Ashish spends his time on land training and racing his KTM 350 and 450 motorcycles. Ashish is the first Indian to complete the FIM Baja World Championship series, placing 12th, and the first Indian to participate in the Africa Eco Race. His campaign is currently supported by international brands including Luminox, Klim, Leatt and EBC brakes as well as home-grown motorsport patrons including Big Bad Bikes, Lazy Ass Bikers' Store, Motousher and Slipstream Performance.