2020 Hyundai i20 has been launched, a bit expensive on the top end but variants have been smartly aligned
The 2020 Hyundai i20 is the archetypal representation of Hyundai's Global Design Language of Sensuous Sportiness. Through an amalgamation of Edgy and Sharp character lines & an exceedingly sleek silhouette. The façade of the 2020 Hyundai i20i20 is defined by the Parametric Jewel Pattern Grille,LED Projector Headlamps and LED DRLs creating a premium and flamboyant appeal, while best-in-segment Projector Fog Lamps with Air Curtains providing enhanced safety and Aerodynamics. The all-new i20's wide and prominent stance is further accentuated by robust and captivating hood character lines, giving it a definitive presence.
The all-new i20's gets a Dynamic Side Profile with sharp-looking R16 Diamond Cut Alloys and Flyback Chrome Beltline Design adding to the hatchback's unique charm. The striking silhouette of the all-new i20 is augmented by best-in-segment features such as Shark Fin Antenna, giving the car a sleek look. A Side Sill Garnish with i20 Logo adds a quotient of style to the dynamic side profile. Further, Hyundai has added the i20 Logo in the headlamps and tail lamps, adding to the distinguished identity of the all-new i20. The distinct looks of the all-new i20 are enhanced by Z-Shaped LED Tail Lamps with Connecting Chrome garnish, adding an elegant and modern touch to the rear.
The 2020 Hyundai i20 is offered with a Unique Centre Fascia Design, an optically linked 26.03 cm HD Infotainment & Navigation System and Digital Cluster with TFT Multi Information Display (MID). Further, Leather Steering with Satin Chrome Finish presents a smart and futuristic feel to the cabin. The all-new i20 is equipped with segment leading functions and features, ensuring a rich & aspirational experience for
customers.
• Soothing Blue Ambient Lighting
• Leather Seat Upholster (Best-in-Segment)
• Electric Sunroof
• Oxyboost Air Purifier with Air Quality Indicator (1st in Segment)
• Wireless Charger with Cooling Pad (1st in Segment)
Creating an evocative and luxurious cabin space, Hyundai is offering Best-in-Segment Leather Upholstery and Electric Sunroof. The following features contribute to the all-new i20's impressive cabin experience:
• Sliding Front Armrest(Best-in-Segment)
• Rear Seat Armrest
• Tilt & Telescopic Steering
The all-new i20 offers a spacious cabin with generous luggage room. Further, it presents an ultimate comfort experience, offering well-bolstered seats, Sliding Front Armrest. Rear seat comfort has been maximised with the all-new i20 now offering Enhanced Legroom, Increased Thigh Support as well as a Rear Seat Armrest. The open and airy cabin of the all-new i20 has been developed by creating a large Day Light Opening (DLO) Area to offer occupants a roomy and spacious feeling for occupants. To create an ambience that fosters a roomy and spacious experience, Hyundai has also increased the front windshield glass width and enhanced the driver's field of view. Further, improving rear visibility and lowered ORVMs and rear quarter glass application, the all-new i20 offers the driver an optimum view of surroundings and enhances the convenience of navigating turns and traffic.
BlueLink that offers 50 Connected Car features including first-in-segment Over-The-Air Updates (OTA) for enhanced in-car connectivity offering customers convenience and comfort.
Customers can now experience voice-enabled functions by using Wake-Up Word 'Hello BlueLink' to control essential vehicle features such as Climate Control -Temperature, Fan Speed control, Air Flow Direction and Air-intake type control (Fresh/ Circulation), Radio, Media, Navigation Assistance along with in-vehicle assistance like Dial by Number, India's public holiday's information and furthermore now you can Track Live Cricket Scores, at the ease of a voice command.
The all-new i20 with BlueLink connectivity offers enhanced convenience features such as remote Engine Start/ Stop, Remote Lock/ Unlock & Climate Control, Remote Vehicle Status & Alerts and even functions such as Find My Car Location & Share My Car. Further, to enhance vehicle safety and security, BlueLink also empowers customers with information such as Auto Crash Notification, Tyre Pressure Information and Stolen Vehicle Tracking/ Immobilization.
The all-new i20 gets features such as a Best-in-Segment Digital Cluster with TFT Multi InformationDisplay offering information display for Individual Tyre Pressure, Drive Info,
Fuel Economy, Parking Warning and Turn by turn Navigation. The all-new i20 brings customers an unassailable and technology-rich feature package incorporating:
• Bose Premium 7 Speaker System(Best-in-Segment)
• Multi-Device Bluetooth Connectivity(Best-in-Segment)
• Smart Phone Connectivity (Android Auto/ Apple CarPlay) (Best-in-Segment)
• In-Built Navigation with Live Traffic and Compass
The all-new i20 empowers customers with a wide choice of powertrain options, providing unrivalled convenience, performance and fuel efficiency. Hyundai is offering a stellar line-up of 5 BS6 powertrains -Best-in-Segment1.5 l U2 CRDi Diesel with 6-Speed Manual Transmission, Advanced 1.2 l Kappa Petrol with 5-Speed Manual Transmission and IVT (Intelligent Variable Transmission) and Best-in-Segment Enthralling 1.0 l Turbo GDi Petrolwith 6-Speed iMT (Intelligent Manual Transmission) & 7-Speed DCT (Dual Clutch Transmission). Through its advanced technological prowess, Hyundai is offering its customers India's most fuel-efficient 1.5 l Diesel powered car the all-new i20. Further, the 1.0 l Turbo GDi Petrol offers customers stellar levels of performance with 7DCT on the all-new i20 recording a 0-100 kmph time of 9.9 seconds.
The all-new i20 has been built on all-new Light Weight K Platform that is light yet robust. Derived through a combination of 66 % Advanced & High Strength Steel, the all-new i20 offering customers exceptional safety and enhanced crash performance. Further advanced Safety Features provide an added layer of protection:
• 6 Airbags (Best-in-Segment)
• Hill Assist Control (1st in Segment)
• Vehicle Stability Management
• Electronic Stability Control
• Tyre Pressure Monitoring System (1st in Segment)
• Emergency Stop Signal (1st in Segment)
• ISOFIX
• DRVM (Driver Rear View Monitor)
Standard Safety Features:
• Dual Airbags Driver & Co-Passenger
• ABS with EBD
• Rear Parking Sensors
• Driver and Passenger Seatbelt Reminder with Pretensioner & Load Limiter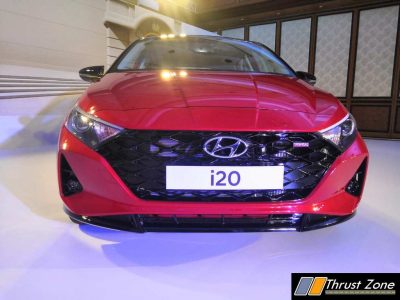 Hyundai is offering complete peace of mind with Best-in-Class Product Assurance through WONDER Warranty Options – 3 years/ 1 00 000 kms, 4 Years/ 50 000 kms and 5 Years/ 40 000 kms. Further, customers will also be offered 3 years BlueLink Subscription + 3 Years Road Side Assistance. Hyundai is also offering customers best-in-segment lowest cost of maintenance providing customers an impeccable value proposition on the all-new i20.
Hyundai will offer the all-new i20 with 8 Colour Options (Polar White, Typhoon Silver, Starry Night, Copper Metallic, Titan Grey, Fiery Red) including 2 Dual Tone (Polar White with Black Roof and Fiery Red with Black Roof) options.
Interior Colour Packs:
• Monotone – Black Interiors with Copper Inserts
• Dual Tone – Black Interiors with Red Inserts
Accessories
For added Customer Delight, Hyundai will introduce the widest range of 50 accessories for the all-new i20 to build customer excitement. Additionally, Customers can opt for 3 Accessory Packs (Essentio, Platinum and Radiant) that are being introduced with the all-new i20 adding up to list of aesthetic choices.
Click to Buy
Hyundai is also offering its customers enhanced convenience of purchasing the all-new i20 online through its end-to-end online car buying platform – Click to Buy. For added customer benefit, 10% Cashback is offered on Booking amount when transacting online through select banking partners – HDFC and ICICI Banks. Additionally, customers can avail up to 100 % on-road funding when opting for financing with our online banking partners on Click to Buy.
Blue Link Features
Safety
1. Auto Crash Notification (ACN)
2. SOS/Emergency Assistance
3. Road Side Assistance
4. Panic Notification
Security
5. Stolen Vehicle Tracking
6. Stolen Vehicle Notification
7. Stolen Vehicle Immobilization
Remote
8. Remote Engine Start/Stop (MT Remote Start)
9. Remote Climate Control
10. Remote Door Lock/Unlock
11. Remote Horn Honk & Light
12. Remote Vehicle Status Check
13. Find My Car Location
14. Share My Car (APP Sharing)
15. Tire Pressure Information
16. Fuel Level Information
17. Pro-Active Vehicle Status Alert
18. Vehicle Relation Management Auto DTC Check (Diagnosis)
19. Manual DTC Check (Diagnosis)
20. Monthly Health Report
21. Maintenance Alert
22. Driving Information/Behavior
GIS(Geographical Information System)
23. Destination Send to Car (from Mobile APP)
24. Destination Send to Car (by Call Center)
25. Real-Time POI Search
26. Real-Time Traffic Information
27. Share the destination(from Device)
28. Real-Time Vehicle Tracking(from APP)
29. Share & Track Vehicle Location by family
30. Schedule Linked Destination Setting
Alert Services (APP)
31. Geo-fence (Out-of-Area)Alert
32. Speed Alert
33. Time Fencing (Out-of-Time) Alert
34. Valet Alert
35. Idle Alert
Over The Air
36. Over the Air Map Update
Smart Watch
37. Connected car features in Smart watch
Server Based Voice Recognition Features
38. Calling Dial by Name
Dial by Number
POI Search (Point of Interest)
39. POI + Location Only POI
40. Weather Today, Past, Future (+9Days) with Location
Time & Date
41. Time & date in all countries, Time differences between Countries
42. Indian Holidays info
Media Control
Open Media
43. Select Bluetooth Audio
Select USB
FM Radio
AM Radio
Tune to "Frequency"93.5
44. Sports Cricket (Score & Schedule)
45 Wake-Up Word "Hello Bluelink"
Map Control
46. Show Map
Previous Destinations
Show Traffic Information
Turn Voice Guidance On/Off
Zoom In/Out
Cancel Route
Show Destination Information
Show Route
Car Control
47. Climate Control (Set Temp, Fan speed etc.,)
48. Air Flow Direction (Floor/Face/Combi.)
49. Air intake type (Fresh/Circulation)
50. Defroster (Front/Rear)