Porsche 911 Range Of Vehicles Launched, Prices Start 1.39 Crores for the base Carrera and will go all the way till 2.60 crores for the Turbo S
Porsche has just launched the entire range of updated 911 sports cars in India. Porsche has Called it the 991.2. The range of vehicles include the Carrera, Carrera S, Turbo and Turbo S. Also, the sports car range is also available with Cabriolet versions along with it and Targa models are also available too. The highlights of the launch in India are the new engines and for the first time in history of Porsche are subtle design changes in facelift models, which are more clear than before
The updated Carrera models highlight is the brand new 2981cc, twin-turbo flat-six motor that ends up being more fuel-efficient and produces less emissions than the older model, which were equipped with the 3.4 litre and 3.8 litre naturally aspirated motor. The new engine produces 370 BHP and 450 Nm on the Carrera. The same engine is tuned to make 420hp and 500Nm on the more powerful Carrera S model. Power is transmitted to the rear wheels via a seven-speed dual-clutch PDK Porsche transmission. Turbocharged motor are making its way in all Porsche cars for now except the 911 GT3 GT3 RS and R models.
The Turbo range continues to carry the previous car's 3.8 litre turbocharged flat-six motor. However, the engine has been tuned to make more power and torque along with deliver more fuel efficiency and lower emissions. The 3.8 litre motor ends up producing 540 BHP and 660 Nm on the standard 911 Turbo. Meanwhile, the Turbo S on the other hand now makes 580 BHP and 700 Nm on the Turbo S. Carrera standard has a top speed of 295 km/hr and does 100 km/hr in 4.2 seconds. Carrera S has a top speed of 307 km/hr and does 100 km/hr in 3.9 seconds from stand still.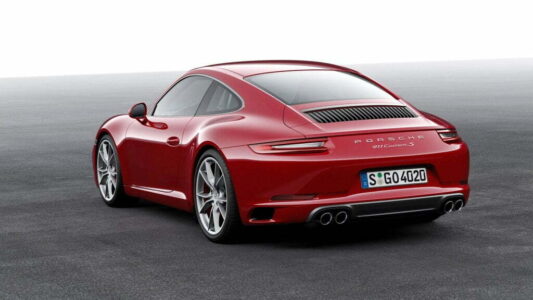 Mechanically you get rear wheel steering is here, which works differently at low and high speeds. You can opt for new full LED head lamps now seen on most Volkswagen range of vehicles. Tail-lamps are new as well and have the 3D effect. Interior include a new infotainment system and the new steering wheel directly lifted from the 918 Spyder. Styling wise there are new engine covers, bumpers on both ends along with subtly re-designed rear hood. Prices for the range start at Rs 1.39 crores (ex-showroom, Delhi).