Jaguar Land Rover is usually known for making hardcore off-roading and luxurious SUV for the world. They have made SUV's over time which have appealed to types of people who loved adventure and people who and needed something that could withstand heavy abuse. All of this plus, JLR also provided unique designs over time and distinct looking SUV's by far mile over its rivals. The reason why its famous with royalty, rich and famous before the world became digital.
Today, the customer has evolved, they promise for something futuristic as they aspire the same they see in the world around them. Be it movies, comic books, science fiction stories and more. With technology its possible to show the same and it is also possible to make one. Jaguar had to combine its love for SUV's and provide an off-roading vehicle which was alluring to look at. Velar was born, quite simply the best SUV you can buy in the JLR line up and over its rivals? Let's find out!
Design
The thrust in designing technology over years has resulted this good looking SUV to win some serious accolades. The fastback design, in an SUV, thanks to the rear makes it stand out. The small window line that runs from front to back and as it carries little glass and more metal gives it substantial footprint on the ground. The large wheels take the case even further.
All though, India spec wheels for this variant aren't the most creative, but still. The front and rear lamps sit supremely flush so do the door handles and the grille which makes this car stand out in a time where everything protrudes out more deliberately then ever.
Interior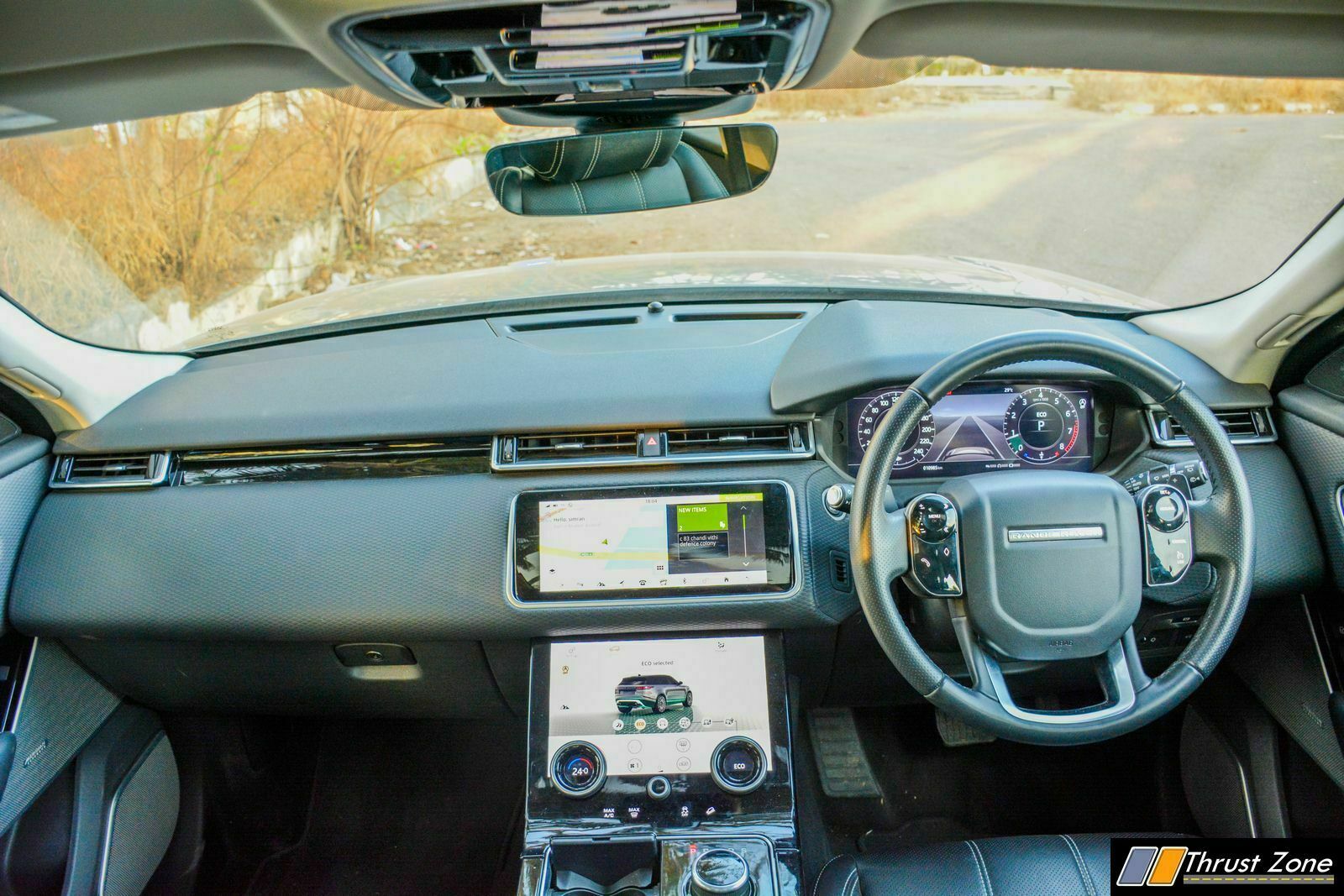 Interior of our test car wasn't the most alluring though. The dashboard is minimalist at the top and the texture used below on a larger slab feels good to touch and look. There are three cup holders, small amount of space in the doorpads. There is also wood in the door pads surprisingly, which seem quite out of context. The aluminium cover for the speakers though looked good with the overall black interior.
The big highlight are the touch duo pro screens that JLR likes to call them and they operate all the functions in the car. Drive modes, air condition and settings can be controlled. The touch is quick in the screens below, but could be more intuitive and quicker on the top most screen. The top most screen is also til-table which helps driver and passenger in the front get the best view possible.
The bigger highlight are the touch capactive buttons the steering which help you navigate through phone and music options and the same time you go through the menus in the speedometer area as the buttons will change its layout. The speedometer is an LCD unit which can change its look and there are options what can be displayed. Be it a photo of the car, or fuel efficiency parameters, music, navigation or other things. Space in the back is good and the seat is adjustable for recline. The Velar has enough space to justify the premium pricing be it head, leg, shoulder or knee room. Rear A/C vents are on offer but aren't entirely digital.
Four-zone climate control, ambient lighting, Incontrol app, ambient lighting, start-stop, front and rear parking sensors with rear camera, voice recognition, full roof panoramic sunroof, automatic wipers and lights, heads up display, keyless entry, adaptive cruise control, electric- memory – leather seats, park assist, leisure wrist key, 23 speaker Merdian sound system which is good, not great are on offer with the SUV. The JLR set of cars continue to miss on Apple Car Play and Android Auto.
Safety kit includes Perimetric and Volumetric Protection, Power Operated Child Locks; Rear ISOFIX, 6 Airbags; Seat Belt Reminder, Electric Parking Brake (EPB); Driver Condition Monitor, Emergency Brake Assist; Anti-lock Braking System (ABS); Lane Keep Assist, Electronic Brake-force Distribution (EBD), Roll Stability Control (RSC) and Cornering Brake Control (CBC).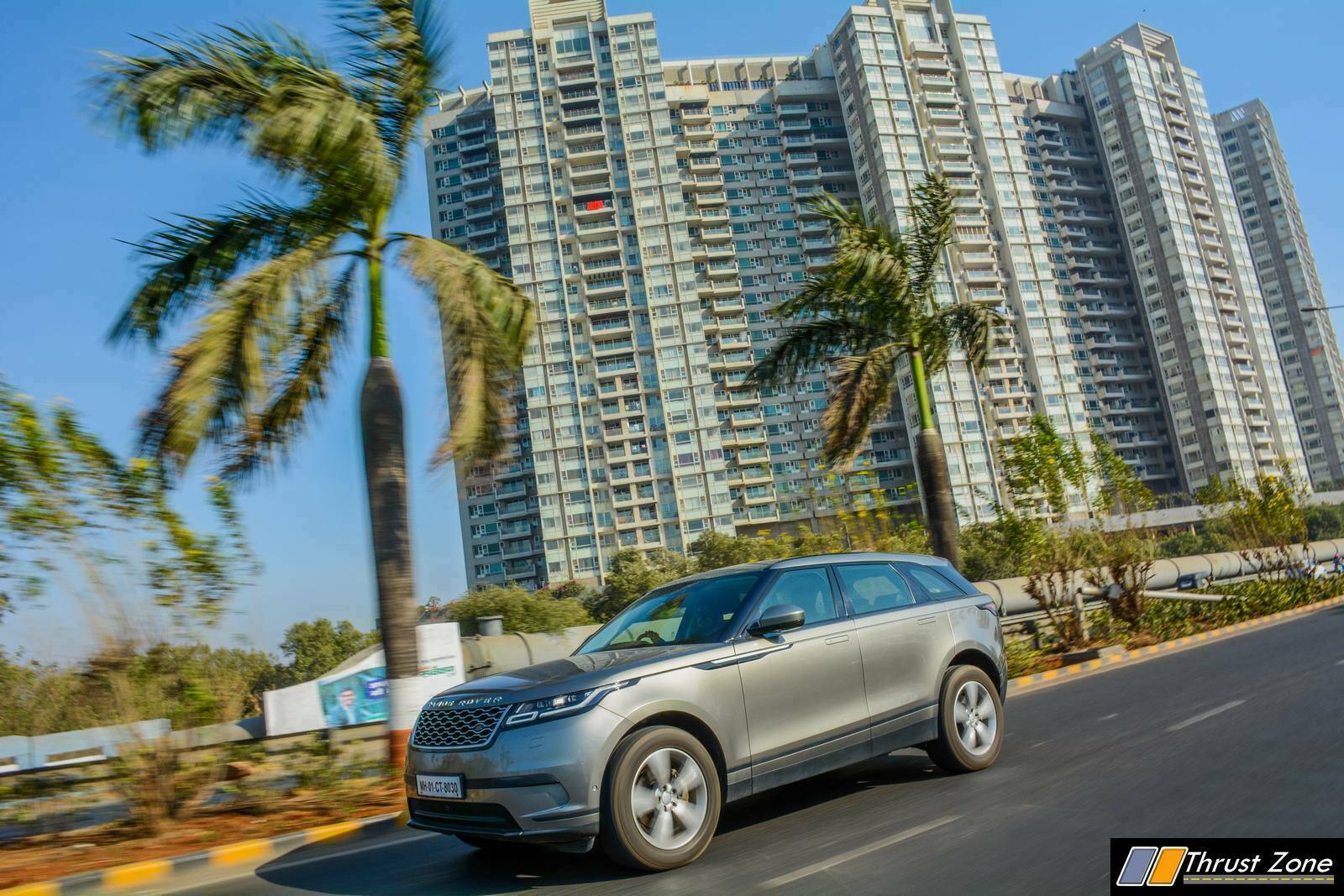 Engine
Powering our test car was 250 BHP, 365 Nm of torque four-cylinder petrol motor that was mated to an 8-speed gearbox. The NVH levels were very low, the driveability in the city was good, the mid-range was good enough considering a small engine for a car of this size and weight. Switching to sports mode makes the car even more capable and ready to go. Sports mode can be applied to the gearbox as well.
The engine is smooth and free revving, but just like other Ingenium engines, the motor needs rev a bit more quickly to make things more sportier. 0-100 km/hr is still dispatched in 7.1 seconds despite it weighs 1874 kgs. Off-roading is available with ATPC, Terrain Response 2, HDC, rear axle open differential and 650 wading depth (Electronic Air Suspension) 600 wading depth (Coil Suspension) is on offer.
Ride and Handling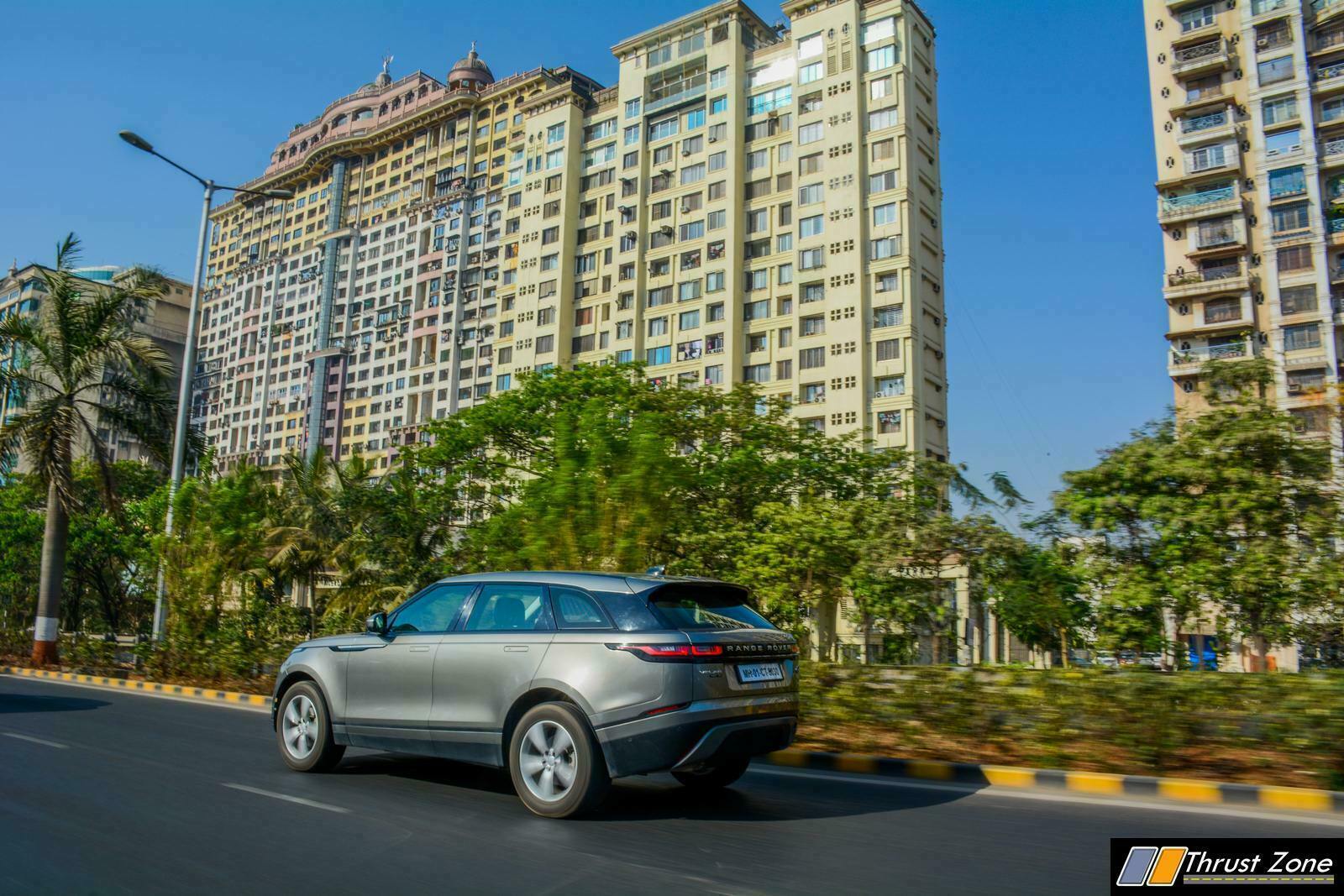 Dynamically, the front is a bit light thanks to our test car having a small four-cylinder motor. The body roll is well controlled, the steering is precise but could have been more feedback rich. The ride quality is excellent our over roads, but the underlying stiffness continues that makes it stable on the highway and fun to drive in the twisty.
The long wheelbase and slightly low kerb weight means it is appreciable as an enthusiast car to a certain extent. Brakes on offer were excellent with good pedal bite and good progression on offer. Tyres were grippy as the compound was good while cornering as well. A good balance, but not an out right sporty SUV either.
Range Rover Velar Petrol India Review, Verdict
The Velar is an handsome looking car. Given JLR's history, there are many engine, variants, options and accessories to choose from to make sure your Velar is bespoke. If you can get the balance right in getting the right boxes ticked, you can walk out with the most good looking vehicle in the entire luxury car market and that is surprisingly a SUV instead of a sports car.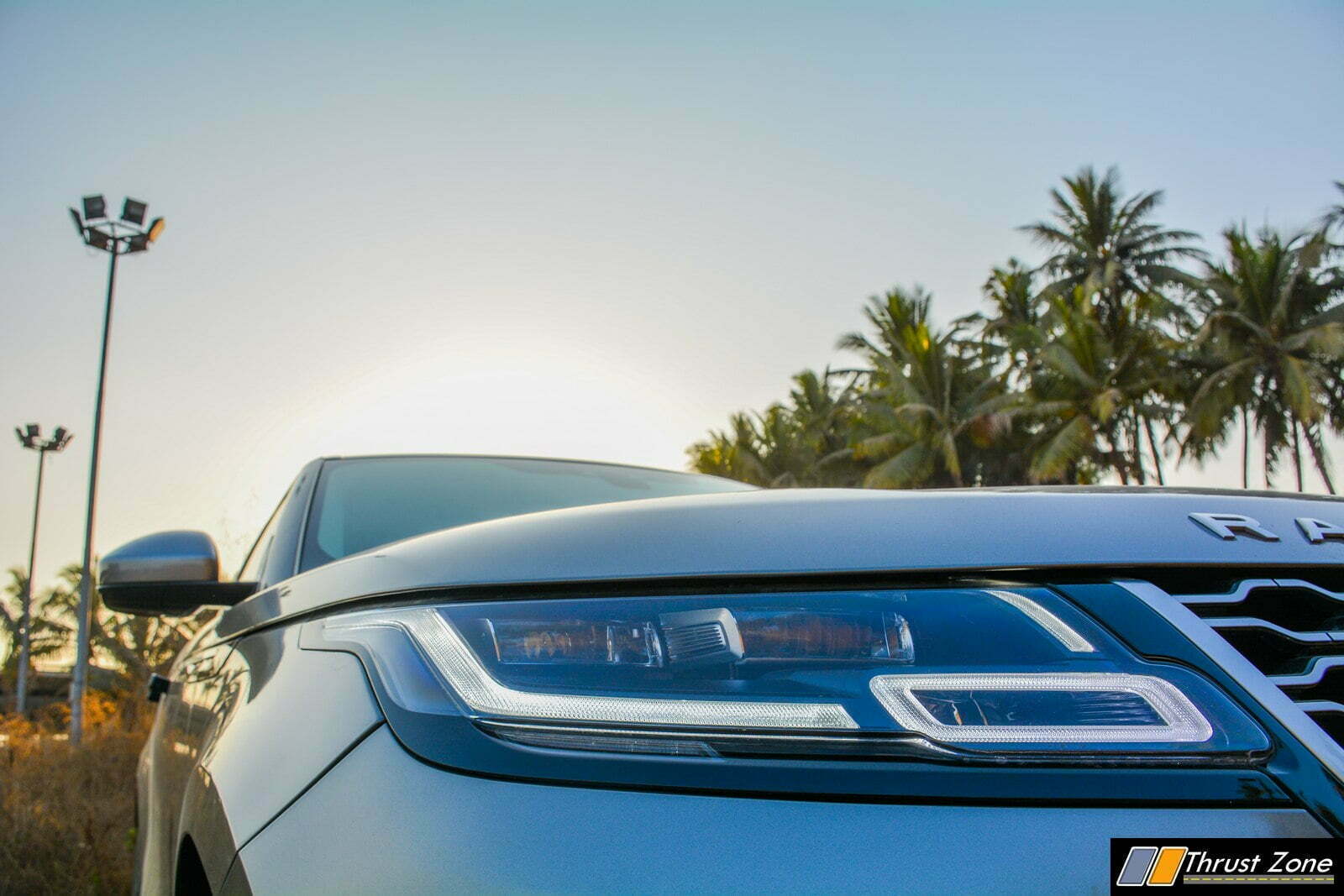 With good dynamics, efficient engines and practical interior, the only thing stopping for now is the CBU pricing. CKD is on its way very likely, but even before the Velar offers good, not huge value for your money. As always you do pay for timeless style and fashion, don't you? The Velar also falls in that same bracket.
Velar Petrol India Review
Design

Interior

Features

Space

Safety

Performance

Dynamics

Value

Practicality