ZipCharge has revealed its revolutionary Go portable charger for electric vehicles at COP26. The invention is specifically aimed to solve the problem of charging EVs and its design has been kept simple and mobile to make sure that it brings comfort and convenience to the target market.
The solution is co-founded by Richie Sibal and Jonathan Carrier, auto industry veterans having decades of rich experience working in the most reputable names in the industry. Go portable charger is already in the development phase and soon the company will offer this solution to the commercial market in Q4 2022.
The handy Go power bank can easily take the shape of a wheeled suitcase and can be charged with the help of a domestic plug – making it a more cost-effective solution in terms of charging cost per kWh. Go has been built to the stringent Automotive standards and can offer a range of up to 20 miles within the charging time of just over 30 minutes. Its compact design makes it easy to store inside the trunk or luggage space of the car.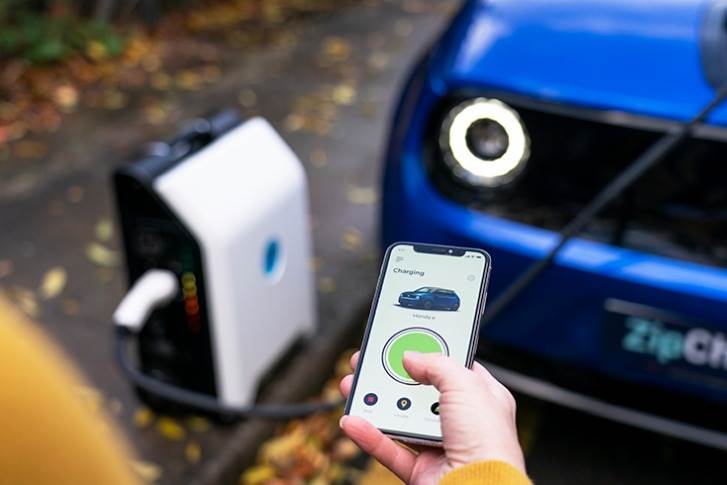 High-density cells of NMC lithium-ion battery and associated electronics are at the heart of Go and the whole assembly is designed in a manner that facilitates the bi-directional AC-DC inverter process. This is beneficial in order to make sure that two-way charging, i.e. from grid to the system and from system to the grid, can be achieved in a satisfactory manner. The latest technology in the form of the integrated module of the communication supports smart charging, remote diagnostics, and over-the-air updates. This coupled with the tracking technology and geofencing make sure that customers get a complete smart solution to their charging needs.
The major charging system is housed in an aluminum space frame for enhanced rigidity, stiffness, and this casing is also instrumental in improving the integrity of the charging system. Keeping in mind the environmental effect, ZipCharge will utilize the completely recycled plastic material to make the outer shell of the charging system. The smart connectivity system will help the users to maintain a desirable level of charging status and fix the charging schedule. In order to enhance the flexibility of customers, ZipCharge will offer subscription-based convenience in addition to making the unit available for purchase outrightly.