US-based S&S Cycle Inc have kits which are usually reliable ways to make things more powerful and continue to have similar efficiency too
After enhancing the performance of well-known brands like Indian Motorcycles and Harley Davidson, US-based S&S Cycle Inc. is all set to try its hands on the products of Royal Enfield (RE). The company will be soon rolling out performance upgradation kit for the RE's Interceptor 650 and Continental GT 650. According to the information available on the official website of S&S Cycle, the customers will have a choice to re-bore their motorcycles from the existing 650 cc to either 750 cc or 865 cc capacity.
The changes are going to be comprehensive and the company is yet to come out with technical details in this regard. Still, it can be safely assumed that this whole upgradation exercise will require a change in the head gasket of the engine besides requiring a new combination of larger cylinder-piston arrangement.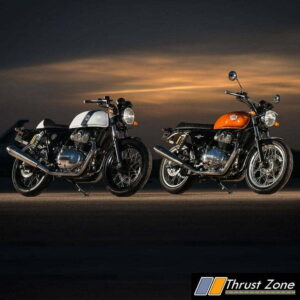 Just so you know, in its regular avatar the 648 cc engine powering 650 Twins delivers 47 bhp and 52 Nm of max power and max torque respectively. After upgrading the engine capacity to 865 cc, it is estimated that the power figure will bump to 70 bhp while torque gets a proportional increase in its current 52 Nm figure. It has been clearly stated by the S&S Cycle that this upgradation exercise is only for the purpose of enhancing race track performance and bikes with these modifications are not road legal.
Even when it comes to India, such enhanced performance modifications in the stock engine will make the bikes illegal on the road; however, most of the times riders get away owing to lack of evidence or complexities involved in the process. It is expected that the S&S Cycle will soon come out with detailed technical specifications elaborating on the requirements and cost involved in the process of RE Twin 650 upgrade.