Royal Enfield Tour of Bhutan is back and Registrations are open for two riders as the rides begin as early as October 17 2016
Royal Enfield's Tour of Bhutan is back with its fifth edition in October 2016. The ride to the land of the Thunder Dragons will see 15 riders joining in. The journey of 1700 kilometers will be covered in 12 days. This will be done through the uncharted terrains of the Himalayan range. The Royal Enfield's Tour of Bhutan will be flagged off from Siliguri, West Bengal on October 17 and will culminate in Guwahati on October 27.
Bhutan has captured the imagination of people from all corners of the globe. The mountainous vastness of the Himalayas, with an average elevation of 4500m, the ride promises an adventure of a lifetime. Riding to Thimphu, riders will experience the world's hardest terrains with some of the steepest mountains, winding mountain roads, slushy off-road trails and scenic stretches through pristine forests. The Himalayan Kingdom will traverse through the snow-capped mountain peaks in the eastern Himalayan ranges, namely the black mountains and the Shivaliks.
The route has been chalked out specifically to challenge the riders with the winding mountain roads, majestic mountain ranges; water crossings & slush, gravel tracks, cross narrow suspension bridges as well as straight stretches. This year, the riders will ride through the panoramic view of the Himalayan kingdom from Siliguri through Phuntsholing, Paro (one of the most scenic spots on the route). Thimphu, Tsirang, Trongsa and, Tashigang, Samdrup Jongkhar are the places that the ride will be going through and finally culminate at Guwahati.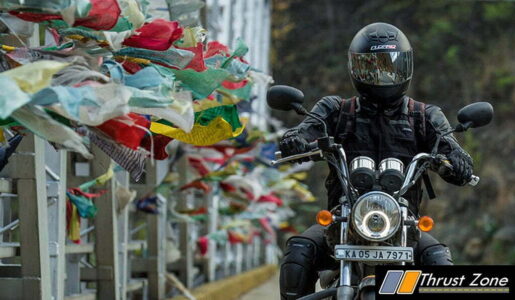 Those who still want to get more out of their ride, choose to trek to the Thaksang monastery(Tigers nest), a tough trek but the experience is totally worth the effort. This ride promises to test the Royal Enfield riders' grit and offers an opportunity to leave their marks on the most challenging and adventurous terrains in the world.
Royal Enfield seeks to offer its loyalists with an unadulterated "pure motorcycling" experience, wherein the man, machine and the terrain come together as one. Royal Enfield's Tour of Bhutan clearly is an opportunity for riders who seek to look beyond the ordinary and venture into the unchartered territories of one of the most challenging terrains in the world. This ride promises to test the Royal Enfield riders' grit too.
For more details, please visit to stay updated
RE Website
Tour of Bhutan Registration Link