Enchanting –
Clearly, Best Looking SUV in the market
Superlative chassis, brakes, engine
Comfortable, spacious and thoughtful touches all around
7-seater, comfortable, loaded with features
Unsatisfying –
Priced a bit higher
Could be more powerful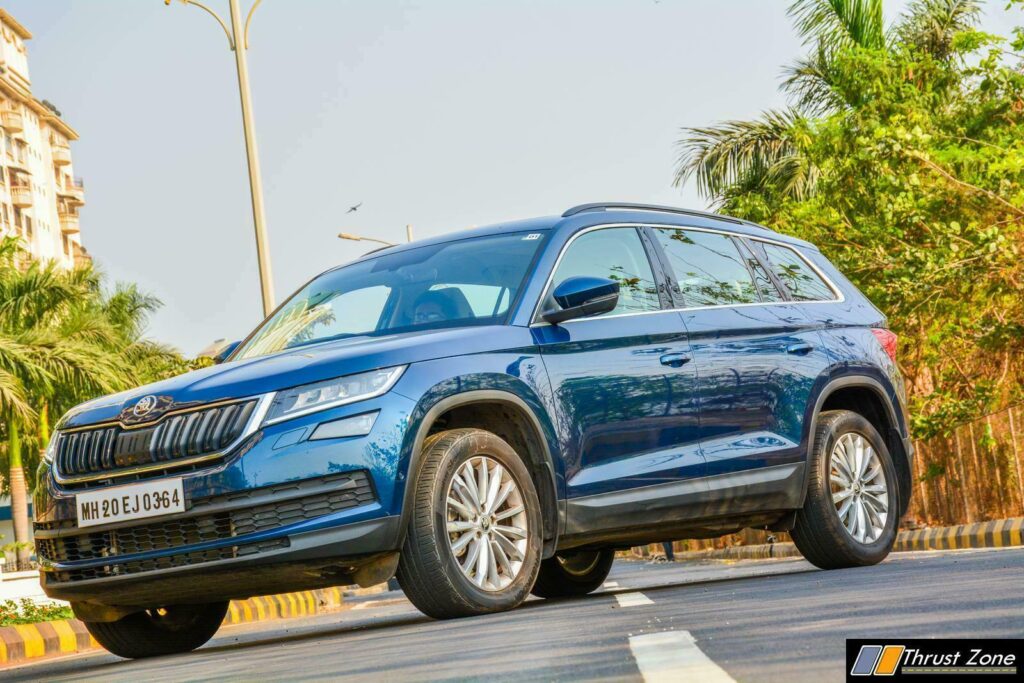 The Skoda Kodiaq is quite an interesting SUV. The Czech manufacturer has been stagnant for quite some time and it was also facing issues in the service department. But the recent crop of Skoda cars are here to wipe off all that dust and start anew. The Skoda Kodiaq is one of the new entrants and has been garnering some good attention for being the first ever full sized SUV from the brand. Without any further ado, we'll tell you five reasons why the new Skoda Kodiaq is the car you should start saving for.
1-The Looks:
It would be a lie if we say we aren't impressed by the looks of it. The Kodiaq with its minimalist styling is a head turner. Yes, it is big on the outside but the overall dimensions are still compact and design goes to great lengths to hide all that visual mass. Interesting details are the neatly designed headlamps and auxiliary lamps and yes we haven't forgotten the 'C' shaped taillights. The stance is intimidating and beautiful at the same time, clearly, the bear aura is visible here.
2-The Interiors:
Those long hauls won't be uncomfortable as the Kodiaq cocoons you into a wrap of luxury. Soft-touch materials all around, flush glovebox button makes it look clean and appealing. The driver and passenger seats boast of additional thigh support and the rear seats are very well cushioned too. At the rear, you also have a neck brace support and an option for blankets as well!
You also do have a third row of seats so passenger space won't be a problem at all. Space is ample on the inside in all three rows. The switchable cupholder or small items keeper in the center console is also a very good touch. What we didn't like is the rather bulky gear lever, which could be slimmer and apt in the luxurious cabin. There are a lot of cubby holes in the car. A/c chills the cabin very quickly in this hot Mumbai weather right now.
3-The Features:
The Skoda Kodiaq doesn't fall short of features. Starting from the LED headlights and taillights, cornering lights, headlight washers, defoggers for the mirrors and rear windscreen and even a drowsiness sensor. What you also get is parking sensors and camera and a hands-free parking assist to help you park this 4.7m long SUV. Safety features include brake assist with an electronic handbrake equipped with Auto Hold Function, nine airbags, tyre pressure monitoring, active front headrests and fuel cut-off function in an event of a crash. We like the headlight spread and illumination on offer which is very superlative indeed.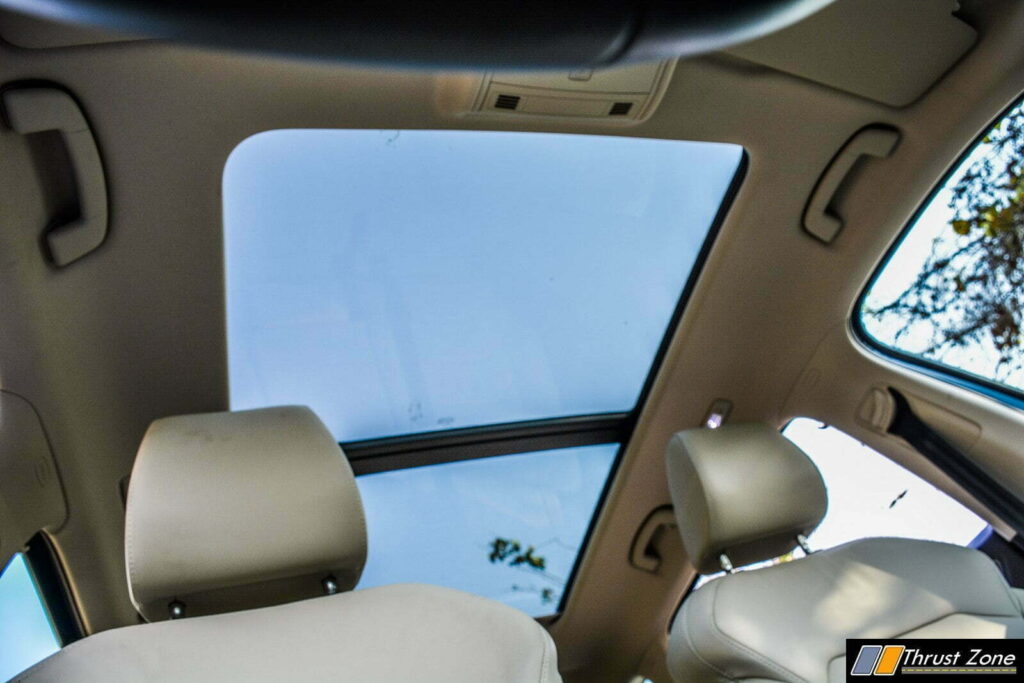 Other bits and bobs include, steering mounted controls, a sunroof, rear a/c vents, electric seats, start-stop button, LED lamps at the front and rear, an 8-inch TFT screen with Apple CarPlay and Android Auto. There's also ambient light adjust option along with practical bits like small dustbins and roller blind for windows. The cluster includes all the fuel-efficiency parameters, navigation and music are also showcased. The car at this price point could have an electric steering adjustment.
Skoda Kodiaq India Review, Drive Impressions
:
Skoda was kind enough to send the car for this story and we can tell you that the Kodiaq is really impressive on the road. Now at 2.0L, the engine isn't quite a performer for this near 2-tonne SUV, but its strength lies in its effortless build-up of power. The engine is the same as on the Superb, but here is differently tuned to deliver 150 BHP and 340 Nm of torque and is a lot quieter as well.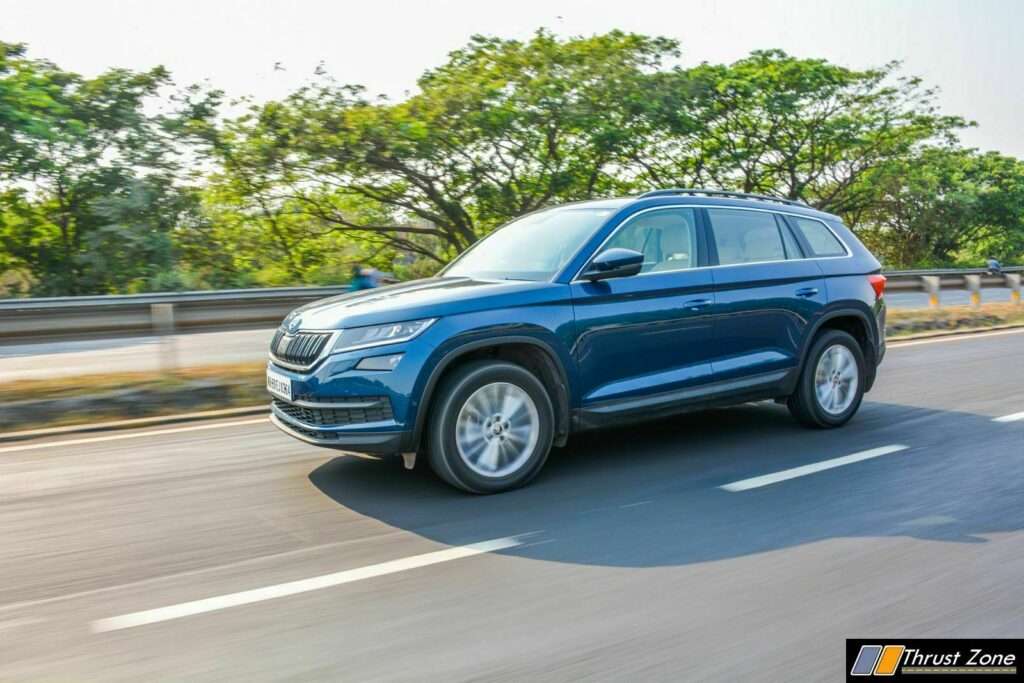 The midrange is where you'll be spending more of your time as it enjoys cruising in this part of the rev-band. The 7-speed dual-clutch transmission too is quick and swaps cog efficiently to keep the motor in the sweet part of the rev-range. The new gearbox is far more better than the previous DSG gearbox offered by the VW group and clearly does it job really well. Our car returned 9 km/l in our test run and did 0-100 km/hr in 10 seconds flat. We didn't get to test the 4×4 capabilities but it did climb bad roads and took rough roads like the normal road with any wheel slippage.
What we found really interesting is the wheel size-suspension tuning ratio which is spot on. The ride quality and along with dynamics of the car are far more better than we have ever come across. 18-inch wheels do a great job of keeping the interior a comfortable place. Steering is precise but lacks feedback. Brakes are really good too.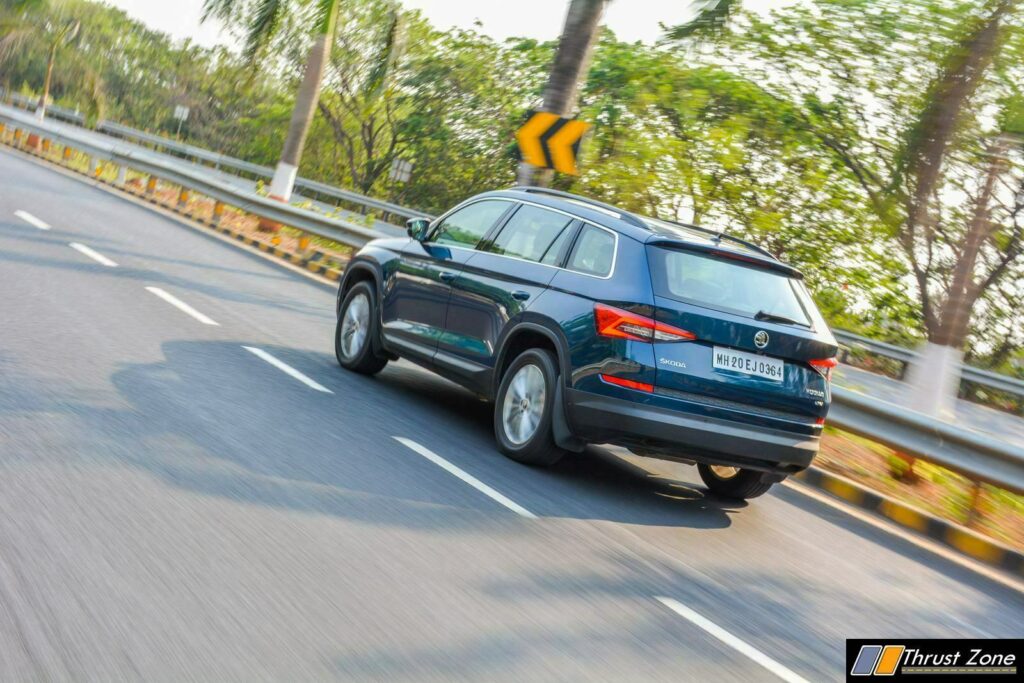 Skoda Kodiaq India Review, Verdict
:
At INR 34.5 lacs ex-showroom the Skoda Kodiaq definitely is not cheap but for that price it does offer a lot. It is practical but not boring, big but car-like to drive and feels premium in every which way. Summing up the Kodiaq remains an impressive proposition for buyers looking for a big, premium and practical SUV without having to spend a fortune and get 7-seats as an added bonus.
Kodiaq India Review
Design

Interior

Space

Features

Performance

Dynamics

Value

Practicality