The Skoda Rapid is one of the more aggressively priced options in the compact sedan segment and it now seems the Czech automaker is planning to add a more efficient version to the line-up as well. Recent spy shots indicate at a new Skoda Rapid test mule equipped with a CNG kit. The test car was spotted during a refill in Pune recently and does hint at a possibility of the automaker introducing the CNG option to attract more buyers. Zac Hollis, Director of Sales and Marketing, Skoda Auto India had hinted on a number of occasions that a CNG version could be in the pipeline for the Indian market and this will be an interesting addition to the segment.
Skoda already sells CNG versions of its cars in Europe badged as the G-Tec, which includes cars like the Octavia. The CNG version offers better fuel efficiency and lower carbon emissions. The 1.0-litre TSI engine is already designed for CNG needs for Europe powering a number of Volkswagen Group cars. On the Volkswagen Polo 1.0 TGI for Europe, the motor develops 90PS of power, and that's the kind of power drop we can expect to see on the India-spec Skoda Rapid as well. This is likely to be coupled with a nearly 14 kg CNG tank that should return about 340-350 km on a full tank.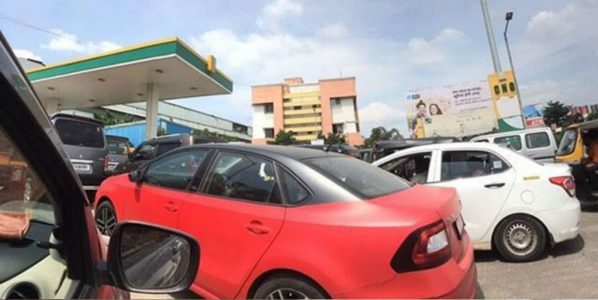 The CNG tank will come at the cost of boot capacity, but given the reasonably large boot on the Rapid, we do not think of it as a deal-breaker. The Skoda Rapid will also address the demands of those wanting to clock more kilometres and were previously looking for diesel in the brand's portfolio.
The compact sedan segment is petrol-inclined and the CNG version could be seen as an advantage for those looking for a cost-efficient peoples-haulier. Skoda could make it available on the entry-level Rider and Rider Plus variants to keep prices under Rs. 10 lakh (on-road). If successful, we could the Volkswagen Vento get the option as well in the near-future.