Tata Altroz iTurbo vs Polo TSi Vs i2o Turbo Specification Comparison
Tata Motors has recently launched the turbo variant of its popular premium hatchback Altroz. Called Altroz iTurbo, the variant features a more powerful, turbocharged iteration of the 1.2-liter petrol engine that powers the standard Altroz in its naturally aspirated state. Pitted against the likes of Hyundai i20 Turbo and Volkswagen Polo TSI, here's how Altroz iTurbo compares against its rivals on paper:
Engine and Gearbox
Despite the biggest displacement in this comparison, Altroz iTurbo produces 110PS and 140Nm of max power and max torque respectively. The power output of Tata is similar to that of VW and it's Hyundai here with its 120PS comes out on top. VW, on the other hand, emerges winner with its meaty 175Nm although Hyundai is not far behind with its 172Nm of rotational force. Tata lags way behind both VW and Hyundai with its torsional power maxing out at 140PS.
The transmission option is only limited to a single 5-speed manual gearbox on Tata for now although the car is expected to get a dual-clutch transmission (DCT gearbox) very soon in the future. VW offers both a 6-speed manual and torque convertor while Hyundai comes equipped with 7-speed DCT and 6-speed iMT.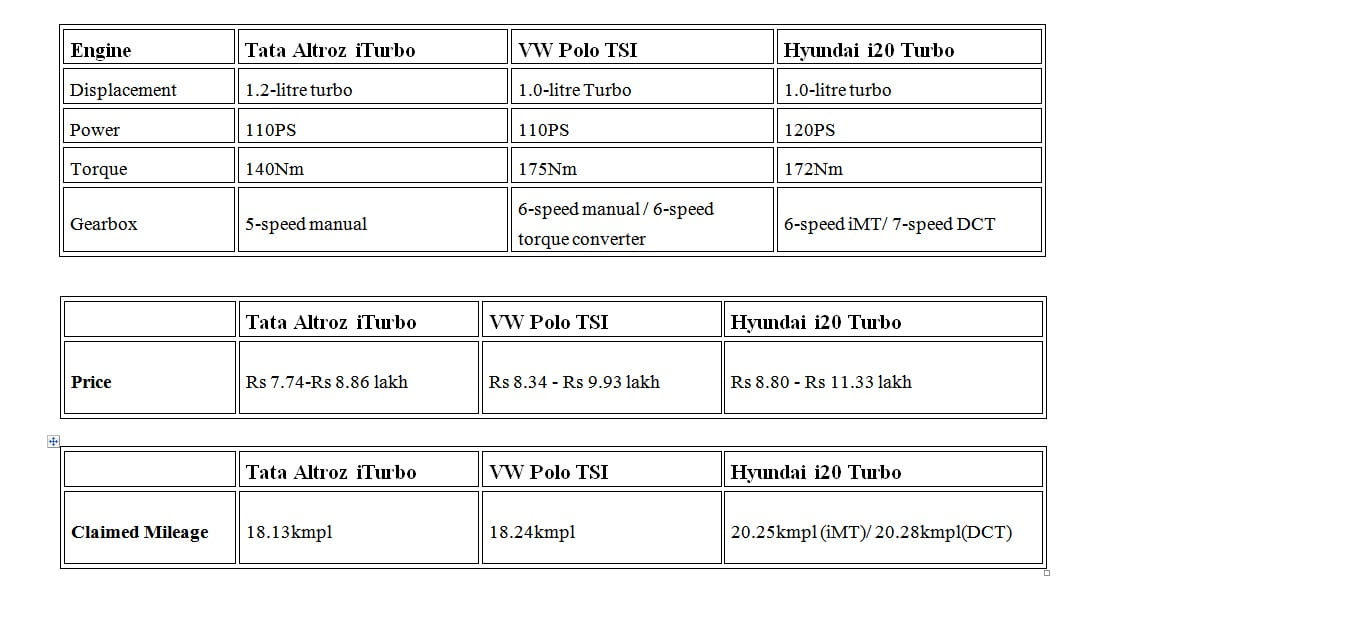 Fuel-efficiency
In terms of fuel efficiency, Hyundai i20 Turbo leads the pack with a claimed figure of 20.25 kmpl and 20.28 for iMT and DCT respectively. There is not much difference in the figures claimed by Tata and Volkswagen with both delivering nearly the same efficiency.
Price and Value for Money
Tata Altroz iTurbo is available in the price range between Rs 7.74 lakh and Rs 8.86 lakh. This value for money pricing provides it with a considerable edge over rivals. Both VW and Hyundai are costlier with latter coming across as the costliest on both base and top-trim variants (all prices, ex-showroom,Delhi). While Polo is most fun to drive and i20 being expensive and high on features it's it the Altroz Turbo that has the right balance of both worlds