The imminent launch of Tata Altroz Turbo petrol is now finally done. The company is plonking a more powerful engine under the hood of Altroz to rev up its performance quotient and meet the latest market demand and trend. Altroz Turbo Petrol is powered by a 1.2-liter turbocharged gasoline engine which will be producing 110 bhp and 140 Nm of max power and max torque respectively. Claimed mileage is 18 km/l. The car will gets a 5-speed manual gearbox.
The new DCT gearbox that will come in the future is going to be a wet clutch unit from a well-celebrated company, Schaeffler. The wet clutch gearbox is far more reliable in India conditions. The DCT launch will happen in the coming months.
Tata Altroz is also available with a 1.2-litre, naturally aspirated 3-cylinder petrol engine that produces 85 bhp and 113 Nm in the first three variants. The car can also be had with a 1.5-litre, 4-cylinder diesel engine which is good for 89 bhp and 200 Nm. Both engine options are available only with a 5-speed manual transmission. Now, let's see what the new features are as they are in plenty.
Quick Take: What Could Be Tata's Turbo Petrol Outlook For The Future
• Natural Voice Tech– The Altroz is in sync with India and the Indian customer. Give commands as per your convenience as the system understands – Hindi, English & Hinglish. With more than 70 commands, the Natural Voice tech in ALTROZ ensures an enjoyable drive.
• What 3 Words- ALTROZ is India's first hatchback to introduce this precise & simple way to reach your locations. What 3 Words is a technology that has assigned each 3m square in the world a unique 3 word address. They are easy to say, share and are accurate too.
2. Xpress Cool-Helps cabin to reach comfort temperatures quickly by optimally setting the air conditioning to maximum cooling.
3. Leatherette Seats-High end perforated leather seats
4. Personalized Wallpaper on your infotainment screen– More personalized driving experience.
5. One shot up power windows- More convenience during drives.
6. 2 additional tweeters by Harman(Only in iTurbo)
7. Sport mode (only in iTurbo)
Other mechanical hardware such as brakes and suspension system remains similar with minor changes Some of the cosmetic changes include the Harbour blue new colour along with existing colours that were seen last year. The list includes color such as Red, Gold, White, Grey and Black.
The Indian market has seen a slew of Turbo petrol motor launches and people are adapting to the idea slowly too. The Tata Altroz Turbo Petrol will be able to dive into this trend as VW Group and Hyundai have started the same right now. With Mahindra and Ford set to do the same, its finally turbo petrol time after a decade of asking from manufacturers. The Altroz goes against the likes of the i20 and the Polo.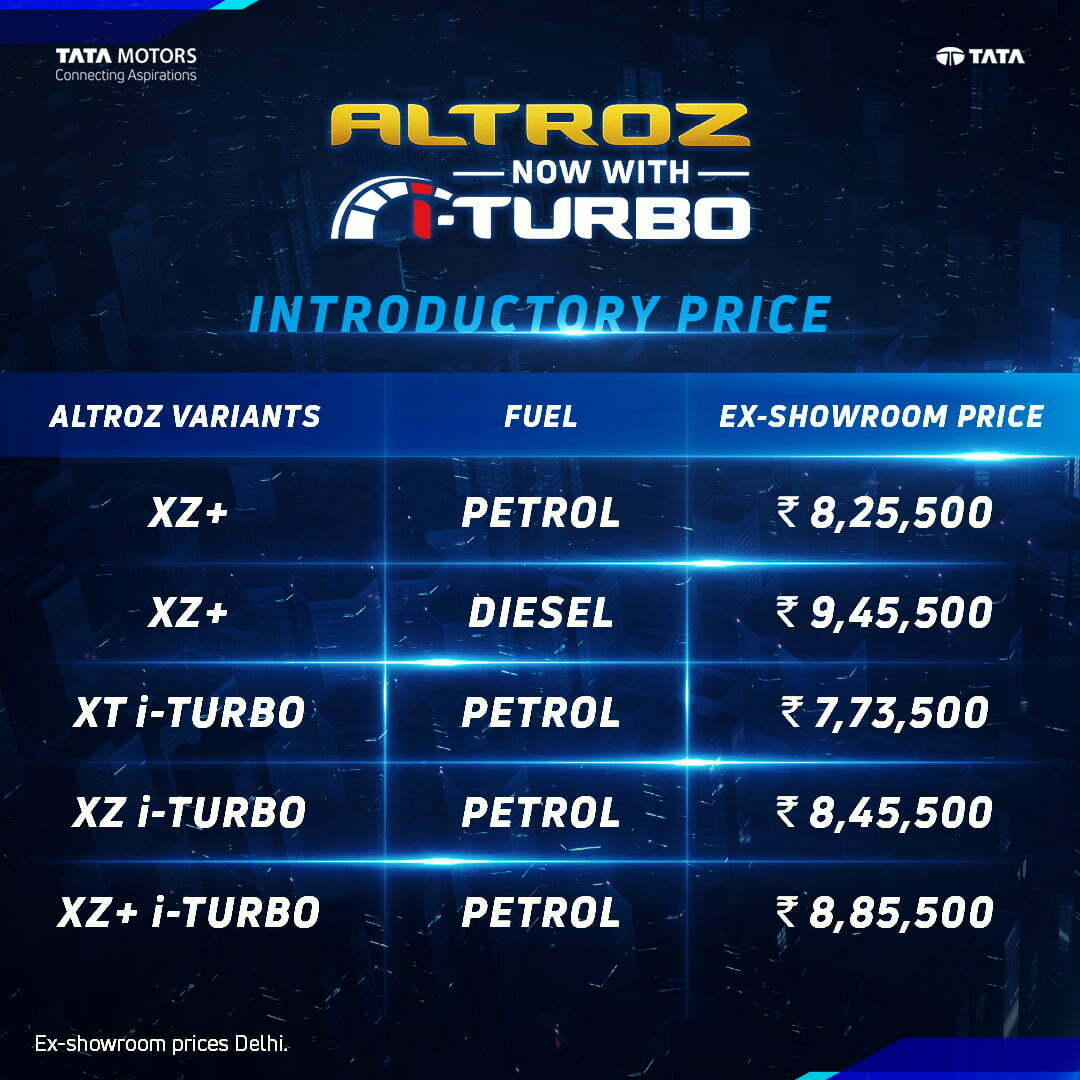 The Altroz i-Turbo is launched at an attractive introductory ex-showroom price increment of INR.60, 000 above the Altroz Revotron petrol variants. Tata Altroz is the first product on the ALFA architecture and has received a tremendous response since its launch in January 2020. Tata Motors has introduced the Altroz i-Turbo, a power and feature-packed car to celebrate the brand's success as it turns one. Despite the Covid challenge, the Company has sold more than 50,000 Altroz within its first year of launch, a testament to its popularity. India's safest hatchback with a 5 star safety rating from Global NCAP, has indeed raised the bar.
Tata Motors seems to be preparing big for the future. The Pune-based automobile manufacturer has ambitious plans for the coming months. First, it will launch Tata Altroz Turbo petrol version, then it should launch a 7-seat version of Harrier, christened Safari in the upcoming festive season which will be followed by the launch of a micro SUV in 2021.