Tata Nano Electric could be a training exercise for the brand or could export it heavily in the market where it works very well
Tata is one of the few manufacturer today who are making sure things developments continue to happen on the inside of the factory. The brand is coming up with old vehicles revolutionized so well that they are hard to recognize, part of that comes from heavy investment in technology in every aspect.
Be it infotainment, quality of materials, design and one more thing, electric. Electric vehicles look like the future of the automotive world given the fact that emissions levels, which are increasing, are being given serious attention. Tata has showcased EV vehicles in the past such as the Manza Hybrid and back in 2010, we did saw what seems to be running wild on the streets of Pune.
The Tata Nano Electric Variant, yes, it has been caught testing for the first time and there is proof this electric and not a chrome laden variant of a car. Tata has introduced everything with the Tata Nano, an automatic gearbox, a openable hatch at the rear, a lot of creature comforts and this time it is time go silent while making a lot of noise.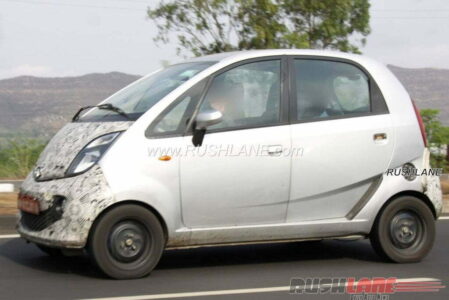 Technical specification of the car are unknown for know. We expect a large battery pack in the middle and electric motors at the rear to drive the rear wheels. Front bonnet will continued to be used for spare wheels and other new things related to the electric power train. The Nano should make around 30-40 KW of power and a very good range which will make it an ideal city car, as if it is already not, because it is extremely ease to drive all around town. Needless to say, Tata Nano EV will be a reply to Mahindra's E2o, let' see how it fares out in the future.
Source – RUSH LANE