Tata Nexon Review: We give you the ultimate lowdown on all variants and explain what is common in both engines and gearboxes and what is best for you
Enchanting –
One of a kind design, gains massive attention on the road
Fun to drive chassis setup
Petrol and diesel come with good performance and automatics
Spacious, feature loaded and value for money
Unsatisfying –
Engines feel commuterish, could be more enthusiastic
Slicker Infotainement system required
If there is one point that can be debated in a positive manner in the automotive sector it is that Tata Motors is on a roll and due to their new recent four launches. We have driven them all and the product that shines the most is the Nexon compact SUV. While all others are doing well, the Nexon is going surpassing even them as it a premium car in the compact space and has almost everything the customers want and that is the reason why it is doing well for Tata as a brand and bringing a little more back home too. Reason? Automatic, manual, features, petrol or diesel, everything is on offer. We spend time with all four variants and we will give you the verdict on the Nexon in a brief below, read on!
Styling
The design is the highlight of the SUV. The multiple colors used for the roof, body and the strip that runs below the window line makes it an attractive car. The window profile is coupe-ish which lends it a sporty look. A good stance comes from the highest ground clearance is the sturdy part of the SUV.
The clean, functional and yet good looking front grille with wraparound headlamps makes it look muscular. It gets roof rails for added ruggedness. The rear is also the highlight with a lot of character lines, a large bumper and an interesting set of tail-lamps on offer. Overall, the well-designed SUV in this class has style, substance and sportiness in the right amount.
Interior
The interior is yet another place which looks high quality and the light grey color makes it just about airy and looks sophisticated at the same time. Quality is good all around, but build quality could have been better. The infotainment system is a floating touch screen, the knob to control it is seen on the centre console along the Tambour slider storage which gives it a premium car feel. Screen changes color with driving modes, Umbrella holder in front doors, Smartphone integration with ConnectNext App suite, juke car app, Tata Motors Service Connect App, Andriod Auto, 4 speakers, 4 tweeters, gear shift indicator, cooled and illuminated glovebox and activity key is part of the feature list.
There are a lot of storage areas around the cabin to keep all sorts of things. Right from your purse, coins, bottles and much more. The feature list includes automatic climate control, Harman Kardan's excellent sound system, the screen which is fairly responsive to touch, steering controls, electric ORVM's, driving modes, all fuel efficiency parameter in the cluster.
Feature list also includes LED DRL at the front, and rear with projector headlamps at the front. Rear A/c vents are on offer. Space as always with Tata cars is brilliant with best in class knee, leg, shoulder room. Headroom is good, but taller than usual passengers may not find it sufficient. Seats are supportive at the front and back and have enough thigh support at the back with well reclined back seats.
Engine and Gearbox
We have driven all the variants which include petrol and diesel along with AMT and manual gearboxes. What we can tell you is that the engine is great on NVH in both fuels, there is a bit of jerkiness below 2000 RPM in both fuel engines, the gearbox is smooth and slot well in the manual and 6-speed AMT is the highlight which is relatively smooth and quick to respond in manual and sports mode. Auto mode keep shifts smooth if you are normally accelerating.
Driveability is good with both engines this time around as the petrol is also turbocharged and has a lot of torque in the mid and low-end. Top-end performance is good, but could have been better because it carries a lot of heft with it. Diesel is the same and has even more punch in the mid-range.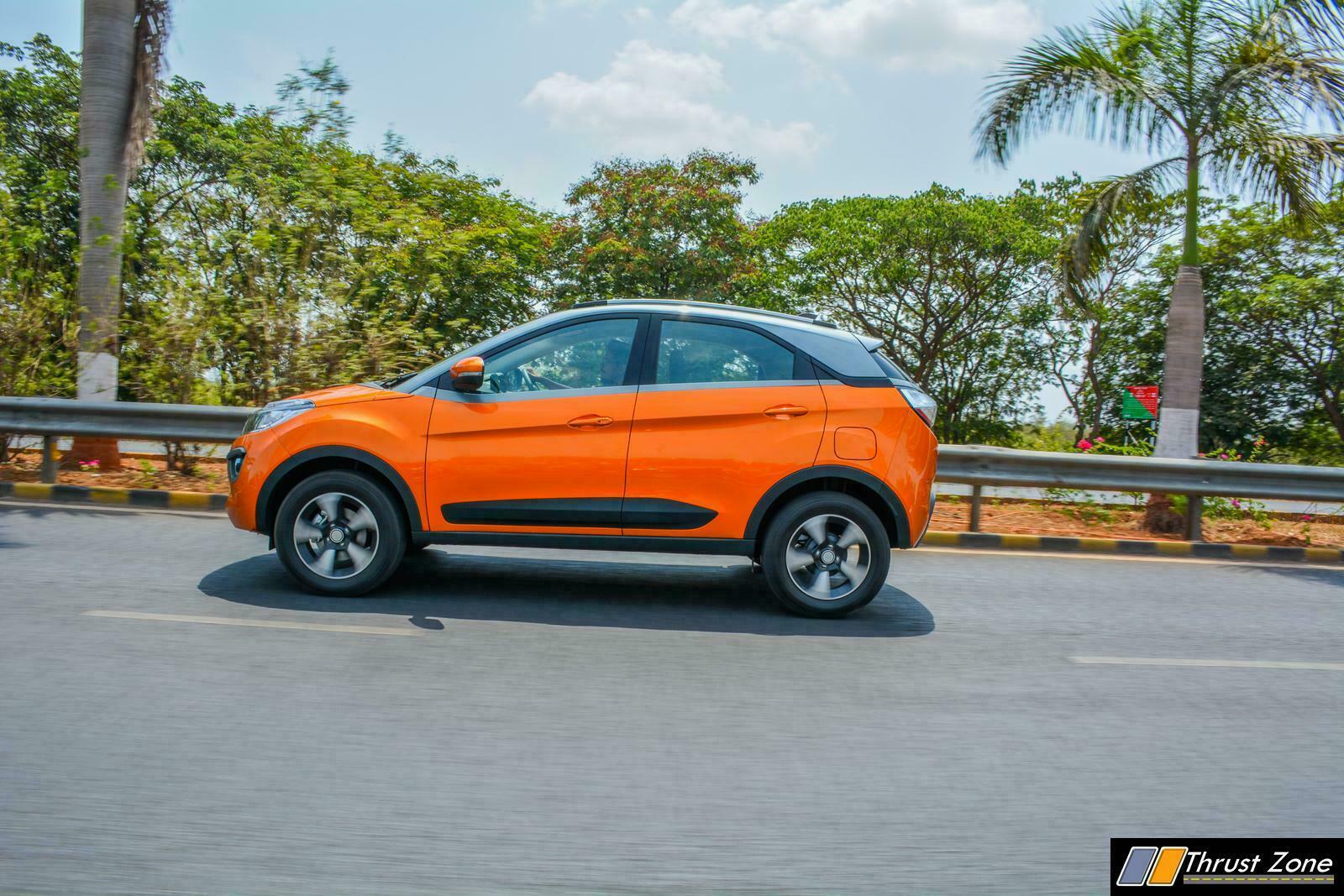 Sustaining any speed on the highway is no problem, especially in AMT because of 6 gear ratios. The only criticism is that the engines are not enthusiast friendly and they do not rev freely post 4000 RPM because of the iron block used to make it more reliable and NVH friendly rather than free revving at the top-end.
Fuel-economy has been brilliant as well with petrol delivering 11 km/l and diesel delivering 17 km/l as a total average of city and highway runs. Driving modes also help increase fuel economy as there is sports, normal and eco modes, which also in return alter throttle response by a substantial margin.
Dynamics
Dynamically, we liked the Nexon with fun to drive nature despite a tall, hefty stance. The 16-inch do a great job of offering excellent ride quality, great stability and good road grip at all times. The suspension can feel a bit stiff but it does glide over and provide comfort all types of roads at any given speeds, be it high or low.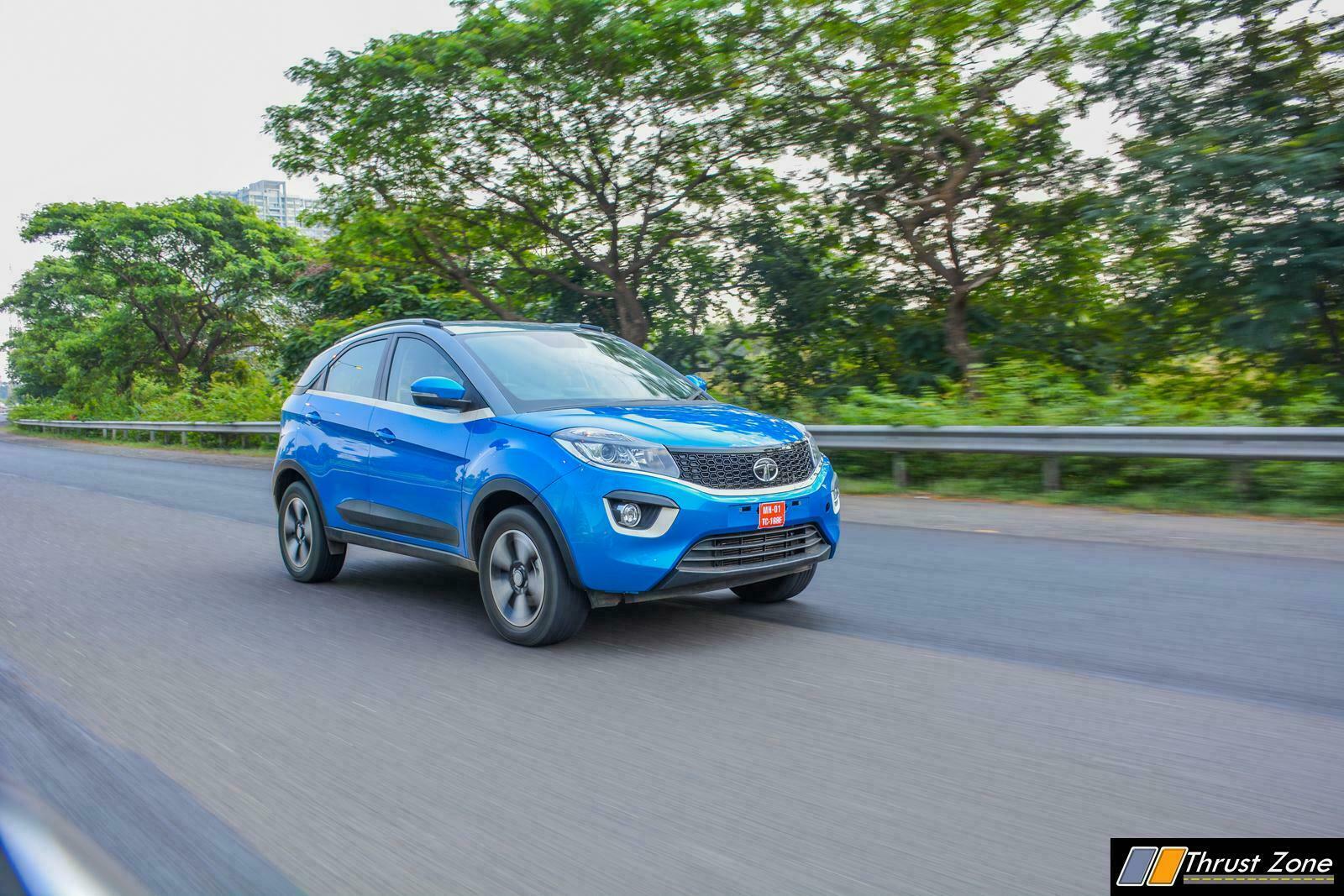 Cornering is a delight with minimum body roll, decent feedback from the steering. Steering is light when required and gets rather heavy well at highway speed to inspire confidence. Brakes are good with excellent stopping power and equally good pedal bite.
Tata Nexon Review, Verdict
Overall, it is hard to fault the Nexon as the capabilities it offers are quite good and it offers good value for your money as well. However, Tata needs to work in certain areas and also the Nexon can get quite expensive for its size and segment but it has all the features, active and passive with great safety creditonals on offer to make it a runaway winner for Tata Motors as it already proving out to be right now.
Tata Nexon Review
Design

Interior

Space

Features

Performance

Dynamics

Safety

Value