EQC is the very first mainstream electric car from the house of Mercedes and pitted against the likes of Audi E-Tron, Tesla Model X, and Jaguar I-Pace. The silhouette is based on the GLC SUV that has the IC engines. However, it has been redesigned entirely on the outside. The smoother panels, everything stting flush and no lines or edges makes it look very futuristic and more aerodynamic. The large grille and the huge Mercedes logo on it make it grab attention. The large wheels and tyres which are 20-inch in size look massive and the wheel design is keeping in mind the electric theme. The light bar at the front and rear is also something very sci-fi.
We have explained the feature list in our launch report. What was a miss here despite everything else was a panoramic sunroof instead of a small sunroof that was on offer. Quality was top notch and copper colour air vents really make things special inside this electric car. There is a hint of road and tire noise inside the cabin once you settle behind the wheel, thanks to the absence of an internal combustion engine but the sound never becomes intrusive. Part of the credit must go to the solid build quality of the EQC which offers the heft and a very reassuring thud every time one opens/closes the doors. However, this extra weight also causes the car to crash in deep ruts at times and therefore, maneuvering through the sharp bumps and broken patches require close attention.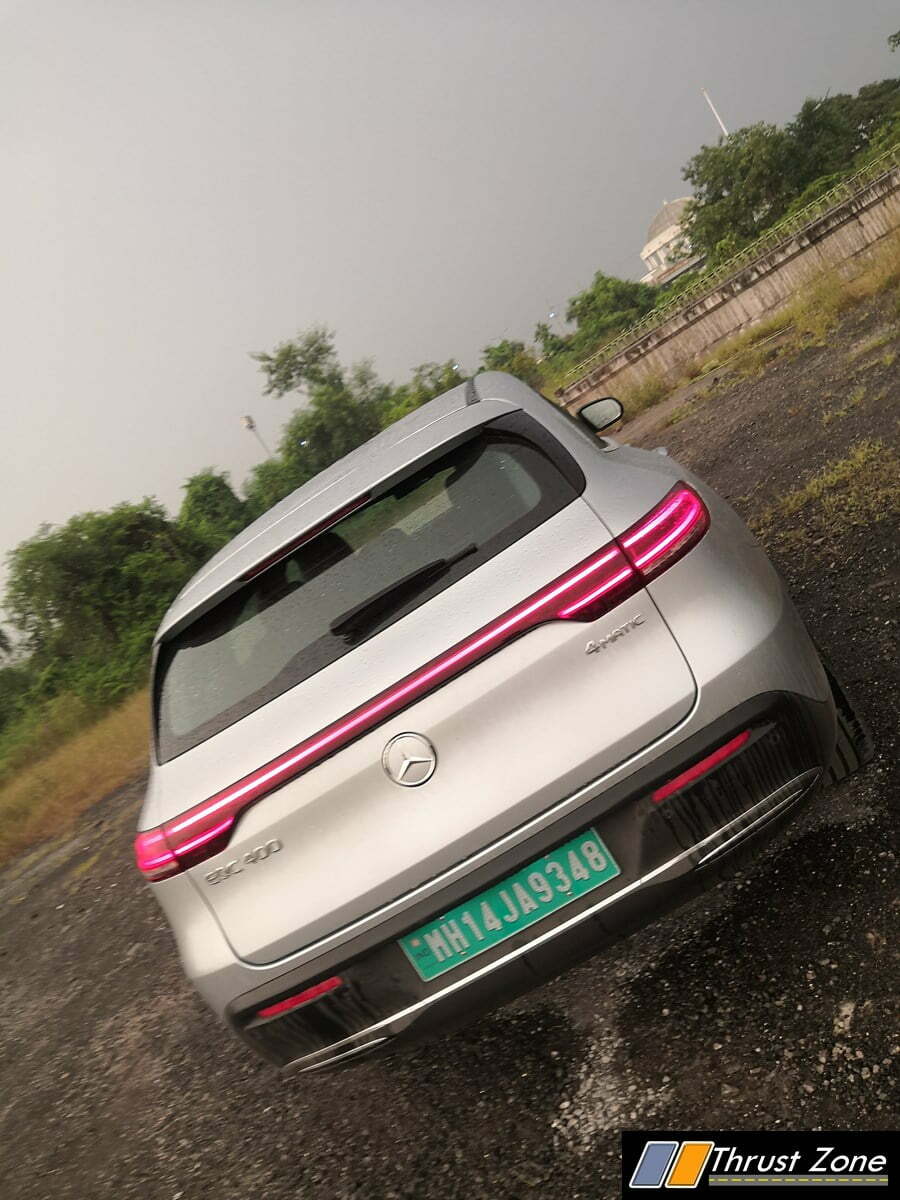 The drop in the temperature is something one must be careful about as it causes a sharp decline in the range of the Mercedes. Take, for instance, our experience where a dip in the temperature almost crashed the range from 330 km to 280 km. Switching on the air conditioner further decreases the range and even switching it off after a jiffy, the range will not revise itself willingly.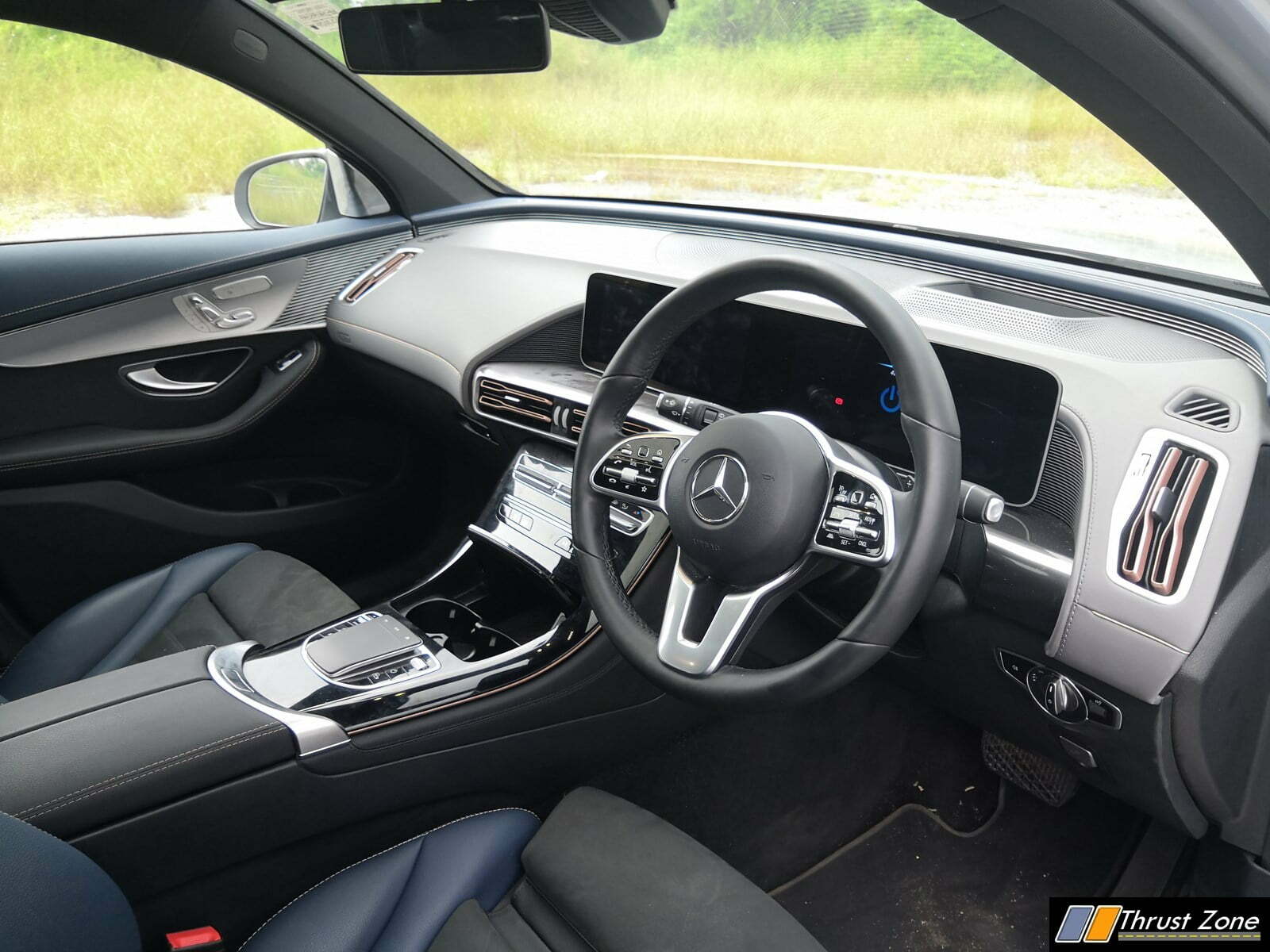 We have also learnt that it's best to keep EQC below 90km/h in order to extract the best mileage from it. Be gentle with your right foot and this Mercedes is happy to eke out its optimum performance while offering the best possible range to customers. Over the years, we have witnessed breakthrough advances in electric car technology, but still, one needs to remain mindful of the charging options and the range of the car once you hop in the electric vehicle – even when the car is a Mercedes EQC.
Driving the electric SUV can be summarized rather easily if this was not a Mercedes. The throttle response even in sport mode is quite tamed when considered to other electric cars we have driven. Sure, it shoots ahead because torque is instantly available but it isn't in your face. It is like the BS6 version of IC engines, linear and smooth but it pulls like a freight train with no load on. It is also because the SUV weighs quite high and it should have been lighter. It gathers momentum even after 140 km/hr because it sits low and is quite slippery when it comes to aerodynamics. 408hp& 700 Nm of Torque delivering 0-100 in just 5.1 seconds is still quite good.
In Eco and Normal mode it is at its best as it gathers more kinetic energy to charge the battery and the range anxiety is well in check. We did a Mumbai-Lonavala run and since we got stuck in traffic a lot, the charge was not an issue. A drive from Mumbai started at 10 Am with 390 km of range and concluded at 8 PM and there was a range of around 110 km left while giving it back. Dynamically, the ride is almost good as Mercedes standards because the 20-inch wheels do play a spoilsport to a certain extent. The body roll is a bit higher than expected and so is the body roll. However, that weight and compliance in suspension keep it rock solid at any speed on the expressway.
Mercedes has you covered quite well with its warranty schemes, battery replacement and charging hardware which can support fast charging and moderate charging speeds at your home and office as well. Sure, we wish it could deliver over 450 km which is expected from luxury cars but then they offer all the old school comfort at the same time. There are wild rumours suggesting EQC could be made in India and this 1886 Edition is rather expensive. Considering options that are inbound and not cheap either, you could go for this or wait for E-SUV's from Jaguar, Audi, BMW and Volvo. For now, though, Mercedes has a first-mover advantage and with its packages, it does sound like a good deal given service is not a hassle anymore and reliability from the word go is present. Seems like the future is truly here.