Anand Mahindra Buys Alturas G4! Calls it Baaz. A Hindi name for the fiercest birds on the planet
Anand Mahindra, aka the Twitter CEO, not 'The CEO of Twitter' is source for probably the best source of inspiration out in the market for emerging companies and its CEO's, ofcourse. We know he is the Chairman of the group, but this sounds nice, doesn't it? Anyways, there is also a bit light side shared on a daily basis by the Chairman of the Mahindra group too and he calls it the hashtag Whatsapp wonder box where we see things which we probably ignore on our own, but when the same thing pops up on on Mr. Mahindra's handle, it suddenly is interesting.
He also has a knack for cars, because he makes a lot of them and how cool is that. Mr. Mahindra has ended up buying a few of them and this time, after the TUV 300, he has bought himself the flagship SUV that the company sells, the brand new Alturas G4. Like most enthusiast, we end up naming our cars. The Chairman made things charming and made it a contest and asked his followers to give him suggestions of what his car name should be. Mr. Mahindra had a tonne of entries and he ended up selecting the name Baaz which one of the followers suggested. It's a Hindi name for the bird Falcon.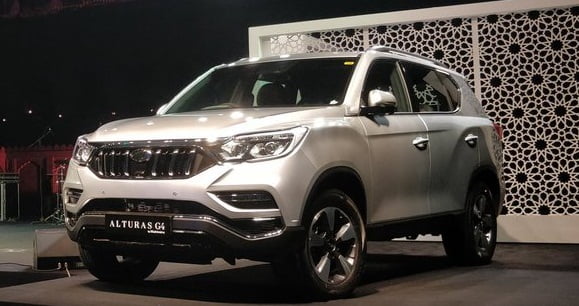 He gets lucky and gets Alturas G4 scale model as his gift and Mr. Mahindra in return gets a name for his new swanky SUV. Alturas continues to be in the limelight as it comes in a segment charging ahead with a great price tag and goes against the segment's volume king, the Toyota Fortuner and the segment best Ford Endeavour. The competition is intense and Mahindra intends to fight it. Will the Alturas G4 emerge as the Falcon in a comparison and look down at its rivals like pigeons? We look forward to interesting times ahead.
Thank you all,for the HUGE response to my call for a nickname for my new Alturas G4! Chayan, I loved your entry. I'll now call it my 'BAAZ' (Falcon) Please mail your postal address to [email protected] & we will send you 2 Diecast Mahindra scale models as promised! https://t.co/UxV2BFeAVd

— anand mahindra (@anandmahindra) January 19, 2019
Finally took delivery of my Alturas G4. I named my TUV 3OO plus the 'Grey Ghost.' Need a name for this new beautiful beast. All ideas welcome. The person who suggests the chosen name will get 2 Mahindra die cast scale models (Not the Alturas scale model—that's not ready yet!) pic.twitter.com/KbvAxOAwvk

— anand mahindra (@anandmahindra) January 16, 2019