BMW has had the best year, which is 2018. The manufacturer recorded excellent sales number, which was an increase of 16% over the previous year. The models contributing were SUV's and two other models. One of them was the 6GT and the other is this, the BMW 5-Series. There is an enthusiast variant, which is this, the 530d M-Sport. It gets everything you can imagine and the renowned straight six motor in diesel avatar. Is this the most fun to drive BMW in the entire line up, atleast in India? We find out since we have already driven the four-cylinder version, this review will concentrate on this particular variant. Let's find out then!
Design
The M-sport kitted car gets 3 part front bumper, sportier rear bumper, side skirts, blackened out kidney grille, bigger 18-inch wheels which are massive and lend it properly sporty stance. The rest of things continue with the massive size of the car which is now almost 5000 mm and the supremely chunky and LED equipped head and tail-lamps lends it a toned down look.
Interior
The interior is high quality as always. The seats more sportier and provide more support. Nappa leather has been used all around. The M-Sport thick steering wheel, M badges all around make you realize that the car is more sportier than the normal 5-Series. There are connectivity features, which is devoid of Android Auto. iDrive works flawlessly, has a sports display showing how much power and torque being used, change things in instrument cluster and let's you adjust ambient lighting and many more things through the dial which acts a scribble pad and a knob at the same time.
There is usual stowage area in arm rest, door pads and two cup holders which isn't entirely function able as they are small and its height has been blocked. Climate control, a banging Harman & Kardon sound system, panoramic sunroof is a part of the package over the normal version. Features include launch control, display key, adaptive led lights, cornering lights,10.2 inch screen 3d navigation in maps, rear entertainment package, wireless charging, surround view camera, remote control parking and apple car play.
Engine and Gearbox
The six-cylinder 3.0 diesel motor makes 256 PS of power 600 Nm of torque. Power is put down on the ground through a 8-speed sport gearbox if the surface is right. On smooth roads, even with minor patch of dirt or anything else that the Indian road is to offer, the traction control light comes on and you don't move ahead flawlessly. Very smooth and clean roads is where you can put the power down.
This isn't a problem with any four-cylinder cars. We noticed and compared over time. Something that is an issue in our country, but nevertheless, clean and smooth roads and full throttle means that the car pushes you back in the seat like a sports car and shoots ahead. Delivering power linearly, the car gathers speed, triple digit one, in no time and calmly that you don't realize that this is a sporty and fast mile muncher, a rare and awesome quality that this car can on offer for four passengers in absolute comfort.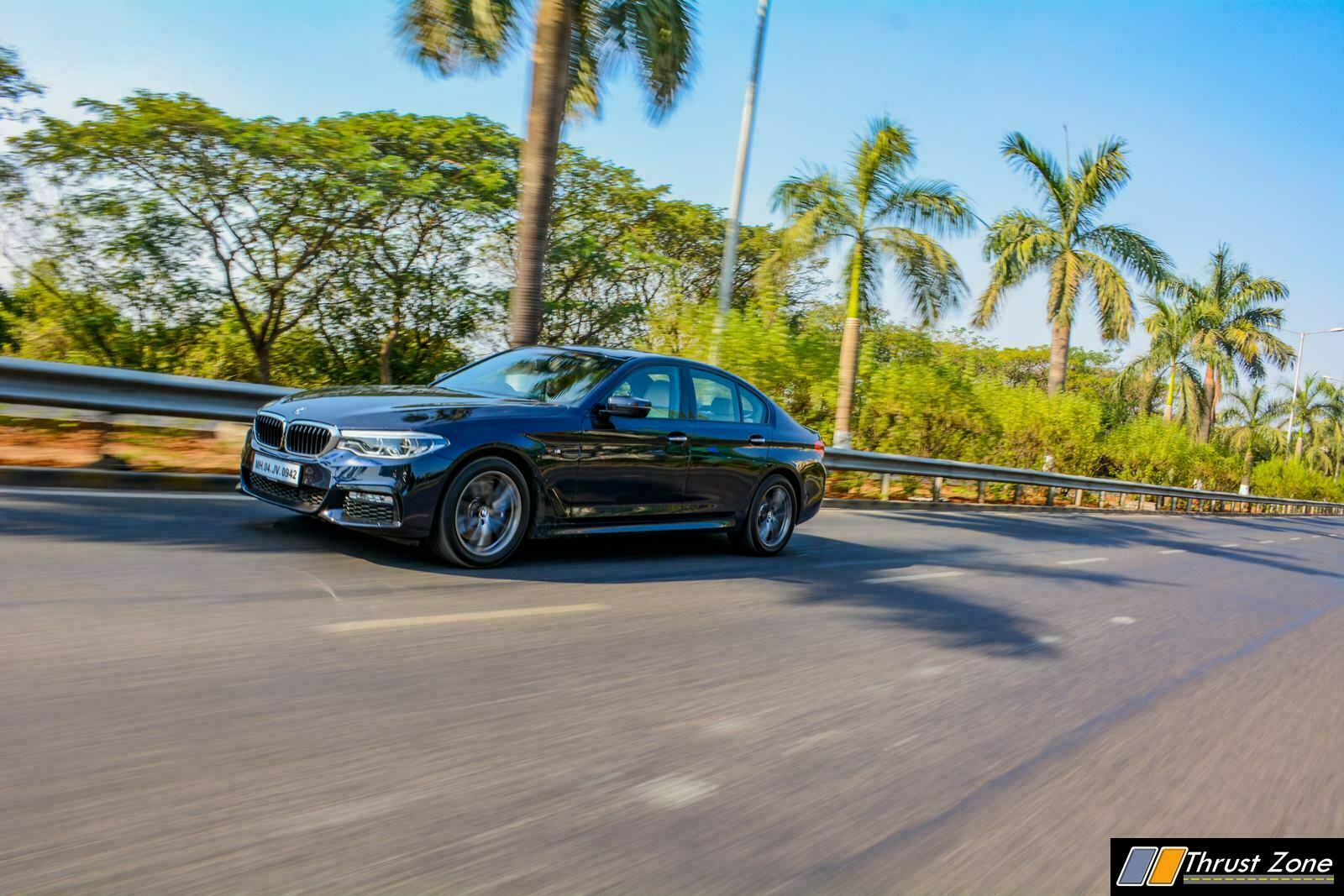 Great NVH levels, a good soundtrack at higher RPM for a diesel means its not bad at all pushing the engine. Sport mode isn't what you should in the city because power and gear shifts are constantly ready. Eco pro and comfort mode subdue it really well and you get fuel economy also We got 11 km/l which was pretty good for a power house of this type and size. 0-100 km/hr is in around 6 seconds and it has a limited top speed of 250 km/hr which it is always eager to touch.
Dynamics
The car showcased almost negligible body roll, there was humongous grip from fat 275 section tyres. Steering gets heavy and is feedback rich around and in the center. Brakes are good with over engineered pads and calipers from M division. Ride quality is good thanks to sporty suspension setup despite 18-inch wheels on offer which is great on twisty road and bad roads at any speed. Sure you can call it almost harsh, but it is still far away from that.
All of this comes to a car which is this long and wide but it is agile in the corners, nimble in the city and RWD format means you can have fun when you switch of stability controls. We are not fans of the adaptive dampers as it robs the BMW its organic feel. This is the reason why the new 3-series will get two suspensions to choose from which will be traditional spring and dampers.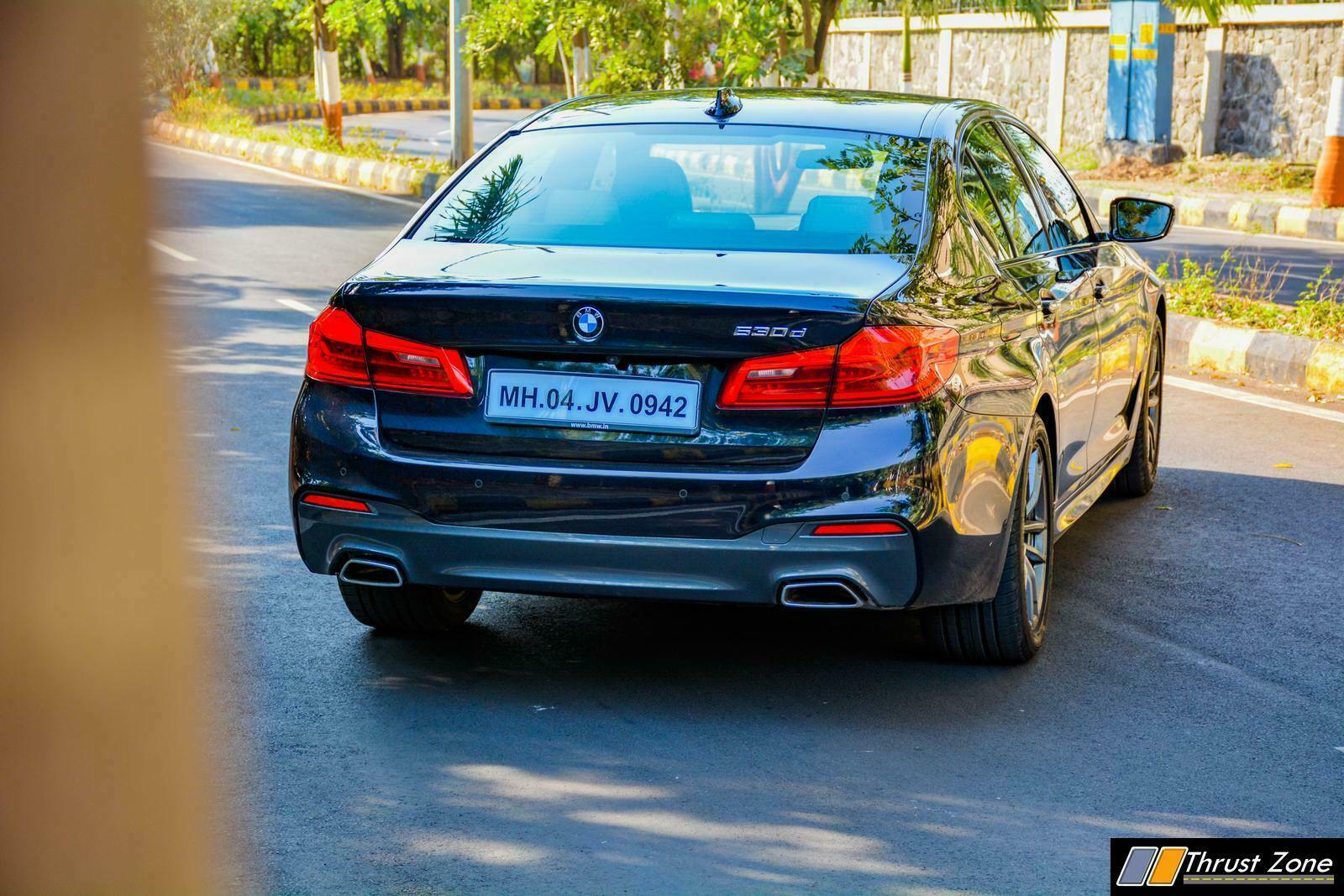 2019 BMW 530d India Review, First Drive
The 530d has everything to offer to you. Power, ride and handling, features, comfort for four passengers and practicality at the same time. The only thing you need to have is a fat bank balance to get you one. If you have that kind of money, you won't regret every single penny spent on this all-rounder luxury car that is every enthusiast dream in the country.
Read this too: BMW 5-Series petrol review