Lexus India today announced the third edition of the distinguished Lexus Design Award India (LDAI). The Design competition serves as a platform for both, emerging and established designers and creators, whose works can lead to a better future for all. The annual event attracts creative talent from around India, who aspire to win the coveted award for innovative design excellence.
Making the world a better place through design has been the program's purpose and the 2020 award continues the directive of "Design for a Better Tomorrow". As was the case last year, entrants will need to demonstrate how their creative ideas express three key principles of the Lexus brand. Anticipate, Innovate and Captivate, with an emphasis on how their design anticipates the needs of individuals and society.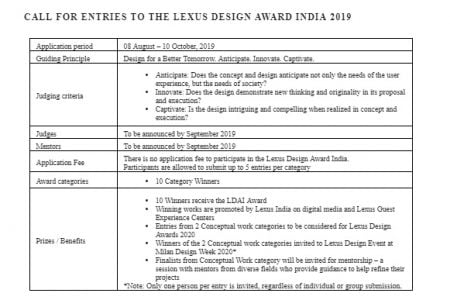 "We are extremely proud to announce the third edition of the Lexus Design Award India. Over the last two years, we have established ourselves as a premier design award that attracts hundreds of entries from the immensely talented Indian design community. We are confident that this edition will showcase some great designs and establish India as an innovation hub that provides solutions to various problems faced by society," said P B Venugopal, President, Lexus India.
A unique aspect of LDAI's third edition will see a new initiative where finalists from conceptual category receive exclusive mentorship. In the process of mentorship candidates receive recommendations and ideas, which can greatly influence to refine their projects.
Entries at the Lexus Design Award India 2020 will be judged across the following 10 categories:
Established Work (Client/ Self-Commissioned)
Product Design
Furniture Design
Textile Design
Craft Design
Design Thinking
Public Utility Design
Lifestyle Accessory Design
Design for Social Impact
Conceptual Work
Student Category
Open Category
Winners from the 10 categories will receive Lexus Design Award India trophies designed specially by Michael Foley, and the winning works will be promoted by Lexus India on digital media and Lexus Guest Experience Centers. Entries from the 2 conceptual work categories (9 & 10) will also be considered for the Lexus Design Award 2020, the international Design Award held worldwide by Lexus International. The winners from the 2 conceptual work categories (9 & 10) will be invited to the Lexus Design Event, at the Milan Design Week 2020.
The winners of LDAI 2020 will be announced in early 2020. The judges & mentors for the award will comprise some of the most noted and revered designers from India and will be announced by September 2019. Additionally, the panel will also have a member from the Lexus, who will support the team in the judging process.
Applications and entries for the Lexus Design Award India are now open with the deadline for submitting entries being – 10th October 2020. Details of the Lexus Design Award India 2020 can be found at www.lexusindia.co.in/en/discover-lexus/lexus-design-award-india.