Triumph Including Other Superbike Manufacturers Organized Independence Rides Across the Nation as the tradition continues with all high-end motorcycle manufacturers
Triumph Motorcycles India marked the 72nd Independence Day with special Triumph Freedom Ride held across its dealerships in India. 513 riders from the Riders Association of Triumph groups participated in the ride.
With the Triumph Freedom Ride, Triumph Motorcycles continued with it's annual tradition of bringing riders together on the Independence Day to support the noble cause of girl child education. Triumph riders donated generously for this very special cause.
The proceeds from the ride will support the #SheCanFly campaign of Smile Foundation, and will be used to educate girl children for one full year. Smile Foundation is a national level development organization benefitting over 400,000 underprivileged children, their families and the community directly through 250 welfare projects on subjects such as education, healthcare, livelihood, and women empowerment across 25 states of India.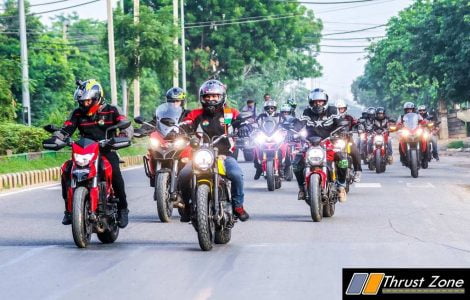 Indian Motorcycles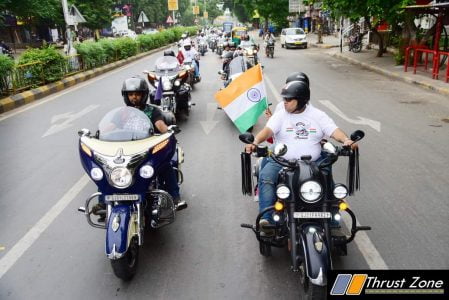 Marking the spirit of freedom and passion for riding, enthusiastic Indian Motorcycle® Riders Group™ (IMRG) rode their iconic Indian Motorcycle® and visited places of National importance to pay tribute to the Freedom Fighters.
The Indian Motorcycle® Freedom Ride was flagged off from Indian Motorcycle® dealerships across the country. The Indian Motorcycle® Freedom Ride concluded in respective cities to a venue holding National Importance in the city such as India Gate, Gateway of India etc. Indian Motorcycle® also conducted a contest on social media for its customers were the winner will receive a customised Indian Motorcycle® Tricolour helmet.
Ducati: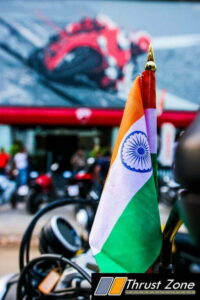 Ducati concluded its first Independence Day Ride in India, in partnership with Lotus Petal foundation. Over 350 Ducatisti from across the Ducati dealer network came together to celebrate the spirit of Independence and supported the cause of providing education and life of dignity for the children living in the slums. Kids supported by the Lotus Petal foundation and its founding members, spoke to the Ducatisti at the Ducati Gurgaon showroom and also flagged off the ride which passed through India gate and Delhi roads before culminating in Gurgaon.
The rides started at 7 AM from the Ducati dealerships across Delhi – NCR, Mumbai, Pune, Ahmedabad, Bengaluru, Kochi, Kolkata & Chennai and the Independence Day ended on a positive note with the spirit of independence truly and aptly celebrated by Ducati India and its motorcycle community.