Triumph India Completes Four Years – Celebrates By Storming 2017 IBW Goa And Unveiling SpeedMaster Motorcycle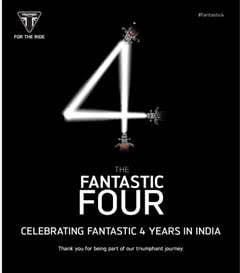 Triumph India Completes Four Years in India with many motorcycles launched – This year it plans to sell 1300 Units
The Triumph brand was popular across the world, its recognition in India was still in the nascent stages. Triumph India started with a single dealership in Bengaluru. Triumph India kept an ear to every customer's pulse, carefully planning the road ahead, multi-tasking to fortifying ourselves for the challenges yet to come, but never losing sight of our one unified goal which was to make Triumph Motorcycles one of the most loved premium motorcycle brands here in India.
From there on, all roads led to Triumph's growth in India – Since 2013, we have grown to a full-fledged team with various specializations. The dealership network has grown to 14 cities across the country, and an unmatched portfolio of 16 different motorcycle models across five premium categories.
Triumph India partnered with California Super School, RACR Academy and above all started training sessions in the form of Triumph Tiger training to train riders in the art of making the most of riding with safety in mind. Triumph India dealers got together to organize Triumph Rider's Groups where customers come and ride together for a cause.
4 years of Triumph Motorcycles in India
Some of the milestones:
37 major industry award wins
More than 16 different motorcycles launched across 5 categories
14 State of the art dealerships and growing
Celebrating 4,500 customers
Rider skills enhancing programmes in India such as TTA
Promotion of road safety and safe riding skills
More than 1000 proud Triumph motorcycle owners rode from all parts of India to gather at the iconic fifth edition of Asia's largest motorcycle event.
Triumph Motorcycles India unveils the all new Speedmaster at the India Bike Week 2017
The Triumph Tiger has been pivotal in building the adventure riding category and culture in India and is currently the market leader within this fast-growing segment.
Experience Zone at IBW 2017
Triumph Motorcycles hosted the best exhibition at their experience zone in the India Bike Week
The ride promoted the cause of safe riding among its participants. The Triumph group was present in full force in the IBW parade, thereon.
Read this too: Read about the Triumph Speedmaster here