Triumph Motorcycles is on a roll worldwide would be an understatement. Back-to-back new motorcycles coming in from the manufacturer shows their dedication and passion towards motorcycling. With new ideas and new formats, Triumph is taking things to new heights. To provide a proper Triumph experience single time, the British manufacturer is going to great lengths. The one thing where Triumph has gone quite high is designing an all-new motorcycle with a new cubic capacity and category. The Triumph Trident is that motorcycle. Intrigued us when it was revealed first we have finally ridden it. On paper, it feels like the ideal bike to upgrade in India given its creditionals from 200 or 400cc. Does it do that well enough? We spend some time with it to tell you all about it!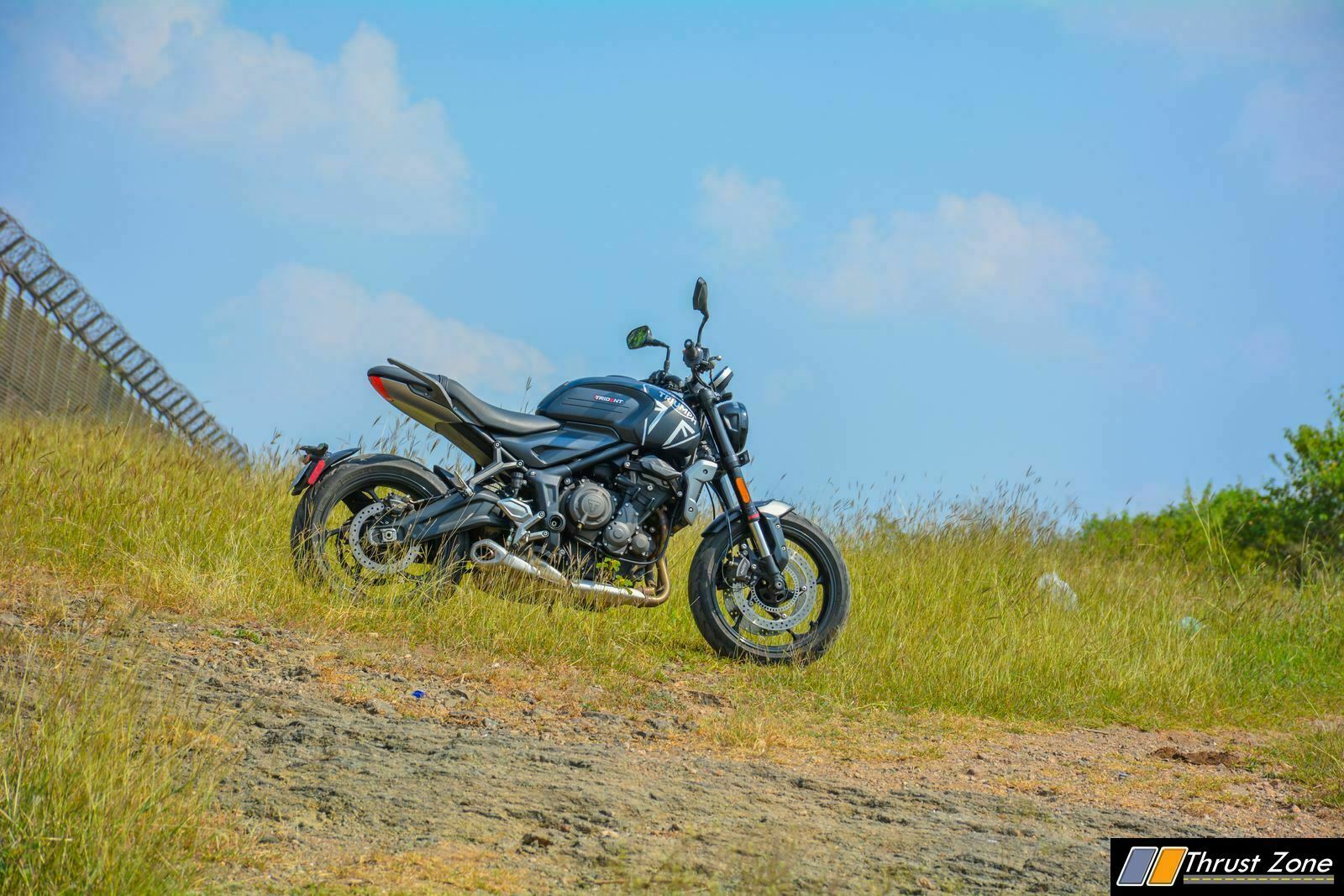 When it comes to design, the headlamp is a basic circular design with twin LED DRL inside it. However, the piano black element around makes it look fresh and modern. Illumination and spread of the headlight impressive in pitch-black darkness with the high beam on. Our test motorcycle had a light direction aiming towards the sky. The tank is big and muscular and dominates the entire motorcycle's design. The rear tail-lamp is retro too along with the indicators. The wheels are five-spoke units and are black in color make it look befitting to the over design.
The side panel looks sleek and has a faux vent on it. The rear subframe is short enough to make it look stubby and sporty. Grab handle is basic and does its job. The split seats give it a good look. The exhaust also looks befitting and mounted low. The new crankcase design is large and circular and looks modern and shape reminds of retro goodness. Overall, a motorcycle that looks good, proportionate enough, and grabs attention despite its size.
The instrument cluster is a digital layout below it showing a fuel gauge, trip meter, eco-driving manner, service indicators and speedo meter houses all the telltale lights. The tachometer is also digital and slightly small, making it hard to read at times.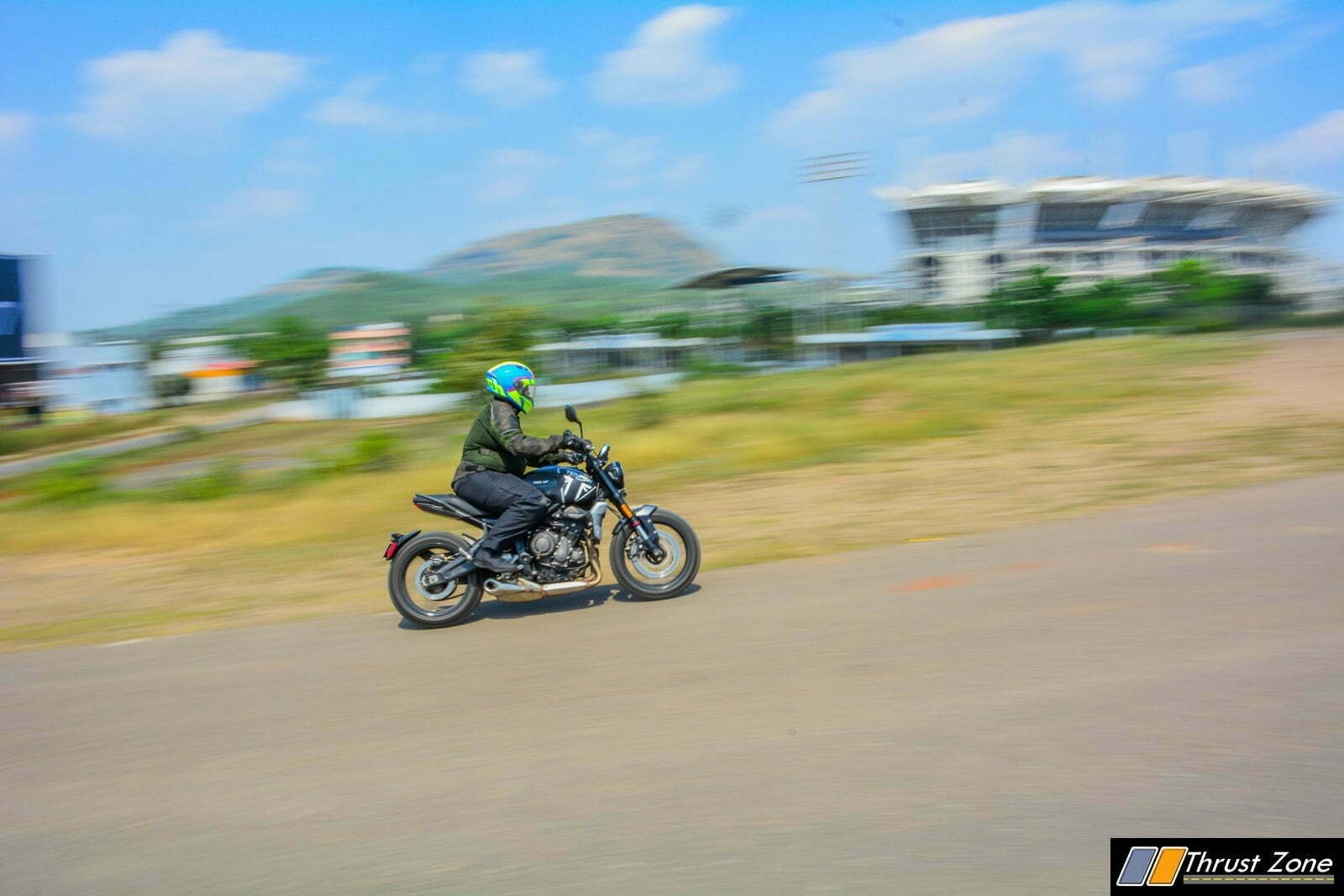 The ergonomics are comfortable with the seat positioning being upright and tank can be grabbed perfectly well for the sizes of riders. The handlebar is not as wide as other super bikes. It is also stretched ahead a bit because the seat and tank make it a bit of a reach. All this does make it easier to live with and spraining your upper back.
Footpegs are rear set which helps grab the tank rather well. Seat comfort for rider and pillion is above average. Mumbai-Pune runs during our road test did not result in derrière aching as we clocked the 300 km run. Switchgear is new and LHS side controls the cluster and the right side button controls, ignition and kills switch together. Mirrors offer a good view of what is behind but could have been bigger for guys who are on the wider side.
Powering the motorcycle is a 660cc engine making 81 PS and 64 Nm of torque from a 4-valve, DOHC, liquid-cooled three-cylinder engine. The motor is mated to a 6-speed smooth-shifting gearbox that operates with a fairly light clutch action. The refinement is spot as NVH levels are well in check. You can rev it all the way up and there are negligible vibrations on the handlebar, seats, and footpegs. Low and mid-range torque is where it is good and at the top end is where it truly excels. The cruising speed is around 120-140 km/hr. Trident does that in a calm, smooth and effortless manner than before making it easy to live with and control-able to newbie riders which the motorcycle is aimed at.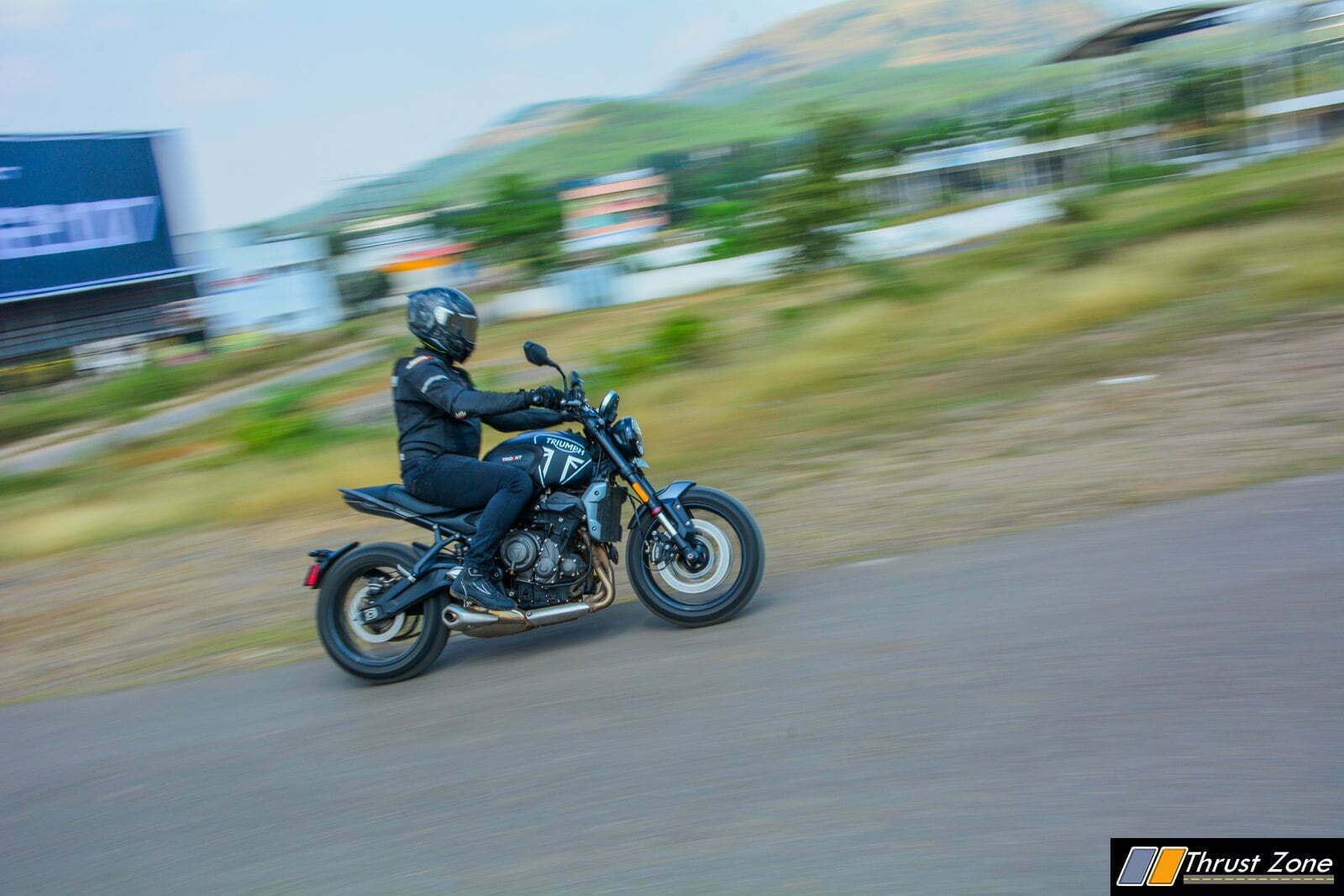 The top speed is 200 km/hr on the speedo and 0-100 km/hr takes under 5 seconds. The soundtrack, be it intake or exhaust note does remind you of previous Triumphs of the past but albeit with a lower decibel. Throttle response is precise and power delivery is linear as always. Fueling is sorted throughout the rev range and makes it easy to ride in the city at low speeds. We were getting 24 km/l in the city and 28 km/l on the highway. Overall, we are impressed with the engine and all its parameters making it an all-rounder.

Dynamically, the front rake and trail are sharper making it easy to chuck into a corner. Composure while cornering is great thanks to a solid chassis setup despite a short wheelbase on offer. Suspension is stiffer than we expected. It can feel harsh on our Indian roads. The front forks are not adjustable but the rear suspension is.
120 section tyre at the front and 170 section at the rear compliment the suspension. While braking, there was good bite at the lever despite our test ride having brakes worn in pretty hard. 320mm disc at the front and 300mm at the back make a lot more sense for sure. High-speed stability is good too with a light or heavy rider. Maneuvering at low speed requires less effort and including at parking speeds. Overall, a very easy motorcycle to live with on a daily basis considering its light 189 kg kerb weight and the way the chassis has been tuned to be comfortable, sporty and be easy on the rider.
Triumph Trident 660 India Review, Verdict
Triumph Trident had an ace up its sleeve with its price when it came at the beginning of 2021. The pricing has gone up now by a big margin. However, we think it is still good value for money considering Triumph's reach in India is good and after-sales is proving to be much better than its peers. Needless to say, the Trident as a product also impresses despite being a bit too vanilla and easy to ride, unlike a big bike should feel.
Triumph seems to have overengineered this bike to be easy on the new rider who wants to upgrade to the superbike experience, which ends up being a good thing for most. After all, the speed does thrill and since it is docile, it makes it the bike the rider can enjoy every single day! Have fun on the track, weekend rides, and those long-distance journeys can finally be fatigue-free despite a stonker of an engine between the rider's legs.
Ex-showroom (Mumbai): ₹ 7,58,000
Triumph Trident 660 India Review
Design

Features

Safety

Performance

Dynamics

Practicaltiy

Value

Comfort