Enchanting –
One of a kind cycle
Well designed, solidly enginnered
Ideal intercity vehicle
Digital meter is a stand out feature
Unsatisfying –
There are two things that are doing rounds in the millennial market right now. Electric vehicles and fitness. Fitness is being achieved with gyms and second most popular and old school way of cycling. There are efficient, keep you healthy, don't cost a bomb to maintain and run and are convenient by a substantial margin to live with. TronX is a company which has known for making many other things before coming up with this. Its background is of an IT company based in Bangalore and has come with TronX One, the first taste at electric cycle to the masses with its unique approach in every area. Let's have a closer look.
The design is quite interesting with chassis being a hollow unit in the middle and the battery is mounted there. Everything else is functional with mudguards, a headlight, flat handlebar with flat grips to hold the bars better. Spoke wheels, the black colour used all around makes it stand out with the red frame.
The Tronx one highlight is the speedometer it provides which has a lap timer, calorie burn counter with the telltale options such as battery indicator, time and other bits makes it stand out. The riding part is quite interesting this time as it isn't your regular cycle. There are gears, there is a throttle for the electric motor, there are three modes to choose from in the speedometer which allows you to choose from three modes.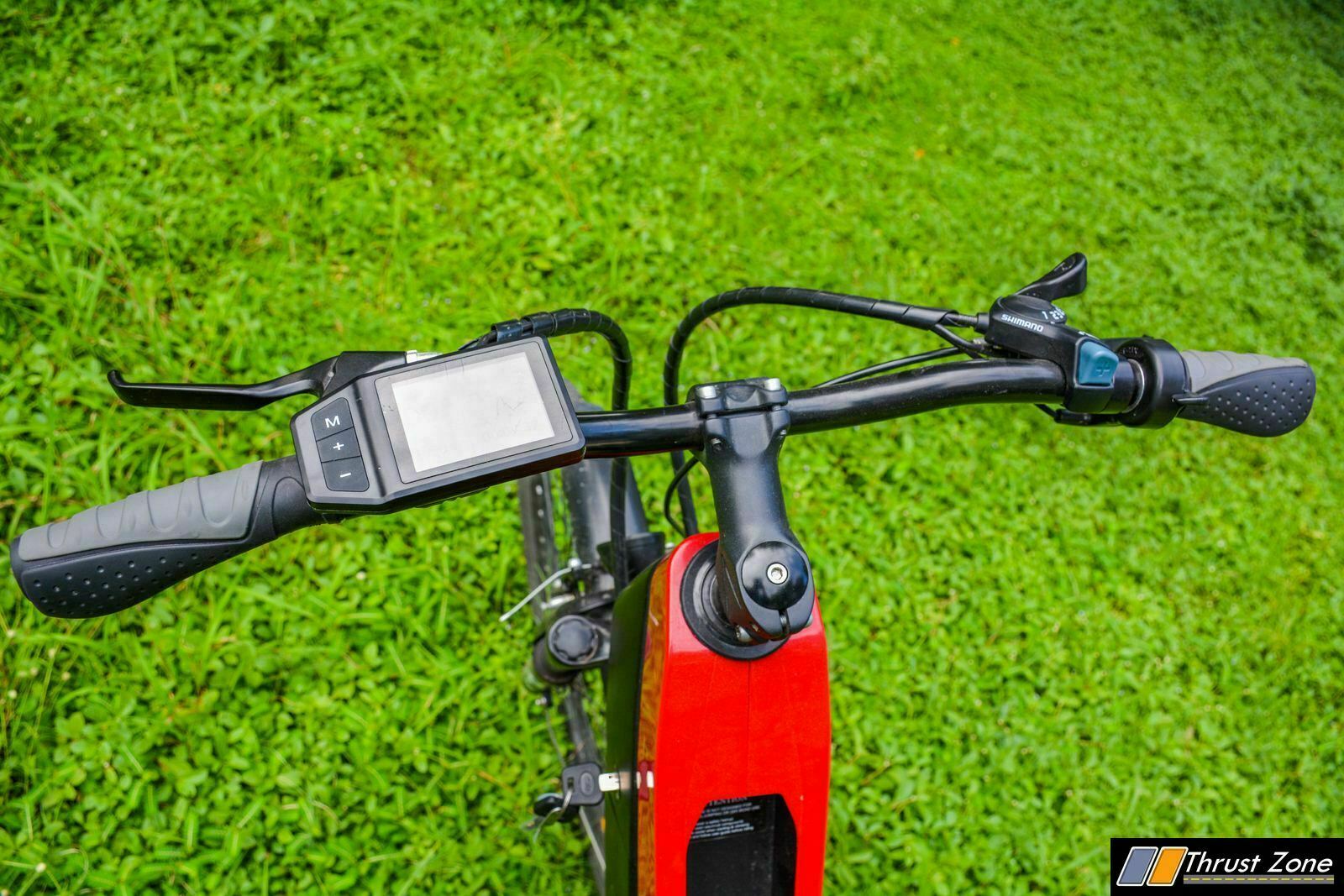 The three modes are low, medium and high power options to choose from which help you achieve a higher top speed while you pedal at the same time. This is the assist part where it takes off the effort, allows you to cruise at high speeds o 45-50 km/hr. It is like walking on an escalator. Make sure to change gears and choose higher modes to go even faster. There is also the throttle at the right side which helps if you start from a standstill. Change gears at the same time and you will have little to no stress riding the cycle. We think this is a great come back cycle for people who want to re-enter the world of cycling.
The riding part over our broken roads is not bad at all because it gets front forks which provide great comfort and take potholes rather impressively. The rear suspension is a miss, of course, we are talking and comparing it to a motorcycle, but if that comes then this cycle would be really comfortable.
Seat height also isn't adjustable. Oddly, the disc brake is mounted at the rear where the electric motor is and there are drum/rubber brakes at the front. Usually, it is the other way around despite a traditional layout of the engine. The electric motor is smooth and quiet and doesn't make much fuss. It does get charged in an hour or two. Open the battery from the key is attached and you will find a port.
Overall, we think this is a great product and is a lifestyle product that is actually quite necessary rather than the luxury addition to anybody's garage. However, the price is on the luxurious side. At Rs. 54,000, it is a lot of money. We are already impressed by this and think that we could see adding this to our garage/bedroom soon.
Tronx One Review
Design

Performance

Features

Value