Enchanting –
Stately, brute and futuristic styling
Superlative chassis, brakes, engine
Numerous options for engines and variants
Practial, spacious and genuine off-roader
Unsatisfying –
Seats could be better at back
Missing Apple Car Play and Android Auto
Land Rover has a history of making best in class SUV's. SUV's are the flavour of the market right now. Discovery is the Flagship model of the brand. The SUV just made an entry into the Indian market couple of months back, All the reasons why were hell-bent on testing one as soon as possible. Land Rover also provides new, highly potent Ingenium engines in petrol and diesel mated to the newly tuned gearbox. Here, the test car Land Rover sent us was the Discovery with a petrol engine, but not just any, the supercharged petrol motor with V6 configuration. How was it like. Let's find out!
Styling
In terms of design, the SUV just stands out. The right colour of our test car made eyes pop out. The extremely tall and wide stance along with a flush fit for most things such as the head and tail-lamp makes it look brute and future ready. The inspiration for flush-ness comes from the Velar which made its recent entry or vice versa. The large wheel gap, flared arches and humungous bonnet create some road presence. The led head and tail-lamps make things even more interesting in the night. Land Rover badge on the C-Pillar continues to be great addition to the design. A SUV sketch on the B-Pillar is quite interesting. Overall, with no proportions or elements wrong, the Discovery demands and gets a substantial amount of attention.
Interior
Interior is the place where dark colour has been used. There is a large steering wheel with the Discovery badge rather than the Land Rover badge making it quite special. Quality is the best we have seen in any Land Rover vehicle to date. However, there are plastics which don't feel right in a car of this size and price. The wood used in this car is just sublime and adds an aura of sophistication to the cabin all by itself. The gear lever continues to rise from the centre console which adds a bit of drama.
Dual glovebox, large cubby below the armrest, door pockets, storage behind the a/c control panels and other areas make stowage not a problem. The SUV gets split tail-gate which is quite a royal touch to the SUV if you ask any enthusiast. Rear entertainment package, navigation, Wifi, and activity key are on offer. Rear seats can be folded with a touch of a button from the front screen or buttons in the rear within the boot. Front seats are cooled and heated.
Feature list lacks Apple Car Play and Android Auto. The SUV continues to get all connectivity options. The infotainment system continues to be very friendly and intuitive. Start-stop system, keyless entry and In-control app making things easier. New protect system helps it make more secure.
Three-zone climate control and A/c vents on the b-pillar at the back keep the cabin cool. Dual sunroofs are on offer, the rear one doesn't open though. Electric sliders for the cover are on offer for both sides. The Meridian sound system never fails to impress either. Park assist, LED headlights with LED signature with Auto High Beam Assist (AHBA), 360-degree camera, parallel and perpendicular parking is done automatically. It also gets adaptive cruise control and lane keep assist as well.
Space in all three rows is good. The last row is best for kids, middle row lacks under-thigh support and front does just fine. Boot space is alright with all seats up but could have been more considering this is the flagship. The boot has plenty of hooks, lights and charging points. Door handles are mounted quite low, oddly.
Engine and Gearbox
The engine was the V6 supercharged petrol motor making 340 PS of power and 450 Nm of torque. The engine is free revving, smooth, great on NVH levels till 4000 RPM. Post 4000 RPM, the supercharger kicks in, the whine from it intoxicates you and begs you to push the engine till its redline where the soundtrack from the engine is just aural pleasure and brute at the same time. There is a lot of torque from 3000 RPM all the way to 6500 RPM. The supercharger whine is just way too addictive and cost you a lot of bucks at petrol pumps.
However, below that the SUV does struggle with turbo lag which results in not so instant driveability. Since there are no driving modes, you cannot make the best out of the engine either. The gearbox offers seamless shifts and makes its presence when it shifts at redline. There is a sports mode for the gearbox which makes things more responsive when you want a spirited drive. 0-100 km/hr is done in 8 seconds and it returned a fuel economy of 8 km/l in highway and city runs.
Ride and Handling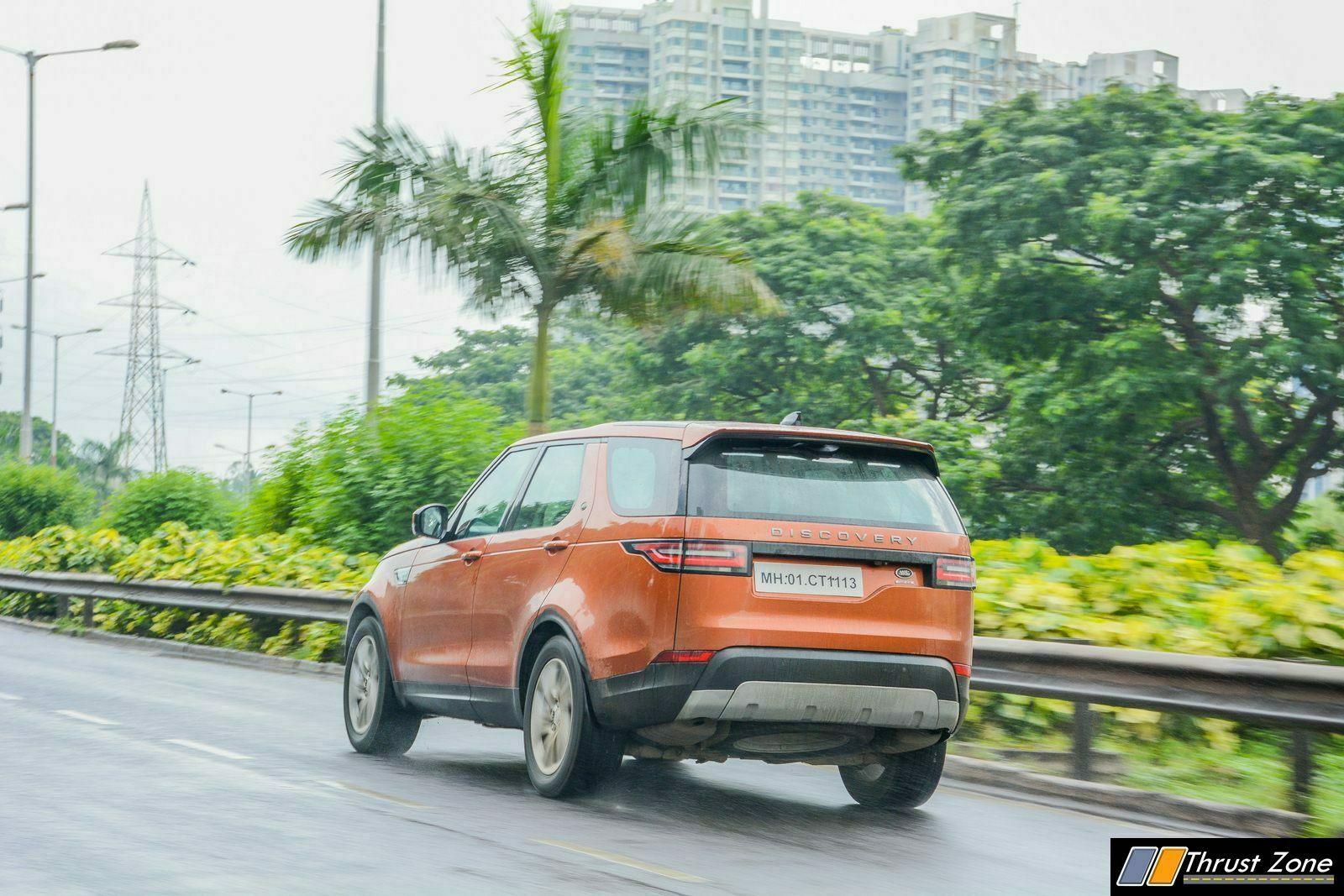 Dynamically, the SUV has body roll to a certain extent, not disturbing though. The suspension is adjustable at a touch of a button, the lowest setting can only be used while at lower speeds. The suspension is adaptive and adjustable so it continues to do so while driving and chooses what is best for that particular speed and road. Ride quality is good as a result, but there is a bit of firmness that is felt. The car is lighter by 480 kgs and more aerodynamic than before and with the use of aluminium and revised styling to make it more slippery. Nevertheless, the SUV still weights 2.2 tonnes which are quite high but packs dynamic abilities which makes it still fun to drive to a large extent.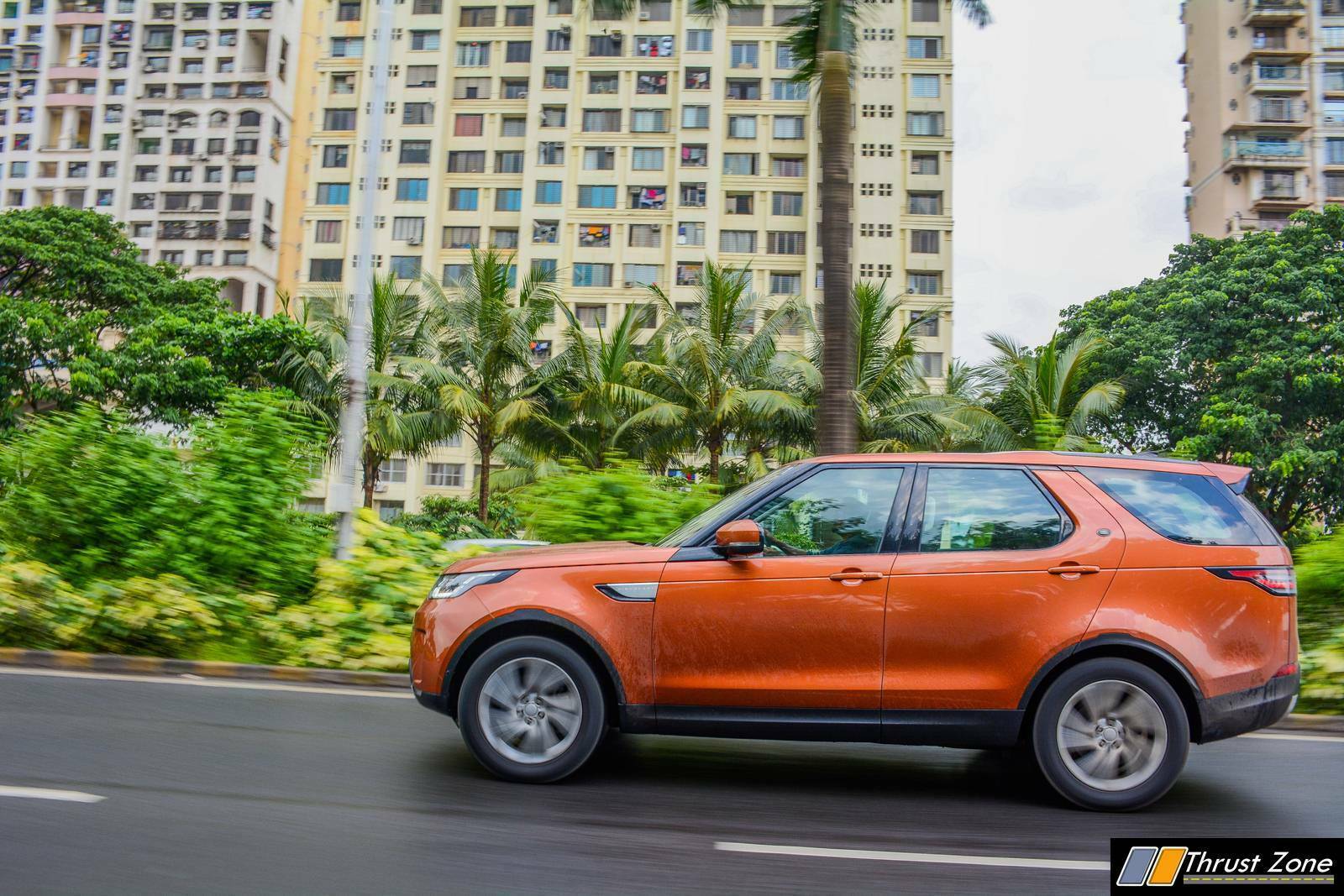 Brakes are good when it comes to power and pedal bite on offer. Steering is light and gets heavy at higher speeds is just about communicative, not enthusiastic and supremely feedback rich. Highway stability is good at any given speed. Terrain Response 2 helps in off-roading which we did to a certain extent where it climbed foothills rather well, went over rocks and broken roads easily with humungous 283 mm of ground clearance. Discovery also comes with eye-watering (pun intended) 900mm of water wading capacity. Twin speed gearbox helps in more off-roading at crawling speeds and a centre differential helps split torque by 50:50 ratio.
Land Rover Discovery Petrol India Review, Verdict
Overall, the Discovery lives up to the hype when it comes to offering best in class driving dynamics, great engines on offer with practicality and a sensible price tag when you consider the competition. Let's not forget, this SUV is an off-roader as well. The competition lacks engine options and other things against the Discovery which makes it an instant pick with this segment of customers. Despite some shortcomings, there are many things that will allure customers to showrooms and we think one of them, actively, is the legacy that this brand has to offer while everything else is passive in this SUV.
Petrol V6 HSE Price: Rs. 81,75,173 ex-showroom Delhi
Discovery Petrol India Review
Design

Interior

Features

Space

Comfort

Practicality

Safety

Value

Performance

Dynamics