Times pass by so quickly these days that even the news says that the earth is spinning faster. When we first drove the Ronin and came back home and put out a video we loved it and this review emphasis on that aspect too. However, as we started publishing this, the competition is here and it finally puts things into perspective on how Ronin, before the arrival of its competitor stayed ahead by leaps and bounds. With a legacy of racing, quality, and reliability, TVS has had an edge over its rival all the time. How does the new Ronin do, with a lot of new and old on it? We find out!
When it comes to design, the headlamp is the usual round-shaped unit for a retro-neo motorcycle. The t-shape for LED DRL is the biggest highlight which grabs attention on the road in an unhinged manner. The tank shape is small, low-slung, and could be a tad better. However, it is the overall design that appeals instantly to everyone. The tank is too retro we suppose, and it needed a bit more modernity for that complete retro-modern look. The rear tail-lamp with multiple LED bulbs makes it distinctive among the crowd of motorcycles in the country today.
The alloy wheels and golden forks also help the motorcycle look good. The side panel looks very TVS and has the logo of Ronin on it. The rear fender is short enough to make it look sporty and the downright simple grab handle is basic and does its job. The ribbed brown seats give it a good retro look. Overall, a motorcycle looks good and could be a bit more proportionate. However, it still, grabs attention in almost all colors, which means, good job TVS!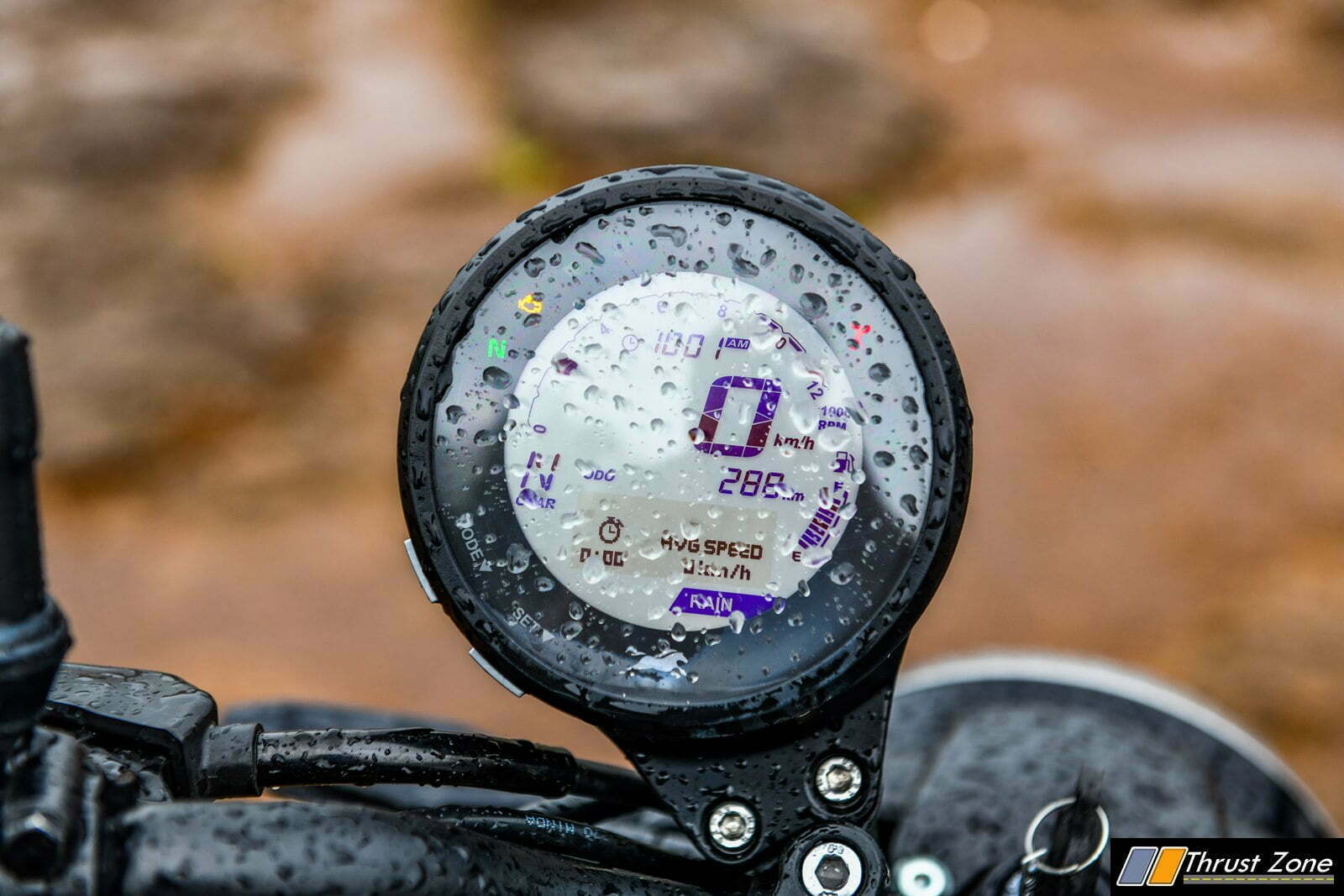 The instrument cluster is a single pod with a digital layout showing a fuel gauge, trip meter, eco-driving manner, service indicators, and more. The telltale lights are in the pods. The tachometer is digital as well. Switchgear is the same as any TVS motorcycle which means it is high on quality and has top-notch tactility. Connectivity features are on offer from the suite of options that are seen in the TVS X Connect.
Mirrors offer a good view of what is behind but could have been bigger. The ergonomics are the same as any TVS bike which makes it a hit or a miss. Very low seat height and lower height motorcycle make it great for shorter riders, which is the mass in India. However, the taller one's just about managed with enough legroom. Footpegs are center set which does not helps grab the tank rather well. Seat comfort for rider and pillion is above average.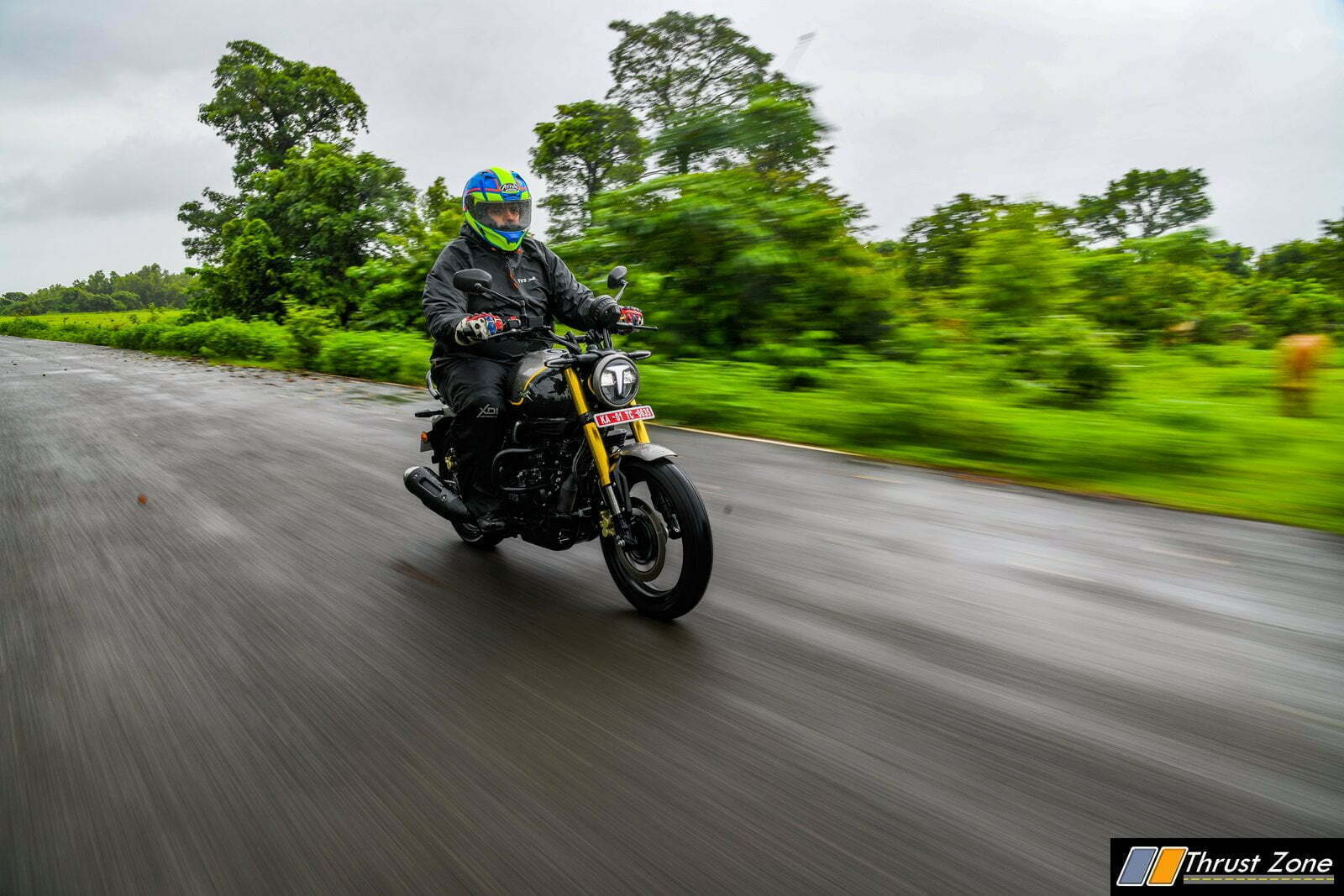 Powering the motorcycle is a new 225cc engine making 20 PS and 19 Nm of torque from a 4-valve, SOHC, air/oil-cooled engine. The motor is mated to a 5-speed smooth-shifting gearbox that operates with a very light clutch action. Assist slipper clutch does its job really well. The refinement is highest in its class. You can rev it all the way up and there are negligible vibrations on the handlebar, seats, and footpegs.
Low and mid-range torque is where it excels as it does lack punch after 110 km/hr. The cruising speed is still around 80-90 km/hr. The top speed is 135 km/hr on the speedo. The soundtrack, be it intake or exhaust note is throaty and loud like the Apache series of motorcycles. Throttle response is precise and power delivery is linear as always. Fueling is sorted throughout the rev range and makes it easy to ride in the city. Overall, there is nothing really to complain about apart from the fact that the motorcycle could do with 5 more horsepower.
Dynamically, the front rake and trail are surprisingly sharper making it easy and quick to chuck into a corner. Composure while cornering is great thanks to a solid chassis setup and excellent tires which gripped so well despite pushing on the damp roads of Goa. Suspension is well tuned and travel is high enough. The 181 mm ground clearance makes things easier overgoing all sorts of obstacles. Front forks provide more feedback than expected which makes it riding it quickly a great affair. The rear suspension is adjustable and is mounted to the swingarm, not the chassis.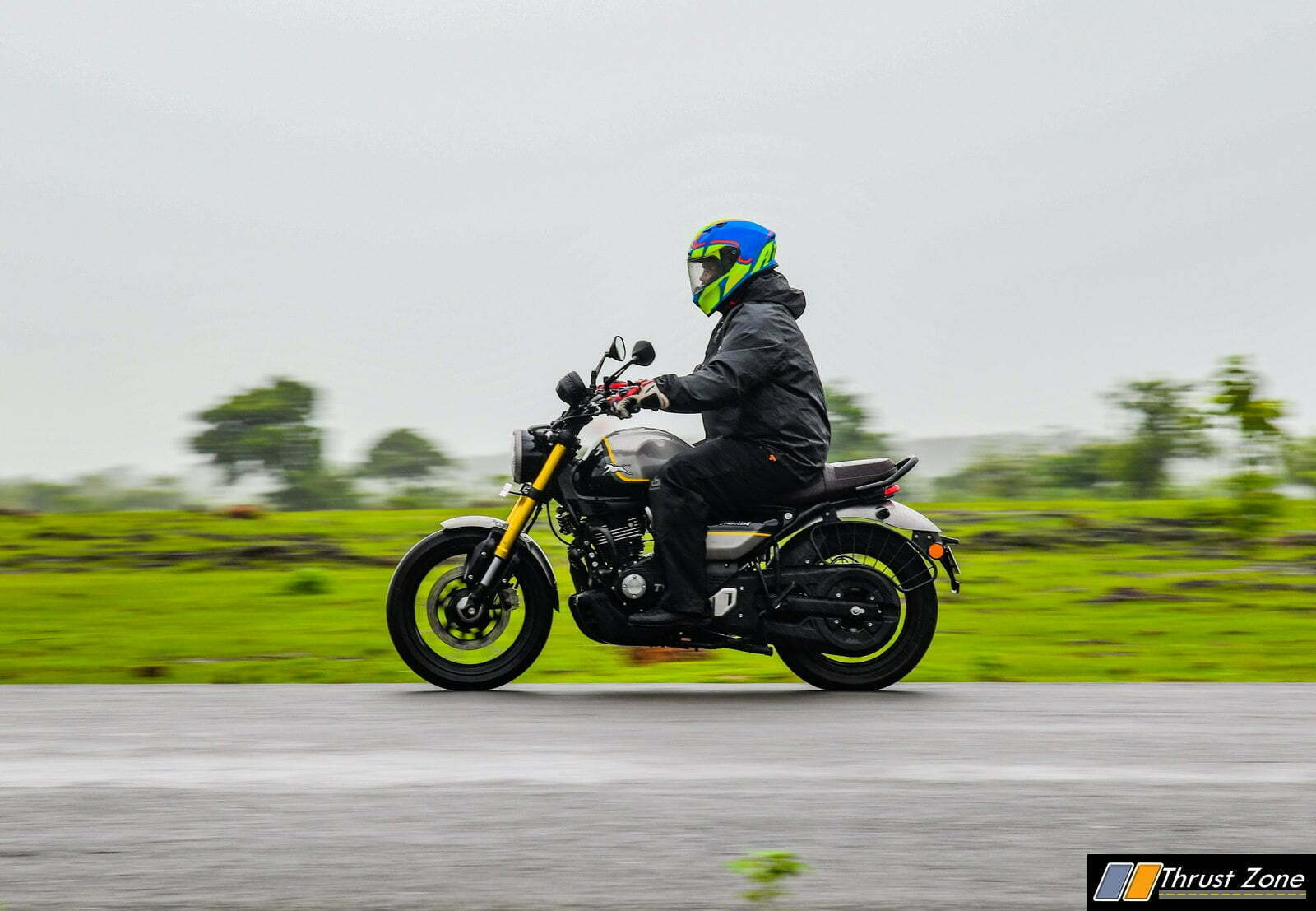 Ride quality is the best of both worlds. It feels stiff but still compliant enough to take bad roads with ease at any speed. The brakes are good for road high-speed braking and the bite is good at the adjustable lever too. High-speed stability is good too with a light or heavy rider, suspension seems adept for more riders from the factory setup itself. It can be a touch soft for heavy riders, but a few clicks up, it will be great. ABS is switchable and has modes such as Rain and Urban which means ABS sensation will be higher in Rain mode over Urban mode. Maneuvering at low speed requires no effort at all and at parking speeds. Overall, a typical TVS motorcycle to ride and feel, but it has distinct ergonomics and excellent chassis behavior which gel well and provide an enthusiastic yet comfortable riding experience.
TVS Ronin Review, Verdict
The TVS Ronin is yet another TVS on the inside, but on the outside and to ride, it is different in many ways. So that means you get approachable ergonomics and a refined motor with a fantastic and sophisticated suspension setup than any other TVS to date. What is new to the table is the lifestyle approach with this all-accessible scrambler setup which makes it go a bit off-road as well.
If you do not do that, you can still use it to go over broken roads of cities easily. With enough rideability in the city and acceptable highway cruising ability, the Ronin is for the first-time buyer, like TVS said rightly in their presentation. The Ronin then impresses the enthusiast as a great every day or second motorcycle while the newbies (mostly GenZ) are going to have a ball of a time with this machine, that is for sure!
TVS Ronin Review
Design

Quality

Features

Practicality

Performance

Dynamics

Safety

Value

Comfort