Maxi and maxi style scooters have recently become popular even in the Indian market. We've seen new entrants to the segment starting with the Aprilia SXR 125 and 160, Yamaha Aerox 155, Keeway Vieste 300 and even the BMW C 400 GT. Now, Yamaha seems set to launch the TMax in India without any disguise.
Yamaha needs more multi-cylinder motorcycles in India and is launching the MT-03 and YZF-R3 soon. The possibility of launching MT-07, MT-09 and YZF-R7 is also quite high.If launched in India, the Yamaha TMax maxi scooter will come to us via the CBU route, with a hefty price tag, going up to Rs. 20 lakh (ex-sh) easily. In the world of motorcycles, maxi-scooters have the same level of wind protection as a full-roof motorcycle but do not require a fixed riding position. In this regard, the maxi scooter also has a lot of philosophy with the bagger and tourer.
Considering that India is the world's largest 2W market, launching a premium maxi scooter would make sense, as the BMW C 400 GT is already on sale.That said, Yamaha is currently completely absent from the major motorcycle market in India. Not only large displacement vehicles, Yamaha's main product in India is the 150cc single cylinder motorcycle.
Yamaha TMax is a multi-cylinder maxi-scooter line of the Japanese brand, located above the XMax single-cylinder maxi-scooter line. It boasts a 562cc liquid-cooled 4V DOHC engine that produces around 47 PS of peak power at 7,500 rpm and 56 Nm of peak torque at 5,250 rpm. There's an automatic transmission with a V-belt that sends power to the rear wheels.Due to its passenger-bike characteristics, it has a large 15L fuel tank (by scooter standards) and Yamaha promises a fuel consumption of 4.8L/100km , equivalent to about 21 km/l. The tank's operating range is impressive (by scooter standards) 312 km. Components include a gold-plated USD telescopic front fork with 120 mm of travel, a swingarm-mounted rear shock absorber with 117 mm of travel, dual 267 mm front disc brakes and a single 282 mm disc brake at the rear. 15-inch alloy wheels with 120/70 Rubber at the front and 160/60 rubber at the rear. The Yamaha TMax maxi scooter has a wheelbase of 1,575 mm and weighs 218 kg, wet, with an aluminium chassis.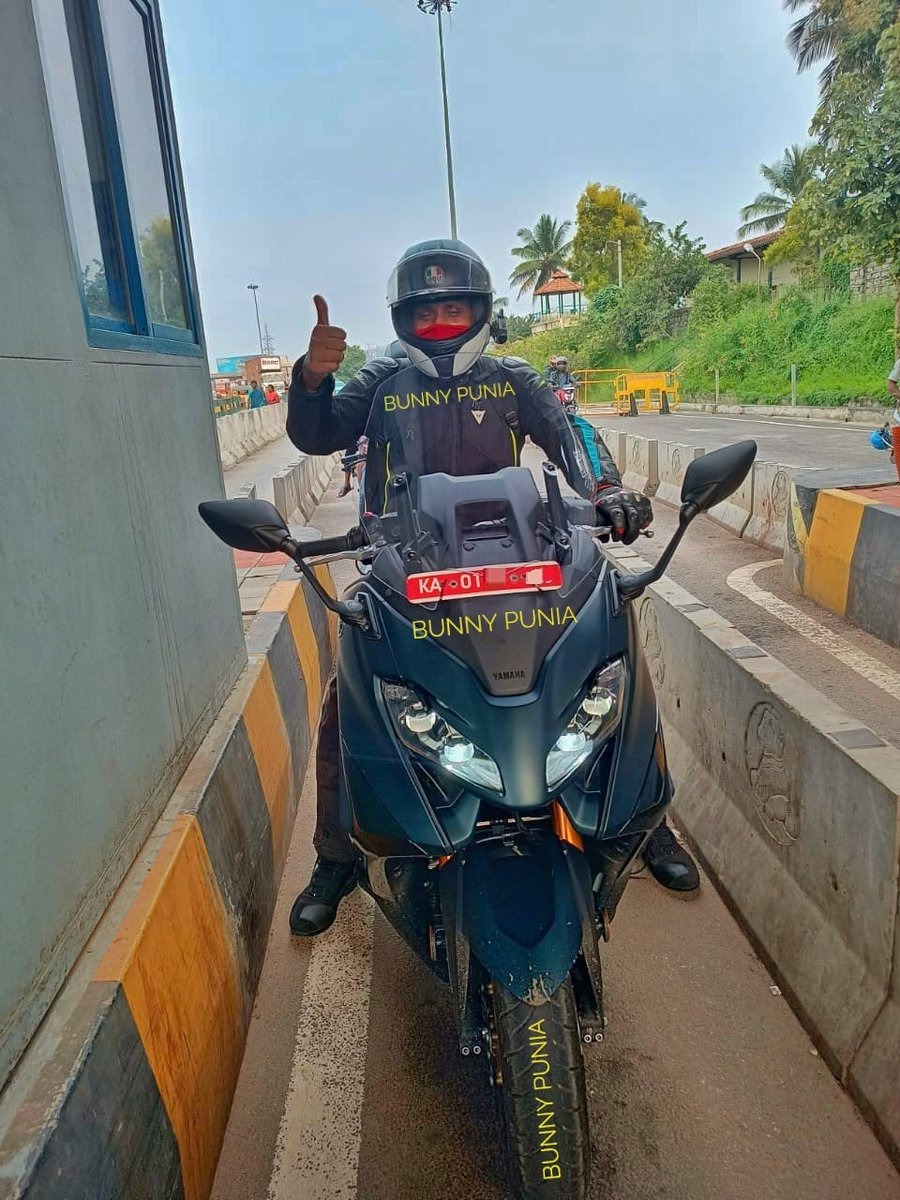 Needless to say, the Yamaha TMax is a big, imposing scooter, with impressive road presence and a plethora of features to enhance rider comfort and convenience. Features include LED projector headlights, perfect driver and passenger comfort, large TFT display with smartphone integration and full map navigation, keyless push-button start, Advanced electronic support, under-seat storage, anti-theft central locking support and many other features. Two colors are offered: Icon Blue and Sword Gray. The reconnaissance in India is colored Icon Blue. In Europe, the scooter costs 13,564 euros.The cost is Rs 12 million. Expect a price close to Rs. 20 lakh (ex-sh) if shipped via CBU route.