2017 Aprilia SR150 Race may not feel like a substantial update but the numbers say a lot. Did we mention it looks even more cooler than before thanks to Super Pole decals?
Since last couple or so years, Scooters are again gaining traction more than motorcycles and that is a fact. The sales are all time high for scooters. Considering how almost every scooter is low on capacity and high on efficiency, it doesn't come as a surprise as well. This also means, everybody wants to have a piece of the action (apart from some) and the brands are busy finding niche's and or exiting them. The manufacturers today are making sure they have products in almost every category and this includes foreign brands as well, in fact they have been doing something like this since quite some time and in style.
Piaggio group has many two-wheeler manufacturers in its kitty. It has tried with the Vespa and given us scooters which were fashionable and powerful at the same time. Biased towards comfort, they had the potential to be fast and fun to drive but they did not exactly scored full marks.
The Aprilia SR150 scooter was born and made sure it took the market by storm. A price tag which made us double check. Just Rs. 70,000 and a bit of tax money was needed to buy it off the shelve. We saw a splurge of these scooters in the market which made the Italians happy. We now meet its racier version, the SR150 Race.
In our first ride we told you the exact changes over the normal SR150 version. We have road tested by doing over 800 kms to tell you what does it feel like on our roads which are mixture of everything. Corners, straights, sweepers, potholes and of  course poor quality tarmac in general. We will stick to the road test pointers and you can check our extensive first ride for the usual details.
On the outside, what we did not like despite a great design and livery are the mirrors. Too fragile at their mounting point with super hard and cheap plastics, just broke them away after couple of twists, they broke of like glass.
Another practicality feature which isn't great is the tight boot space which cannot take much stuff. Even a normal helmet won't fit, our sporty, full sized helmet just didn't make it at all. It just fine for a few selected handbags of your shopping, which can also be tight if you go to the supermarket for your monthly shop.
Coming to the engine. The low-end torque is much higher than before and it does get of the line quickly. However, the top-end is a sacrifice. Earlier, the scooter reached 120 km/hr and this was stuck 110 km/hr with a 100 kg rider.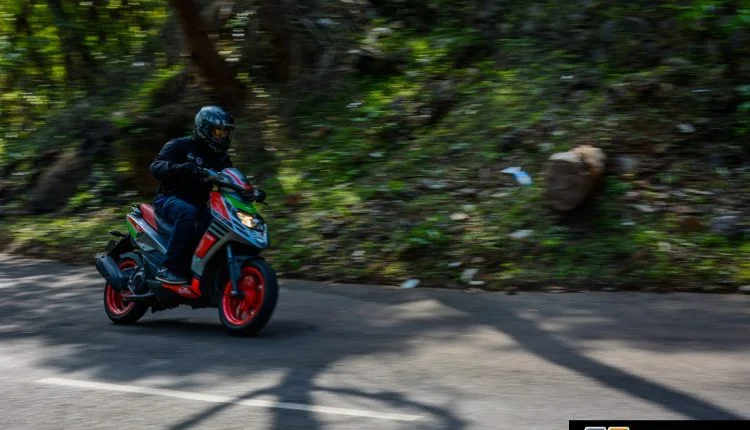 26.75 seconds to 100 km/hr is what we saw on our testing equipment. We also got 24.28 km/l in our overall testing which include Bombay traffic and commute to Pune as well. Most of it being done at full throttle. The only downside is the engine which can get a bit loud. Our engine was brand new hence it was more intrusive, it should go down to acceptable levels as the engine settles down.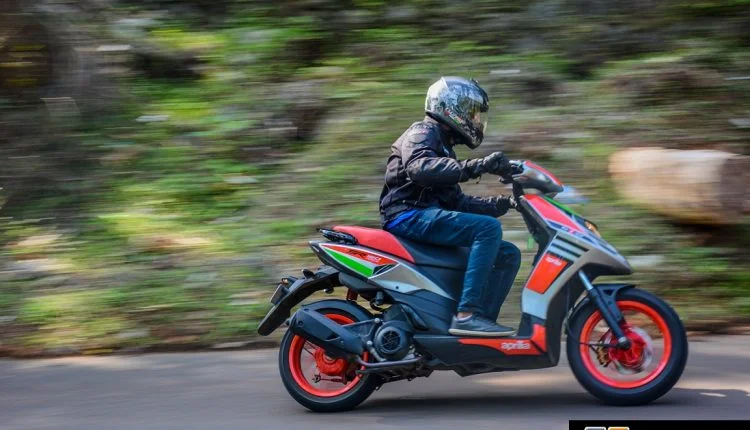 Tyres are a vital role player in the SR150 package since day one and these are no exception on the Race SR150 either. The chassis performs brilliantly, there is way too much grip to be explored as the limit is quite high because of these tyres. Stiff chassis can throw you off at times over bumps, but it is planted and secure even at triple digit speeds taking huge sweepers. Brakes are good too on both ends and speeds are dropped in no time. Partly because to the tyres again. Front geometry is spot on as well.
2017 Aprilia SR150 Race Review, Verdict
Overall, numbers are impressive, the scooter does look good and there isn't any major drawbacks if you want a sporty scooter with a bit compromise on comfort. Comfortable scooters are in abundance and you can have plenty of options.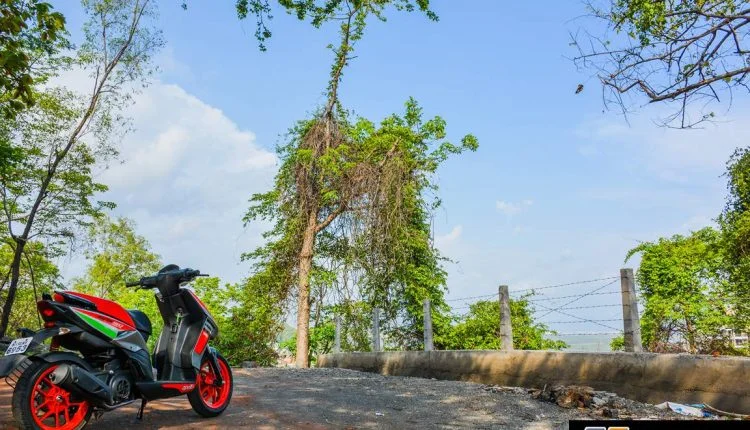 However, SR150 Race is here and will probably stay because it offers superior performance and bragging rights along with cosmetic and mechanical superiority over all its conservative rivals easily makes it take the of the today's scooter enthusiast who look forward to these scooter once a blue moon and today, there are here, and that what really matters the most.
Read this too: SR150 Race Extensive First Ride Review