2017 BMW 3-Series GT is a fine gap between the 5-Series and the 3-Series which appeals because of the all-rounder capability the car offers.
Segment, sub segments, niches, there are all sort of things now in the automotive world. Someone that doesn't shy away from trying this are mainstream European manufacturers. The German holy trinity of luxury car makers specifically doesn't really give it a second thought to creating a new 'niche' in terms of practicality or feasibility. Those in the know will tell you,"That's how the luxury market works". The Germans have versatile platforms where they make and break segments, niches, coupes and even supercars.
BMW is no exception and after offering the 3-Series in sedan, coupe, convertible, estate form, it wants you to know the feel of a Grand Tourer or the GT as they are lovingly called. The 3-Series GT is for emerging markets where a wagon doesn't work. (Don't tell Volvo, because they will make it work). 3 Series GT bridges a small gap between it, and the 5-series. The 3-GT is everything you needed, but do you? We find out as we spend some time with the car to tell you. This is the diesel model, so let's get specific and started.
Styling
In terms of design, the 3-Series look fairly similar to the 'normal' sedan version from the front. The headlight, grille and large hood are on offer. Side profile up to B-Pillar is also the same. But then you move on towards the rear and the significant changes start to appear. The notch-back that rises quite high and looks very substantial grabs attention. The rear profile remains the same, but is a bit raised.
Same tail-lamps and mildly tweaked bumpers are on offer. The multi-spoke wheels add a bit of sophistication to the car, almost as if hey came from the Alpina cars, and that we tell you is indeed a good thing. Wheelbase and length increase is visible and is almost in proportion of the earlier 5-Series. What also makes it stand out are the pillar-less doors which is clearly, the party piece of the car for the masses.
Interior
Interior is highly luxurious but does look rather dated now, the times have changed and their should be a change to the standard steering wheel and wood inserts used all around. Luxury trim is supposed to offer the same. If you have sporty intentions, you can get the sport trim which offers a very good black and red combination. The screen offers connectivity with the iDrive on offer.
All media connectivity options are on offer. Fully electric and heated ORVM and IRVM, sunroof, steering mounted controls, cruise control, traction control, four driving modes named Eco Pro, comfort, sport and sport plus. Ambient lights LED DRL, light on the B-Pillar, headlights and tail-lamps with projectors and LED fog-lamps includes the lights package in the 3-Series GT. Automatic tail-gate, heated seats, Left ORVM focusing below while parking, BMW Apps.
Space in the back continues to remain a comfortable thing for two while the third would have to deal with the large center tunnel. The leg, head, knee and shoulder room on offer is of high order and make for more of a proper luxury approach from BMW for its customers. Boot space which stands at 600 litres is humongous by all standards and segment. There are dedicated A/c vents, center armrest and a 9 speaker sound system on offer, which is good but could have been better. A large boot space is the highlight but the space saver wheel can hamper it. If you remove it, you get 600 litres plus of space to store items without seats folded.
Engine and Gearbox
Our test car came with the diesel motor. The 2.0 litre powerhouse puts out 190 BHP of power and 400 Nm of torque from its turbocharged all-aluminium engine. The motor is very smooth and refined. The NVH levels are fantastic. There is no type of noise in the cabin except for a bit of road noise. However, no noise gets intrusive in the first place. There is decent amount of low-end power but the mid-range and top-end power is very high. The 3-GT gathers speed while it feels heavy than the normal 3-Series. The free revving engine and 8-Speed automatic is also a gem of an combination.
The motor redlines at high 5000 RPM level to make sure it offers splendid performance and predictability in the corners. The engine feels very much like a narrower power band equipped petrol motor.The GT also comes with paddle shifters which makes a great case for enthusiasts who love control despite an excellent automatic gearbox. 8 seconds to 100 km/hr and top speed of 230 km/hr is what we saw while testing. EcoPro mode makes the engine noticably dull and it is quite noticeable. Sport is ideal and Comfort should be your daily driving mode.
Ride and Handling
Dynamically, the rear wheel drive chassis is always welcome, the light and precise front end which could feel a bit more agile is on offer. The steering is super sharp, precise and feedback rich at all speeds. It gets very heavy in Sport Plus mode and is very light in Eco Pro and Comfort mode. There is a lot of grip from 18-inch wheels as the tyres compound is quite good.
The 3-Series does love to get naughty when the dynamic traction control is set in the Sport Plus mode. What the 3-GT has is an excellent ride quality, but, at the expense of dynamics. The car does feel heavy at times and isn't super sharp or agile as the M-Sport 3-Series that we tested earlier. Highway stability at any given speed makes you feel secure. Brakes are good with excellent bite and lot of progressive power.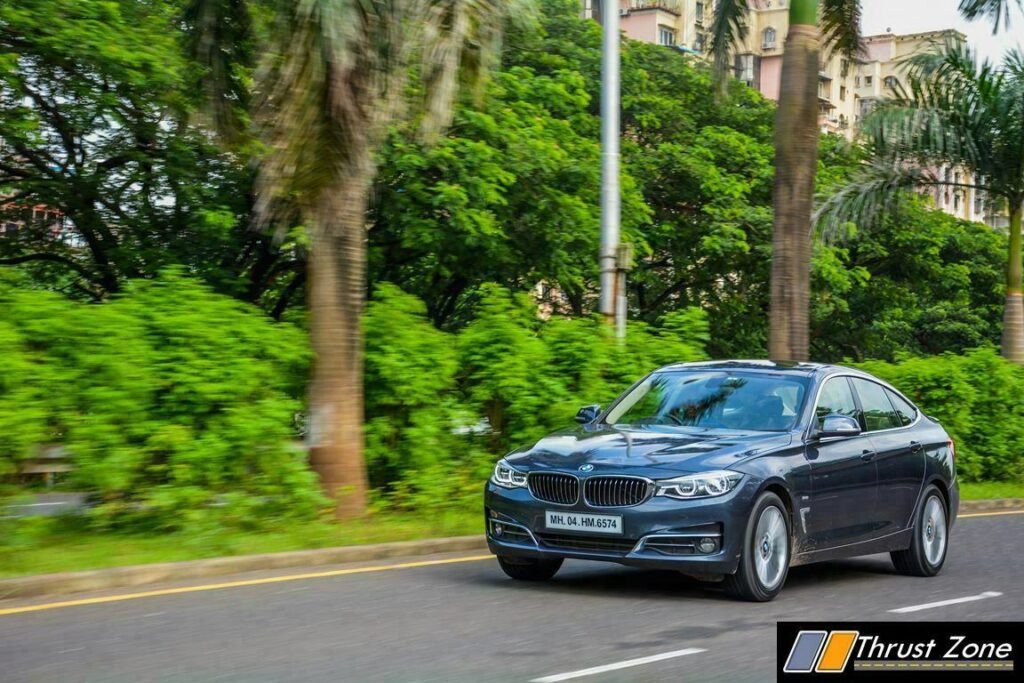 2017 BMW 3-Series GT Review, Verdict
The 3-GT doesn't have any direct rivals in India for now. There are lot though in the European market and slowly and steadily we can expect those to come. Expect the king of the market, Mercedes-Benz to respond to that. A niche that BMW holds is already getting them good sales. One does end up spotting a 3-GT on the streets of Mumbai and Delhi atleast. Why? because it is a great package.
It doesn't make a huge statement like the 5-Series which is the amount of money BMW is asking for this car, which is the a highlight for particular set of customers. The car then is a typical BMW which means its well built, it does offer good value and performance no matter how you look at it.
BMW has some great after-sales and service plans which makes BMW one of the best options in the luxury scenario after the market leader, which replicates in sales. 3-GT in luxury trim is the ideal pick if you want stand out and yet not show off and enjoy the vast amount practicality and performance that it has on offer.
Gran Turismo 320d Luxury Line Rs: 47,50,000
Prices are ex-showroom Delhi