2017 Triumph Tiger Trail Academy helped us learn a lot of basics and advanced techniques on how to make sure you make the best of the beefy adventure motorcycles
Let's begin our experience with a bit of honesty. I'm always a bit skeptical when it comes to off roading whether it's four wheels or two wheels. Going off the beaten path is something that we don't do everyday. However, if you stay in a city like Bombay you do experience a bit of it on our pathetic Road conditions that the municipal corporation gives us. When you realize there are legends in the off roading world. Be it people or vehicles. In the four wheeler world we call them SUVs in the two wheeler world we call them adventure motorcycles.
Something in India is catching a lot of traction these days. Thanks to our local roads which are broken, the dreams of going to the highest motorable pass in the Himalayas which don't have the best roads in the world. High riding long travel suspension and knobbly tyres is what need in service on a daily basis now. The age of sport bike started and diminished very quickly thanks to these adventure touring motorcycles.
Who started all of this? Well you can see Hero did it with the Impulse but in the higher segment the entire cake has been eaten by Triumph Motorcycles in India. Slowly came Ducati and BMW who are snatching away the share from the brand. Triumph Motorcycles is well known for making Tiger series of adventure motorcycles with all the goodies, equipment and capability that a motorcycle can offer for off roading enthusiast.
Triumph Motorcycles was kind enough to hold a Tiger Trails for us, an off roading exercise held by the company and a man whose famous for his off roading capabilities Mr Vijay Parmar was there. We were briefed, trained and then let lose to enjoy what the Tiger is really all about on a closed circuit without off roading course specially prepared for us.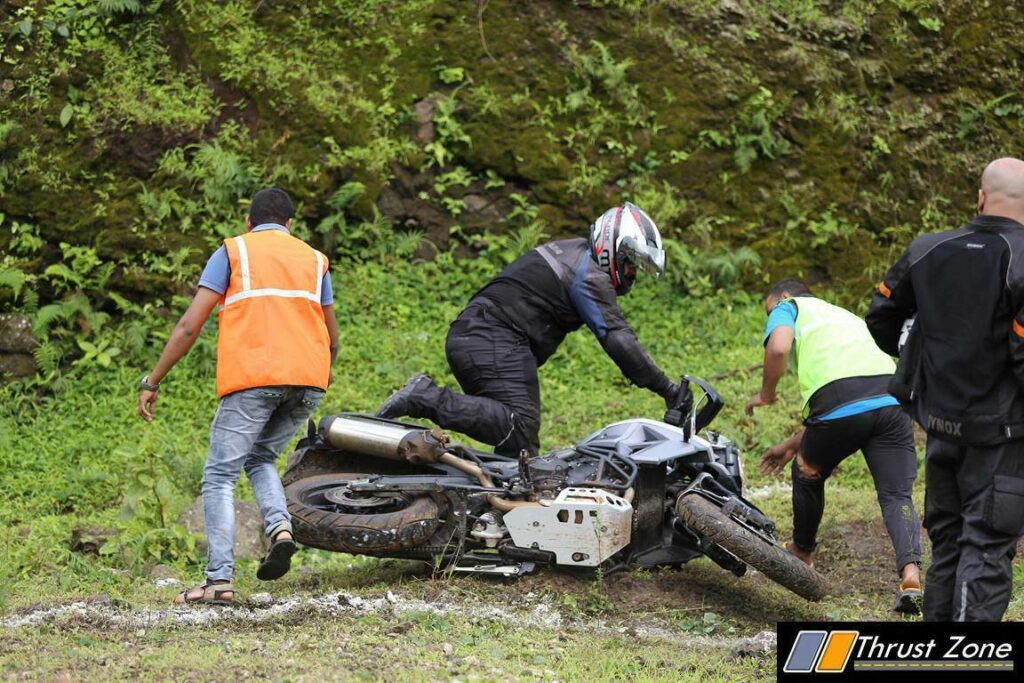 Motorcycles for the job? Triumph Tiger with all the four variants available at our disposal. We repeatedly made sure we had our hands on the xCA, since we kept switching motorcycles we did come across various other variants as well.
The first course was a small and tight layout with cones the maneuverability and the judging the ability of the motorcycle and the rider. Continuation of that course was climb down a small obstacle. Something which we exceled at really well thanks to the briefing given to us earlier. The main highlight of the entire day was that whatever we did we had to do it standing on the motorcycle while gripping it with our knees on the tank.
Second course was a simple water wading exercise where we would go through ankle deep waters. Something that most participants cleared with ease while others like us was a bit generous with the throttle and splashed more water than required.
Third course was the hardest as we had to climb a almost 90 degrees slope while battling through very thick and wet mud. Something which witnessed a lot of falls. Have a majority people who passed the test showcase the fact that the motorcycle was at home all the time whatever the situation was. The fourth test was climbing down a hill climb and then wading through water which was ankle deep.
All these courses required a fine balance between steering, braking and turning the motorcycle at the right time. The motorcycle for this job were almost perfect as the Tiger excels at whatever it is made for. The only changes we were making to the motorcycle electronics where we were switching off the ABS and traction control. Places where we needed sleep and places where we needed slip and the ABS to not to kick in.
Overall, 2017 Triumph Tiger Trail Academy was a great learning experience. We all learnt a lot, fell a lot and most importantly enjoyed what it is called off adventure motorcycling. Something that has boosted our confidence, love for adventure motorcycles and most importantly making new friends in the world motorcycling is always a great thing to do.