2018 BMW 330i India Review: We road test the 3-Series petrol to tell you whether it is still fun to drive and what it offers along all the dynamic-ness
Enchanting –
Sporty and purposeful looking 3-series
Superlative chassis, brakes, engine
Surprisingly comfortable and fuel efficient
Unsatisfying –
Priced a bit higher
Missing infotainement features
Conversation among enthusiast the day the 3-Series landed on Indian shores after a couple of test drive suggested, that the old magic is gone. Yes, that is not a talk about the interior quality, which is still fine, but it is, since it's a BMW, was all about handling. The manufacturer has muted down the character a bit, the higher profile tyres and the agility and nimbleness was missing. 3-Series has been the pinnacle of driving dynamics and typical BMW traits which made a complete package for anyone. First time buyers, luxury seekers and the enthusiast who can afford to pay just under Rs 40 lakhs.
BMW was later on smart enough to send us M-Sport diesel and petrol variants of the car which were slightly more focused. 2016 saw us testing the diesel and this time its the petrol. The demand existed last year and is here till date, as the manufacturer saw diesel ban a warning sign. Despite the fact that BMW cleared the ban because its engine was 1998cc. How is this 330i, which isn't six-cylinder anymore, according to the badging that is, like to drive with a turbocharged four-cylinder motor? We find out over 500 km of a drive.
Inside and outside.
The exterior remains the same with the long bonnet and the rest of the car looking sharp and short as BMW always claims their cars have 50-50 weight distribution, which is apparent in design. The Hofmeister kink, the black finish on the window line, the subtle 18-inch alloy wheels, flat boot lid along with the three parted bumper of the M-Sport variant in this white color did grab attention and looked great, but we would suggest a racier color for the M-Sport for you to choose. Melbourne red, in particular, should be just perfect.
The cabin continues to be driver-centric with the dashboard angled towards the driver. High-quality materials all around including plastics, trims, and buttons which makes it a proper executive sedan that is high on luxury and technology at the same time. Leather seats are extremely supportive, fully electric seats offer manual under-thigh support which is great for those long drives.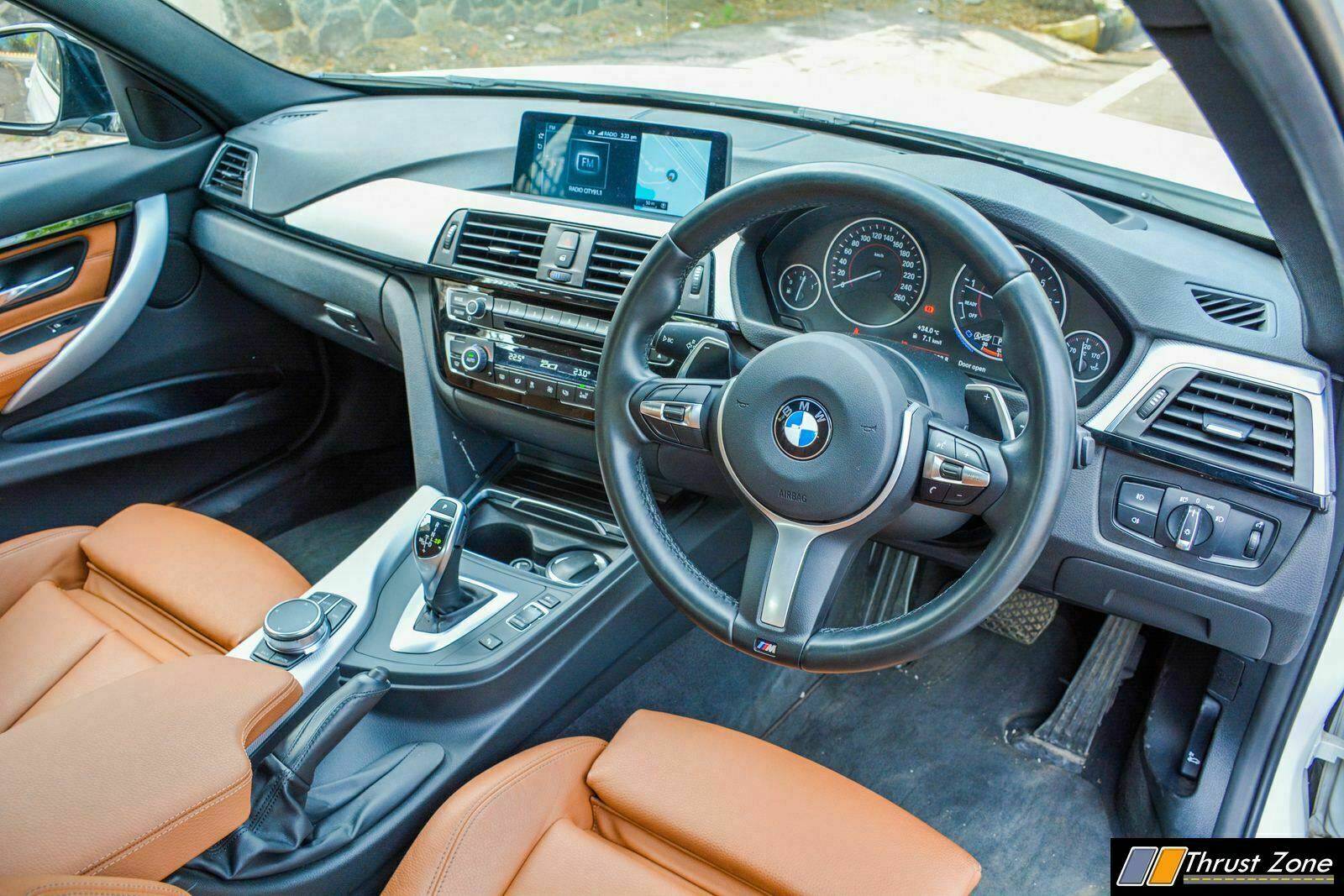 Features list includes all connectivity options, two-zone climate control. rear a/c vents, sunroof, a good audio system from Hi-Fi, heads up display, parking sensor front and rear which also now comes mated to a reversing camera that has guidelines. Electric sunblind for the rear and manual for the windows and a start-stop button is on offer. Apple Car Play, Android Auto and Keyless entry are missing. Sports display, the fantastic iDrive system, and a controller makeup for the same. Space in the front and back is good enough, but it isn't class leading. Nevertheless, at the same time, it isn't far behind either. Boot space is eaten by the spare tyre.
Airbags for driver and front passenger, Head airbags front and rear, Side airbags for driver and front passenger, Anti-lock Braking System (ABS) with brake assist, Cornering Brake Control (CBC) , Dynamic Stability Control (DSC) including Dynamic Traction Control (DTC) , Electronic vehicle immobiliser and crash sensor, ISOFIX child seat mounting , Tyre pressure indicator, Emergency Spare Wheel , Side-impact protection, Three-point seat belts for all seats, including pyrotechnic belt tensioners in the front with belt force limiters and a Warning triangle with first-aid kit is a part of the safety kit.
Engine and Gearbox
The 2.0-litre petrol motor is turbocharged and makes 252 PS of power and 350 Nm of torque from its four-cylinder engine. Something that is a bit stressed. However, the turbo spools quickly, the 8-speed gearbox keeps you in the meat of the power band all the time. keen enthusiast will notice the turbo lag and it is only past that the surge, which comes after 1800 RPM propels the car ahead while the wheels struggle to put the power down.
Dead start results in wheel spin overtaking in the mid-range also results in the same which is quite scary at some times because surfaces are slippery in most areas of Mumbai and you just cannot mash your foot to overtake and maneuver at the same time. Sure, traction control saves you, but be advised. 0-100 km/hr is dispatched in 6 seconds and the top speed of 250 km/hr. The intake noise and exhaust note is burly enough to make it sporty and pleasing to any kind of driver. Sports mode accentuates this even more.
The NVH levels are downright superior, the cabin is silent enough, all though there is a bit of road noise creeping in around the 100 km/hr mark on concrete roads. The 8-speed gearbox is super smooth and changes gears quickly in all driving modes, except for sports mode, where it becomes furious and changes gear so rapidly that it becomes unevering all the time.
Ride and Handling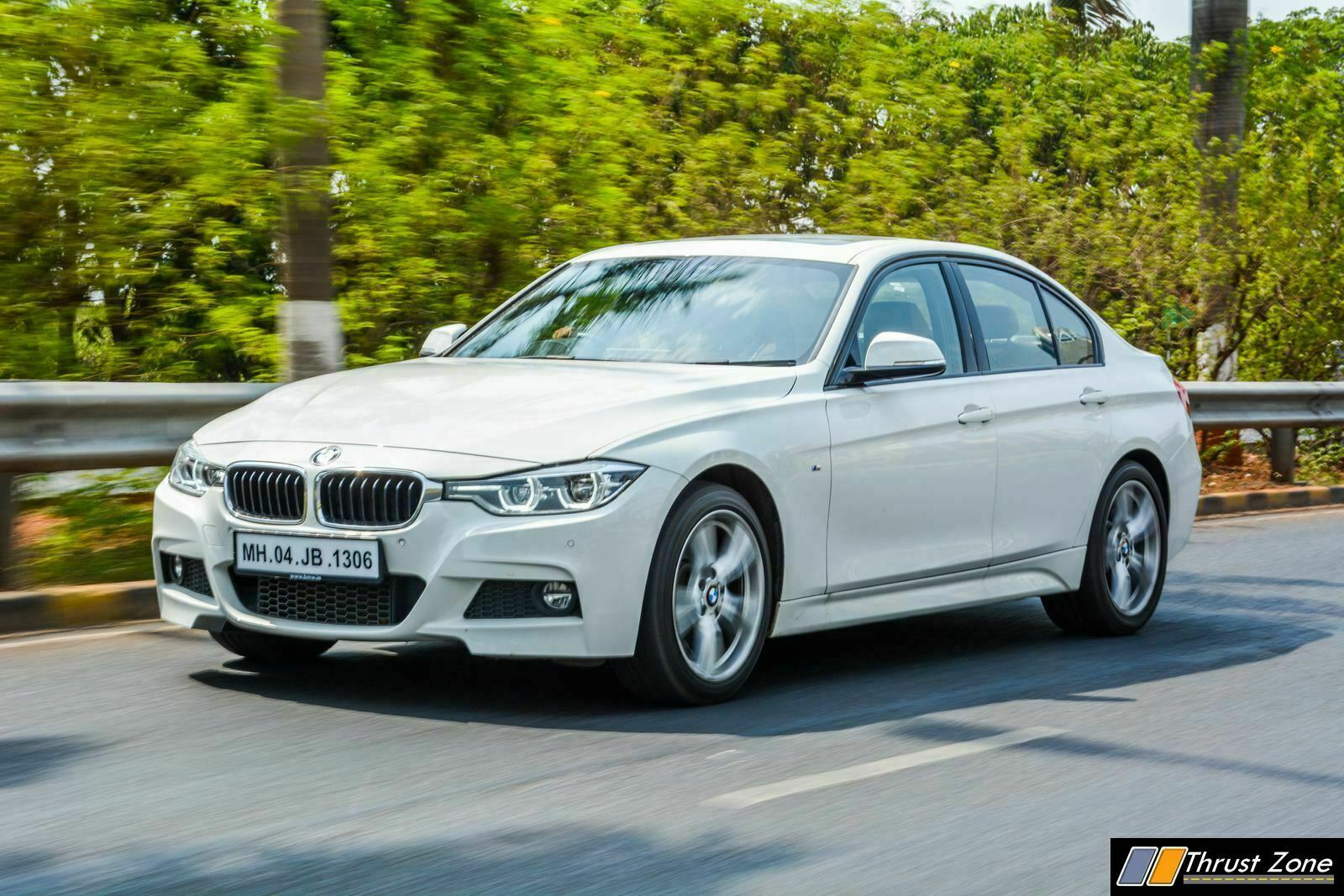 Dynamically, the steering is precise at 2 km/hr and even at 200 km/hr and is feedback rich at the same time. The comfort mode allows it to become light and easy to make driving in the city a hassle-free experience. Braking is excellent with superb pedal feel. The suspension is spot on in terms of ride quality and provides superlative feedback as well. You can feel stiffness but isn't bone jarring. There is a hint of body roll which tells you what's happening.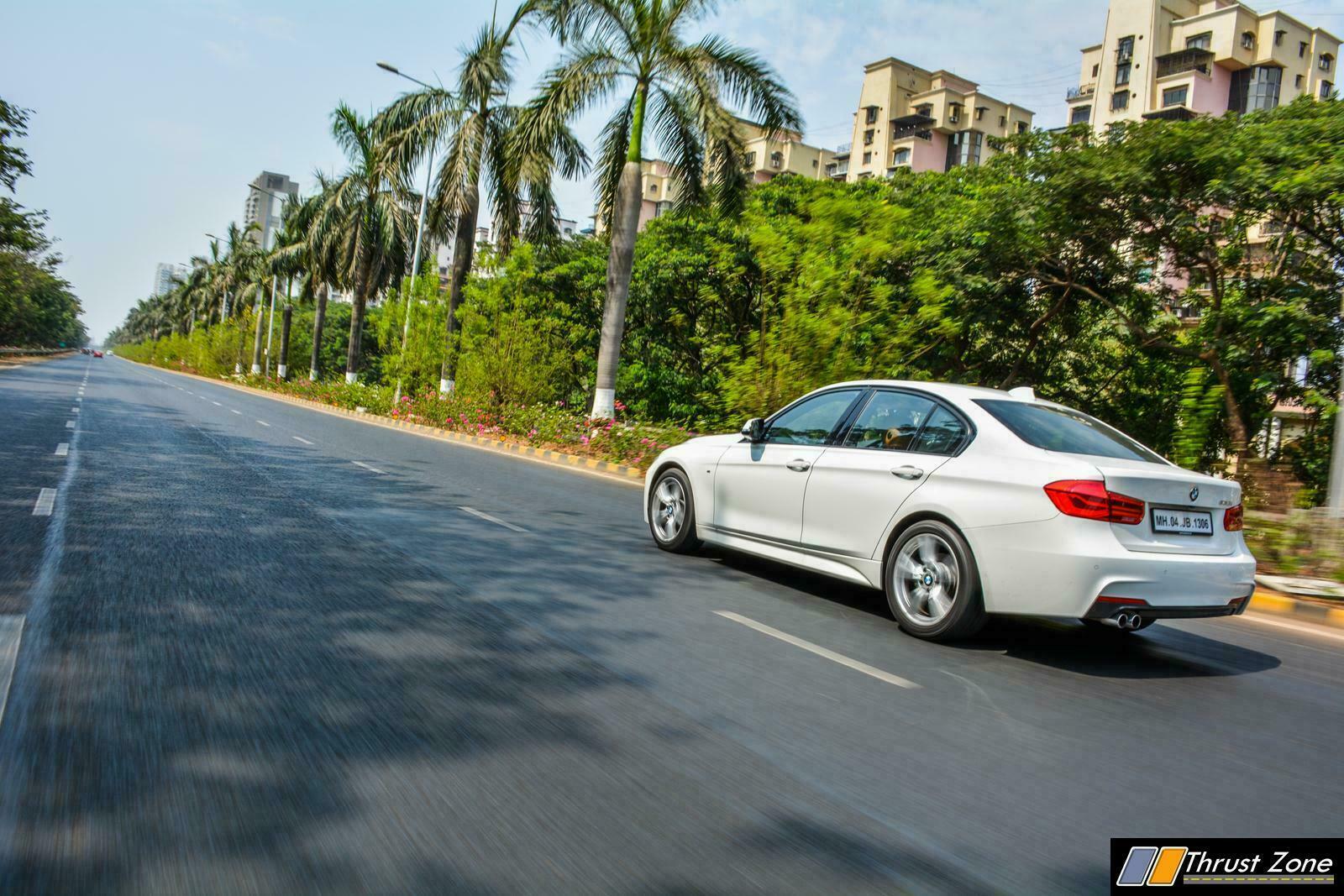 2018 BMW 330i India Review, Verdict
BMW is coming back in the market with strong sales and it is due to the 3-Series and X1 doing really well for the brand. 3-Series has a plethora of options from the M Sports packages and interesting set of engines on offer, especially this petrol variant. GT variants also have the same powertrain options and they make a strong case for themselves. This 330i M-Sport is, at the end of the day, is the car to buy for enthusiasts.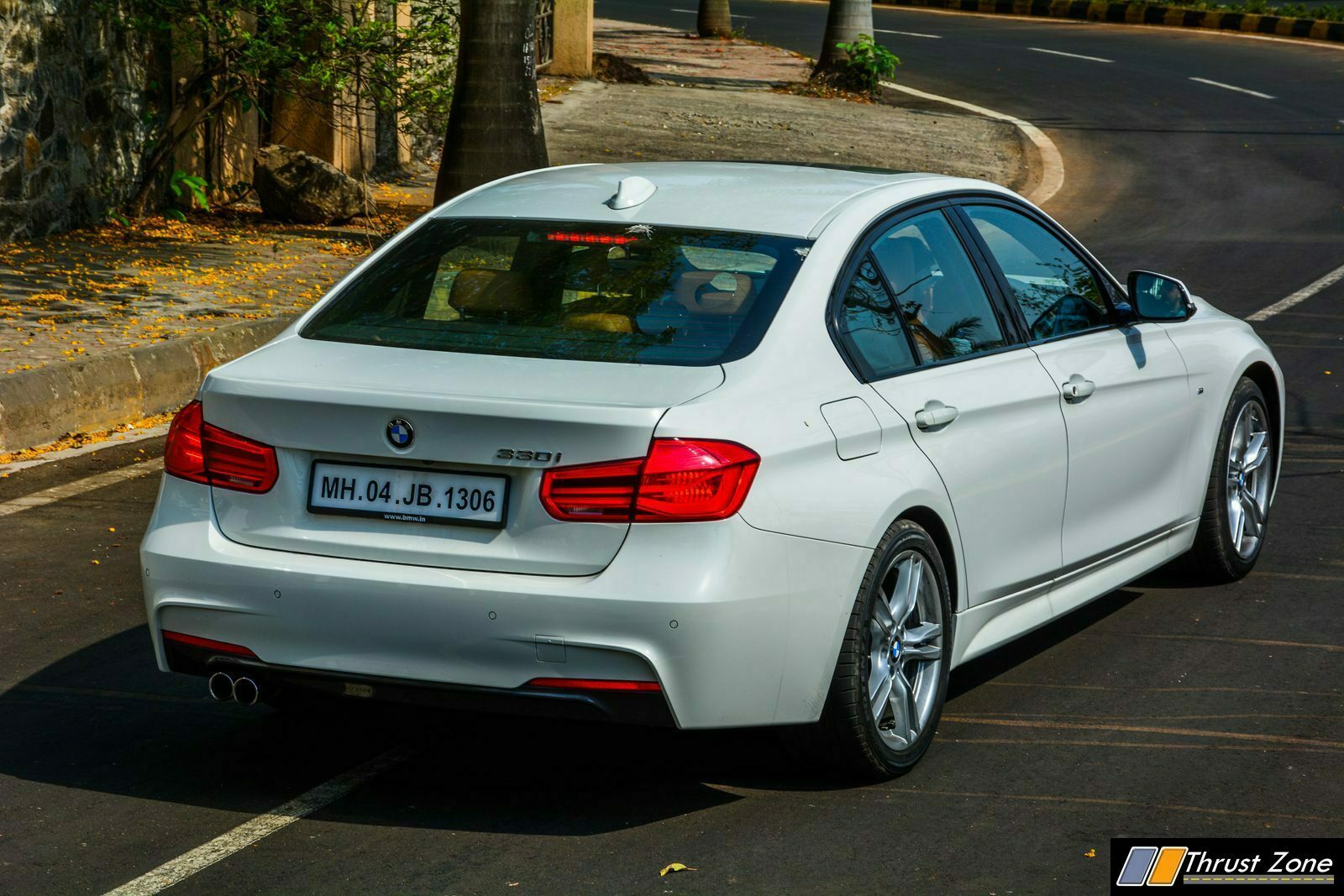 The handling and practicality are on par if space at the back and boot is not a top priority. BMW continues to offer best in class service packages and attractive deals which makes it extremely tempting. I, personally, see myself getting one when I win the lottery of course. Don't worry BMW, you already have my money for this. Onwards to get lucky because we are already smitten.
BMW 330i M Sport India Review
Design

Interior

Space

Quality

Features

Safety

Performance

Dynamics

Practicality

Value