Enchanting –
One of a kind aesthetics, complete head turner
Superlative chassis, brakes, engine
Surprisingly comfortable and fuel efficient
Feature loaded cabin with a lot of technology on offer
Unsatisfying –
Could do with more power
Rear seats un-useable, low on boot space also
They said the future was meek for supercars. The end of naturally aspirated engines, the end of turbocharged engines, the end of supercharged V8's, it was all destined to happen and it is on the path even today to a certain extent. However, everything seems to be changing. Climate Change is reversing, a bit, combustion engines still have life left, electric vehicles aren't entirely the future, hydrogen cells are still not acceptable in our complicated society. The answer to all this was simple, a balance of everything, a peek into the future, whoever could do it, could see hybrid was the way ahead.
Electric is the distant future, the near future, the more sustainable future, is hybrid. BMW, one of the best driving machine creators took the job in hand, made a supercar which looks like it was made on a moon and the parts were sent from earth to the space station and dropped on the lunar surface. Personally, I never thought a car of my specification and thoughts and the way I looked at efficiency and sustainability could ever be made. The BMW i8 turned out to be that car. It is a supercar, to begin with, and has an engine that most hatchback owners would refuse to see in their purchased car. Has BMW done it? With a grin on their face, I think they have. Let's have a detailed look then.
Design
During our tenure with the car, we ended up allowing at least 45 people to take pictures of the car and with it. Most of them were selfies. The design grabs endless attention on the road. There isn't a single person that can miss this car. The only car which was seen in the rearview mirror and instantly give side to overtake them so they could see the car from all angles as quickly as possible.
Why? Because supercars tend to vanish. The flowing design from the A-Pillar all the way back where it turns to be out a hollow part below it to make it seamless to look at and aerodynamic at the same time. The doors are bolted to the main tub which is visible from the outside, yet the marriage of both things is adjacent, yet in sync. The butterfly doors are the party piece which is the main reason of grabbing several eyeballs on the road, even across the street jaywalkers can see it and come run to take pictures, trust us, it happened.
Front of the car is BMW with a faux kidney grille at the front with satin blue color used around it. The color, blue and white used all around makes this car look from the future and implies a lot that this could be the car of the future which isn't brash, but calming and most importantly, has green credentials. The sculpted and edgy bumpers look different and conjoin together for an edgy look yet soft on the eyes. The rear is very alien and oval with the U-shaped tail-lamps with hollow spaces to cut air all around. The waterfall shape from top to bottom at the rear makes this car standout and extremely bespoke.
Interior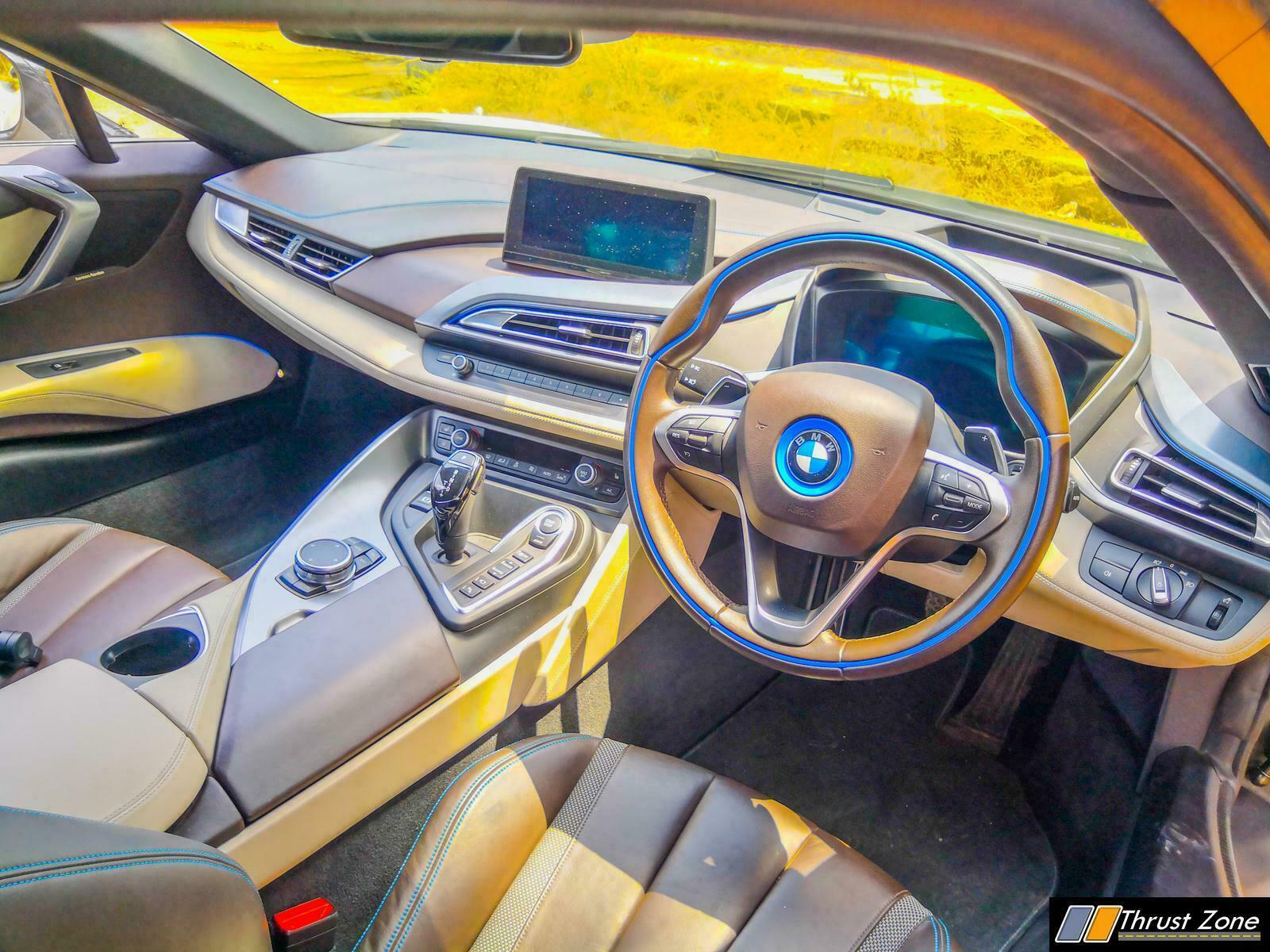 The car has a rather simple interior with the usual iDrive which has tonnes of settings on offer. The interface is smooth and easy to use. The quality of materials is good and most of it is made from recyclable materials. Leather seats are electrically adjustable and supportive. Rear seats are best used as cargo as children would find it hard to spend some time there.
Getting in and out of the car is dunking yourself in a bathtub as the car sits extremely low and lowering yourself inside the car is a literal thing that you do every time you want to get inside the cabin. The door opening button is on the grab handle which is a great convenient feature. The A/C needs a bit more power as it couldn't keep up well with the Mumbai heat. The buttons are the same all around including gear lever and knobs. The Steering wheel is great to look and hold with a lot of contours that are highlighted BMW i color on the inside. Blue stitching all around, three cup holders, two storage holding compartments makes it a decently practical cabin.
Features list includes the Navigation System Professional with proactive drive management for all-electric driving, fully digital instrument display for content and presentation formats that adapt according to the driving mode with 3D maps, 2-zone automatic climate control, BMW iDrive with freestanding 8.8-inch Control Display and Touch, Controller, leather sports steering wheel with multifunction buttons and leather-trimmed instrument panel. Sound sytem was quite good and the headlight throw and illumination was spot on.
The BMW i8 features the Pure Impulse exclusive package as standard that comes with 20-inch light-alloy wheels, LED headlights with extended features, BMW Head-Up Display, Driving Assistant with Surround View, seatbelts in BMW i Blue, roof liner in Anthracite, electrically adjustable front seats, light package, storage package, antitheft, alarm system, Harman Kardon hi-fi speaker system, larger fuel tank.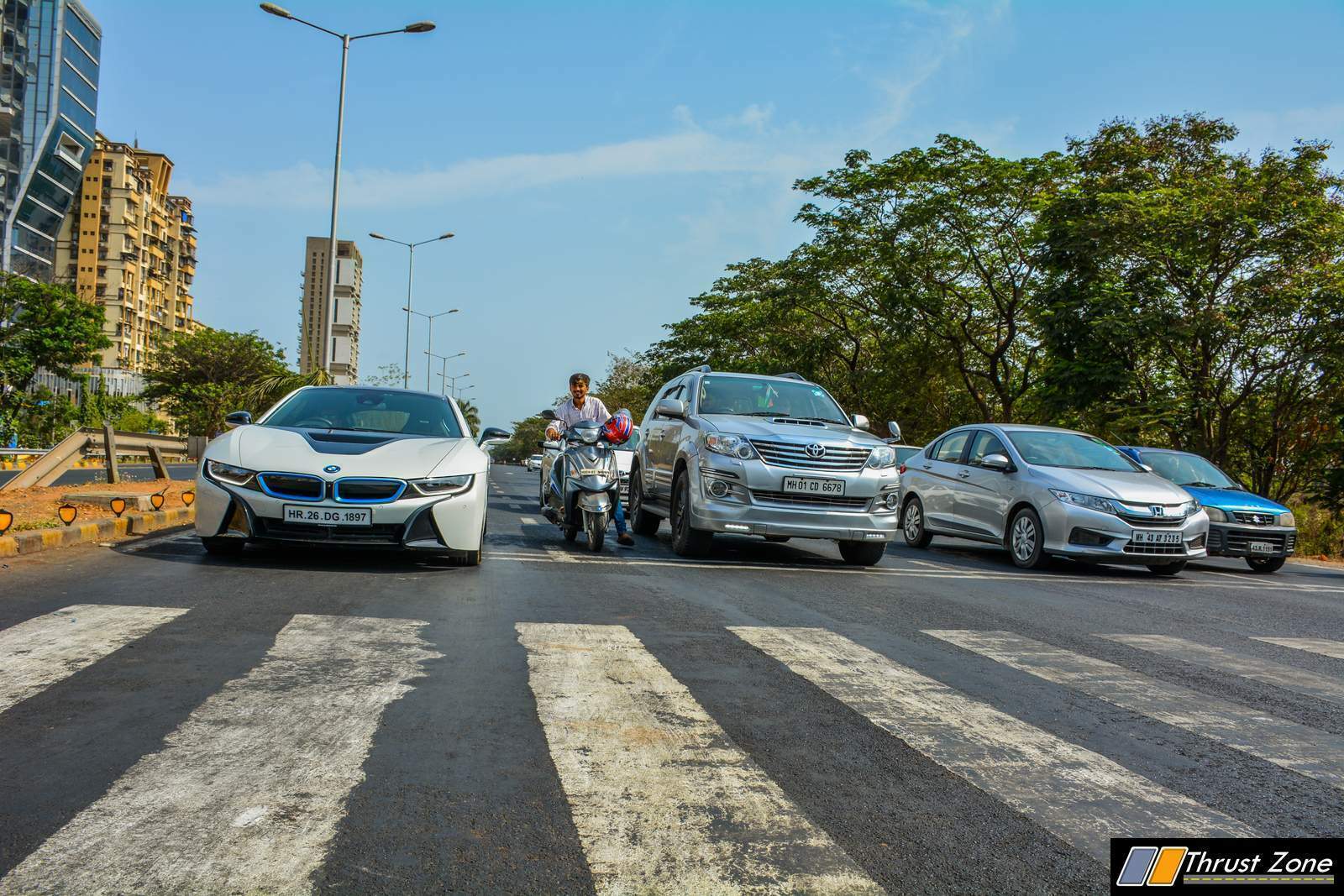 There is a Spheric full leather in Carum Grey, high-gloss, black brake callipers with BMW i Blue highlighting and BMW i logo,ceramic gear selector, floor mats with leather piping and border seam in, BMW i Blue, engine cover in leather, door sill strips with laser-etched model designation, plus BMW i Pure Impulse Card for lifestyle and event offers.
BMW driver-focused cockpit layout has a multifunctional instrument display in a bespoke design that displays that take their cue from the current driving mode, including three-dimensional graphics sound and light effects when the electric drive is started dynamic range display in Control Display.
BMW ConnectedDrive features options include, BMW Head-Up Display and Driving Assistant package with High Beam, Assistant, Rear view camera, Surround View, Speed Limit Info including, No Passing Info display and Collision and Pedestrian Warning with City Braking function. The boot is made from hardened thin glass and an ultra-torsionally stiff passenger cell. There are front, side, and head/curtain airbags, inertia-reel seat belts with belt force limiters front and rear and an ISOFIX child seat.
Engine and Gearbox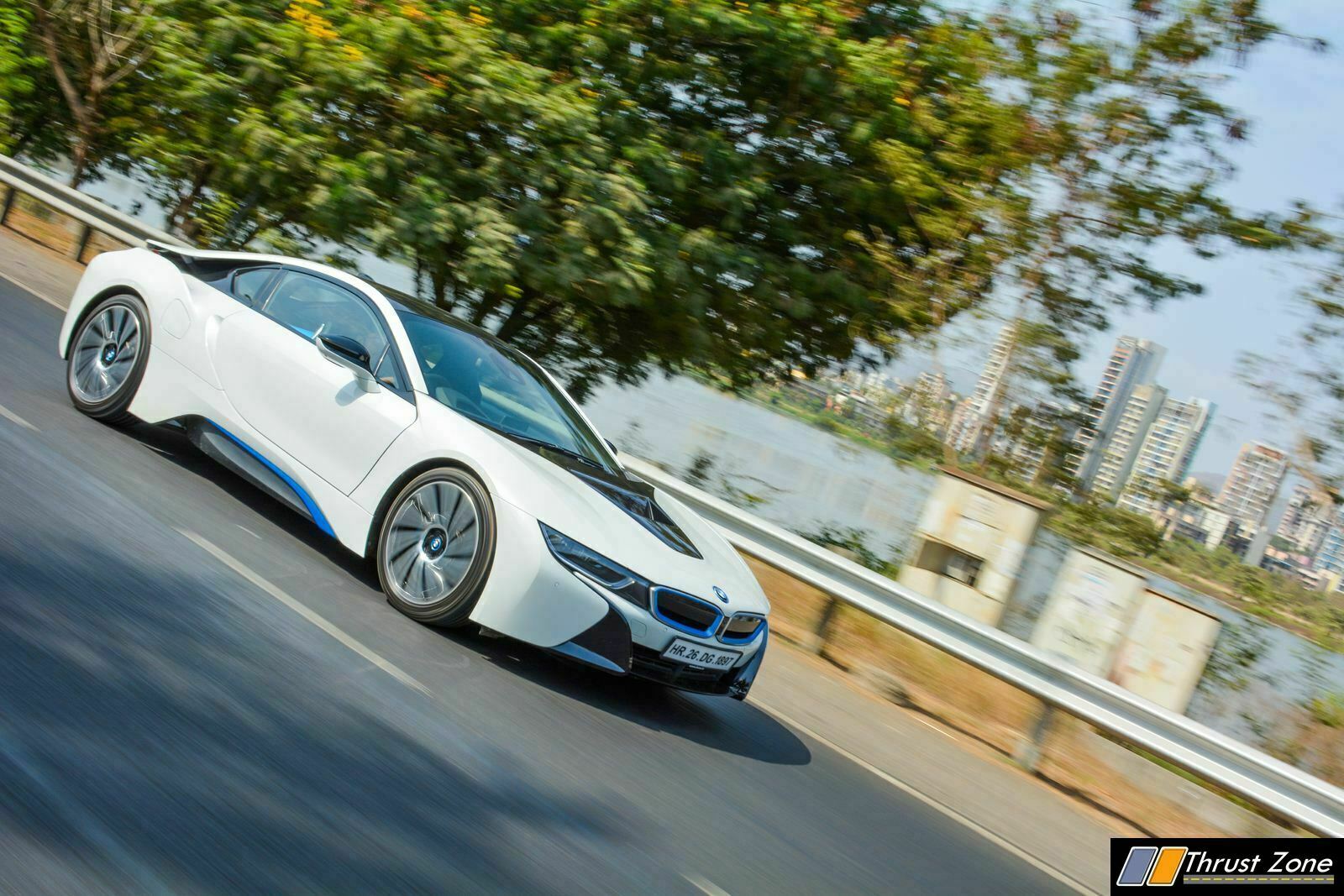 3 cylinder petrol engine with BMW TwinPower Turbo technology combined with BMW eDrive technology in the form of a hybrid synchronous electric motor, the engine ends up with a displacement of 1.5 litres and has an output of 231 hp and maximum torque of 320 Nm and the power sent to the rear wheels via a six-speed automatic gearbox. The electric motor comes with an output of 131 hp and maximum torque of 250 Nm.
The power channeled through the front wheels via a two-stage automatic transmission. There is also a lithium-ion high-voltage battery with direct refrigerant cooling and gross capacity of 7.1 kWh. Hence the combination of BMW TwinPower Turbo and BMW eDrive technology plus an intelligent energy management produce a maximum system output 362 hp and help it do 0 – 100 km/h in 4.4 seconds accompanied by fuel economy and emissions figures are reminiscent to a small family hatch!. BMW claims fuel consumption of 47.45 km/l, CO2 emissions: 50.36 g/km, which is exceptional indeed.
The eDrive button allows the driver to choose from five driving modes. There is range up to 35 kilometers on electric power alone and still has a top speed of 120 km/h. There is a COMFORT mode that offers an optimum balance between dynamics and efficiency. The combined range is 600 kilometers. THe SPORTS mode with ultra-intense boost function provided by the electric motor and systematic energy recuperation for the high-voltage battery is on offer. ECO PRO mode can be used in both all-electric mode and hybrid mode. Lithium-ion high-voltage battery can be charged with the BMW I Wallbox or via the external charging cable and while driving.
Acceleration is brutal when fully charged batteries are on offer. The car picks up from the line with instantaneous torque and pushes the heaviest driver back in the seat. The car keeps on accelerating till 200 km/hr after which you feel car aerodynamics are trying really hard to take it at a higher speed as the engine and battery combo runs out of steam because there isn't supercar with combustion engine alike top-end power on offer.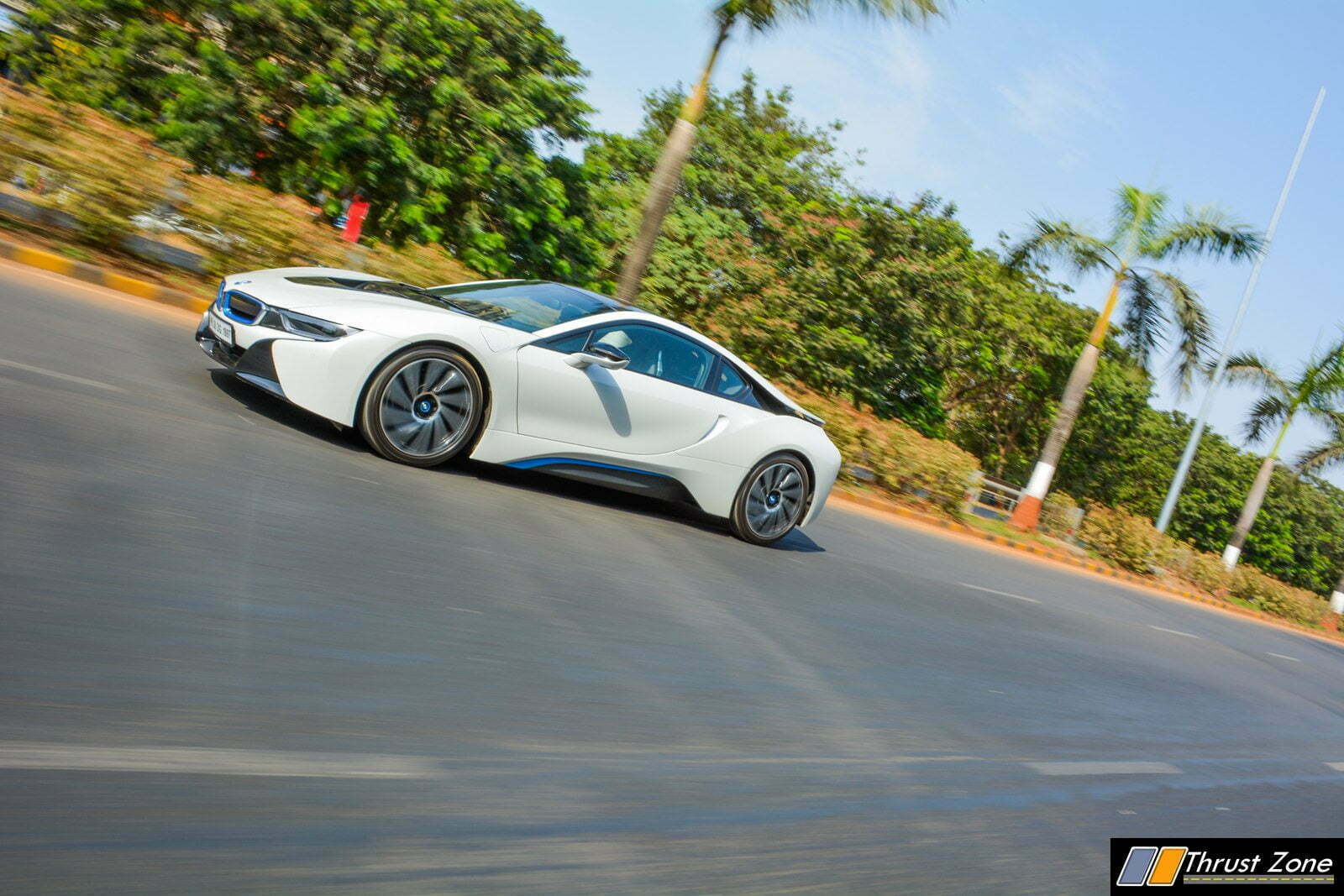 The gearbox shifts are smooth and the transition of power and combustion engine turning on and off is seamless. Something which happens when you brake or leave the accelerator. The sound isn't there from the engine and faux exhaust note is pumped through speakers inside the cabin for the supercar experience.
Dynamics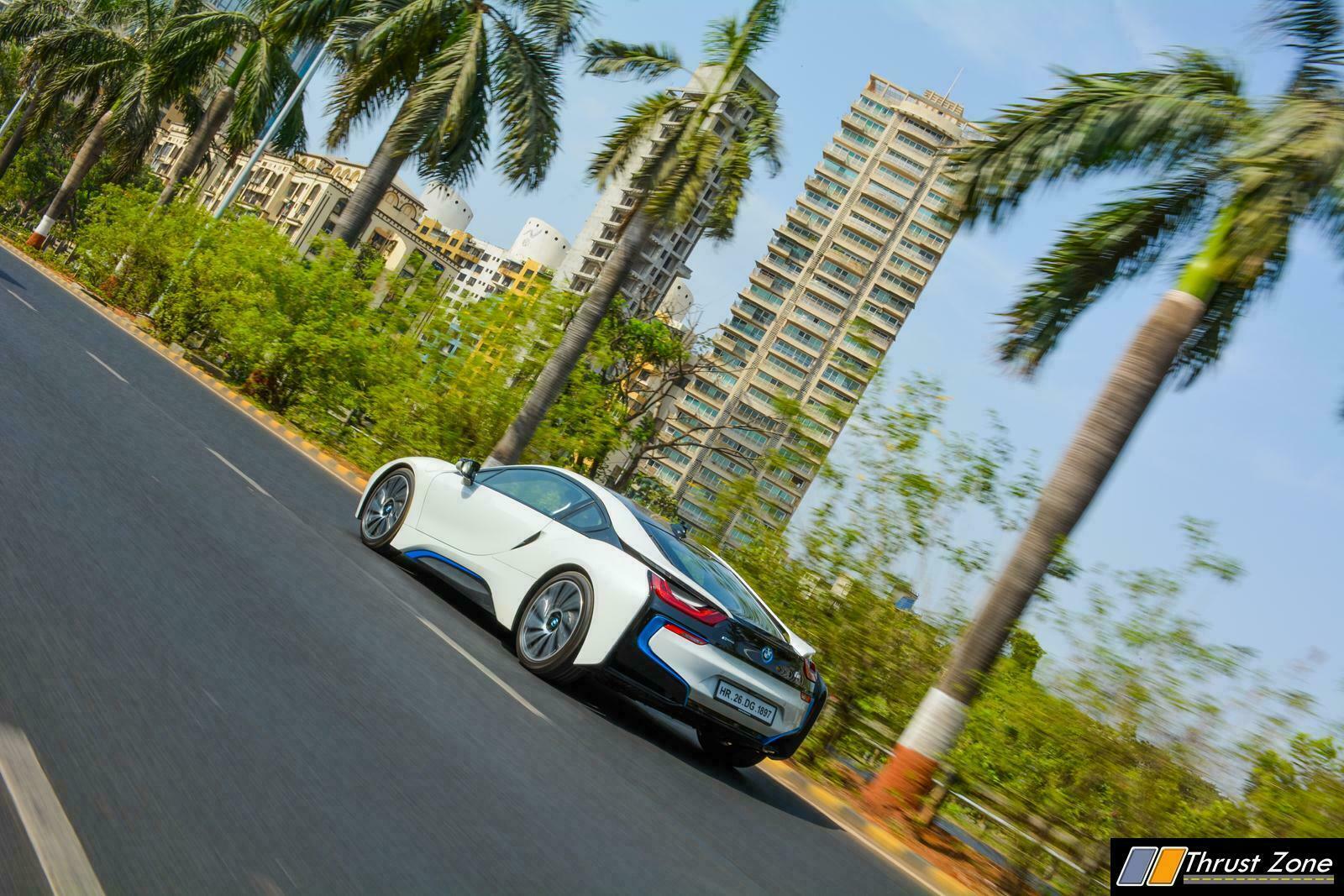 Chassis technology features a double-wishbone front axle and a five-link rear axle. Electric Power Steering and Dynamic Damper Control come as standard along with 20-inch light-alloy wheels as standard. Lightweight construction is done with the help of CFRP passenger cell, doors with a CFRP-aluminium structure, an instrument panel with magnesium supporting structure, an aluminum chassis and a partition between the passenger compartment.
All of this give this car extra-ordinary agility and nimbleness. The wheelbase doesn't feel entirely long and chucking this car into corners, changing lanes and moving around city or highway full of traffic is easy and extremely fun because the steering, chassis, and brakes are superlative in terms of response and feedback. The light kerb weight of 1560 kgs makes all of this possible and stiffness from aluminum and CRPF makes it a match made in heaven for driving enthusiast keen on sheer driving pleasure.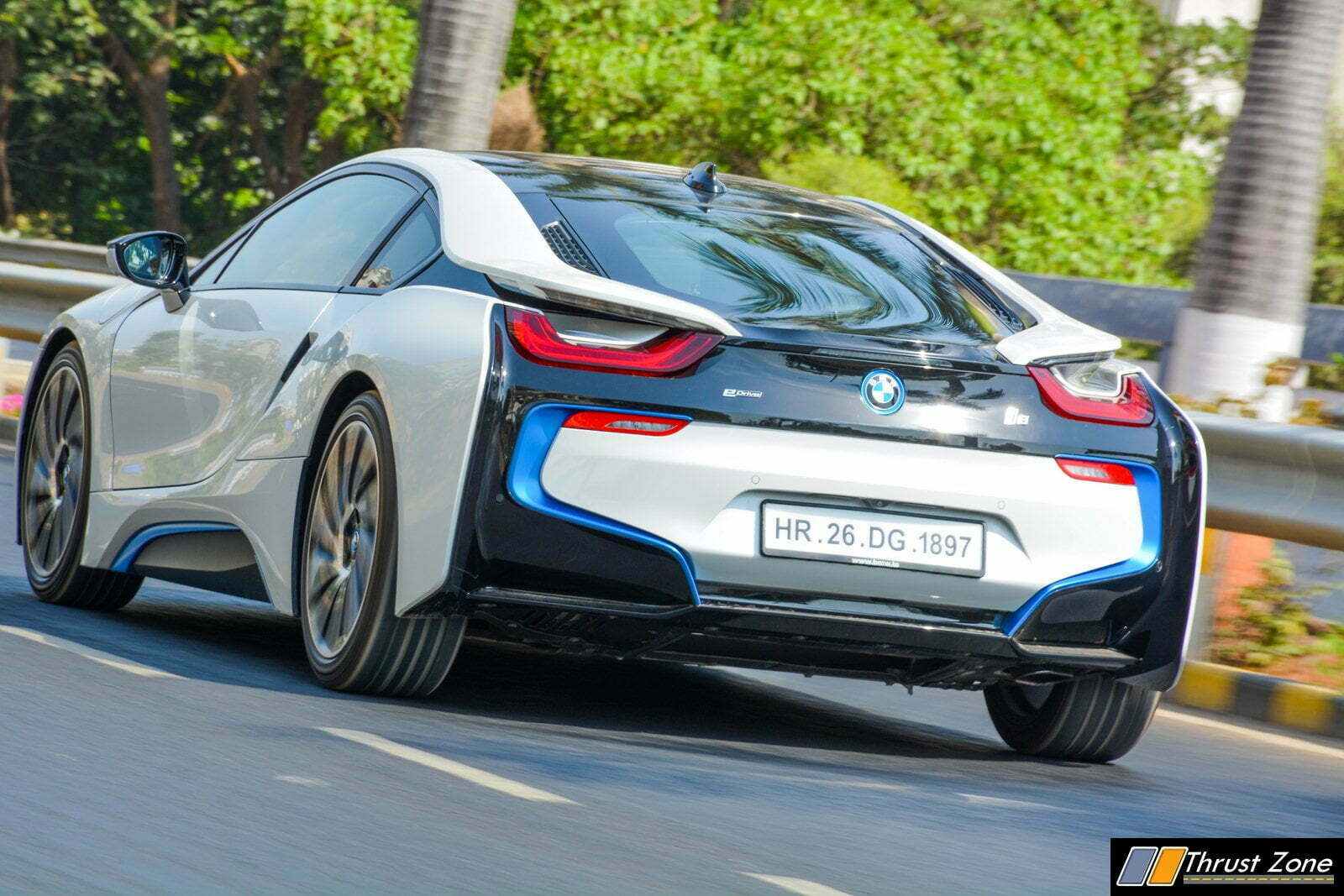 2018 BMW i8 India Review, Verdict
The i8 is the super car of the future, you heard that from BMW, critics and fans. However, we think something else. BMW has made a bold statement by doing this. It excelled in every area as the finished product is spot on and hardly anything left to criticize. A bigger powerful version which will truly compete with the 'Holy Trinity' would be something, if BMW does that and then that should be something to look forward too.
The i8 could use more power, but this is nothing short of a marvel even now. It is a sportscar with supercar presence and still has the fuel economy of a hatchback. Holy Trinity, be afraid, someday, imagination will be on the road, and it will have a blue propeller on it!
2018 BMW i8 Review
Design

Interior

Space

Features

Practicality

Safety

Performance

Dynamics

Value