Audi Q Drive in India is planned yet again to showcase Q cars off-road prowess and to engage and educate customers while having fun
Audi, the German luxury car manufacturer has launched the 2018 season of the Audi Q drive. The seventh edition of the multi-city Audi Q Drive is commencing from Coimbatore. The program will be held across 28 dealer locations in India with overall 30 events planned for this year. The Audi customers and enthusiasts in these cities will get to experience the legendary Quattro technology in the Audi Q7, the Audi Q5 and the Audi Q3 on a specially curated off-road track in the supervision of Audi instructors.
Audi Q Drive is the most widespread program under the Audi driving experience program. Traveling across the country, the Audi Q drive is executed on a custom-built off-roading track; designed keeping in mind the key attributes and features of the Audi Q range, including especially Audi's famed quattro system. The customer can enjoy driving on specially made off-road track and maneuver obstacles such as hill climbing, hill descends, slush, acceleration, braking, rumblers, axle twister and articulation and tilt angle. Over 10000 customers have participated in this program since its inception in India.
The Audi Q Drive program is executed within city limits, the Audi Q drive tracks are created especially across locations in India. Audi India has a team of instructors responsible for supervising the build-process of these tracks including Audi India's racing talent Aditya Patel. The Audi Q Drive gives the enthusiasts a chance to drive the Audi Q range under trained supervision to understand the prowess of its advanced technology in the off-road world and conditions that are simulated.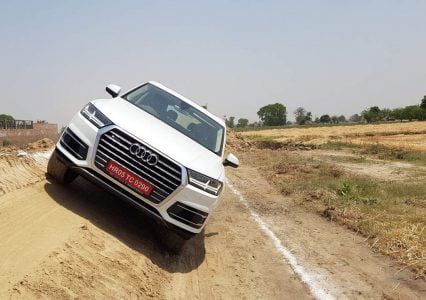 Read this too: Audi Employees Help Save company 33 million euros
Read this too: Audi Q5 – 3 reasons to buy
Read this too: Audi employees use exoskeleton
Read this too: Audi service packages on offer in India
Read this too: Audi merchandise in India
Read this too: Audi R8 RWS launched in India
Read this too: Audi Completes 10 years in India – Special Edition
Read this too: Audi A8 and A8L India specific details
Read this too: Quattro equipped cars sold 8 million units
Read this too: Audi Q8 unvieled