Honda CBR 650F India Review: We find out the extra value added on this bike defeats the only chink in the armour that the CBR650F and that is the pricing!
Enchanting –
Most Substanial Looking 650 motorcycle in the market
Superlative suspension and engine
Comfortable and fuel efficient
Honda's fuss free and wide after sales experience
Unsatisfying –
Priced a bit higher
Could do with more power
It is extremely clear that Honda has finally heard our prayers. They are on a roll in terms of bringing in superbikes in the Indian market one after the other. The recent launch of Africa Twin, Honda Fireblade and Goldwing make sure that Honda gains a market share in the premium category as well, despite it has a lot of share in the commuter space. Honda is using those resources also to put some sales number to the list which also bring in more bucks in their kitty. We rode the Africa Twin first and this time it is the refreshed and the first CKD model in the country which is a superbike.
The Honda CBR650F has created a segment but hasn't be able to exactly crack the volumes part. Honda has priced the CBR650F rather high. This time though, it is adding more value as it upgrades it with better components. We test rode for some days to tell you about it.
Design
The design and panels do not see as much change as everything remains the same except the headlight which is sharper and smaller and also has LED lights in it. Tail-lamps already had LED in them. The design replicates the VFR more with its angular fairing and single piece headlight.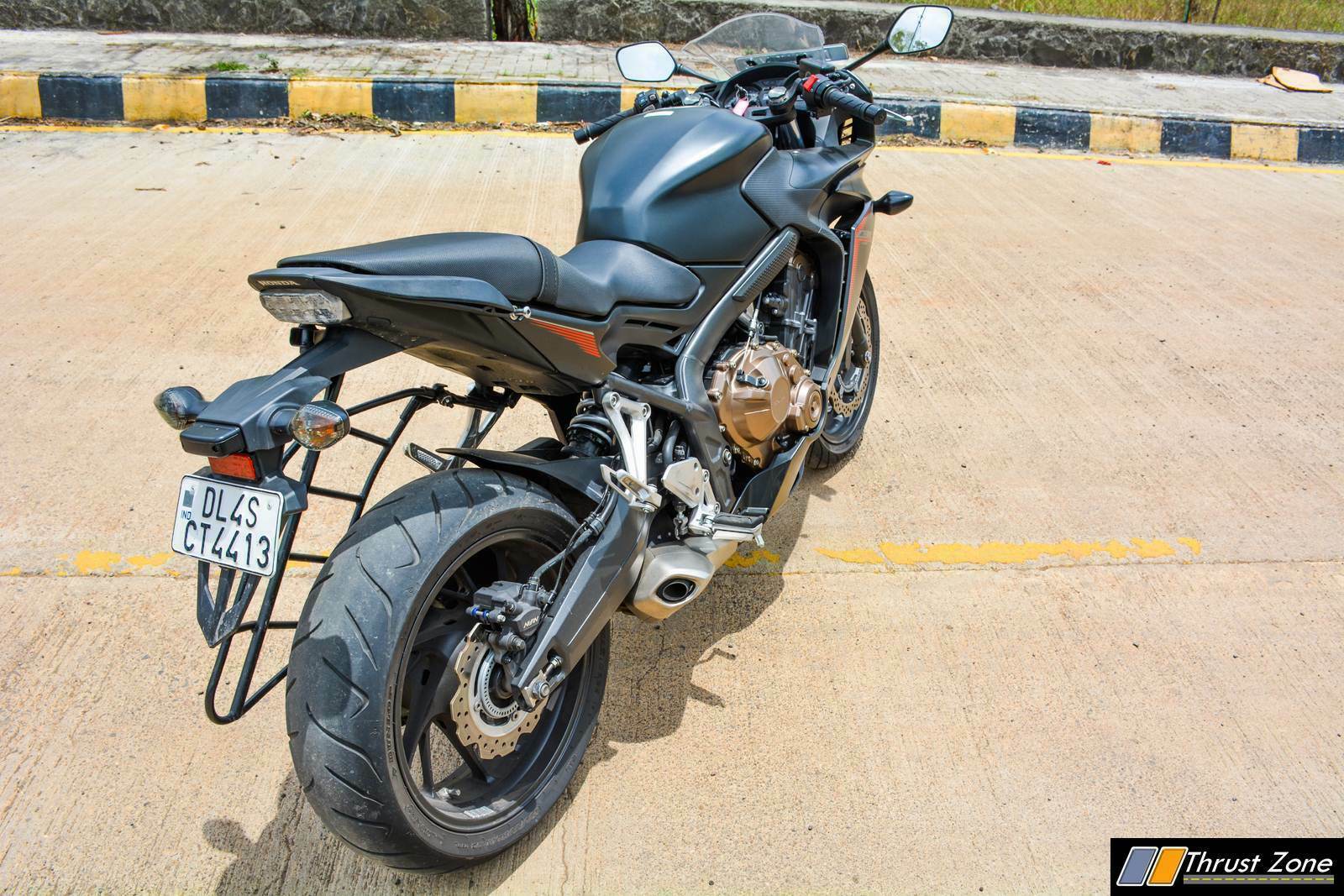 The new matte black on offer with red decals makes it stand out even today as it looks very impressive and still manages to grab a lot of attention. Exhaust continues to be tucked away and looks purposeful. Overall, fresh enough to stay valid in terms of design is the best way to describe the 2018 CBR650F.
Speedo and Switches
What is disappointing is the speedo remains identical with the twin-pod which lacks information about gear shift indicator and looks very dated. It has fuel efficiency parameters and tell-tale lights along with being entirely digital.
The clocks have a digital speedometer and tachometer and odometer along with trip meters. Switchgear is the same as before. The horn button is replaced with the turn indicator to make sure people indicate immediately as the hands are quite low and in most countries, turn indicators are given priority rather than honking, which is our case in India. There is a hazard light button and engine kill switch on offer.
Engine
The engine also gets minor changes and now it gets more horsepower at 85 PS of power and 60.1 Nm of torque. The engine is very smooth and refined but there are a bit of vibration at handlebars and pegs, which are eligible. The motor particularly feels smoother now in the lower part of the rev range as Honda has made some changes. The power delivery is downright linear and throttle response is very responsive.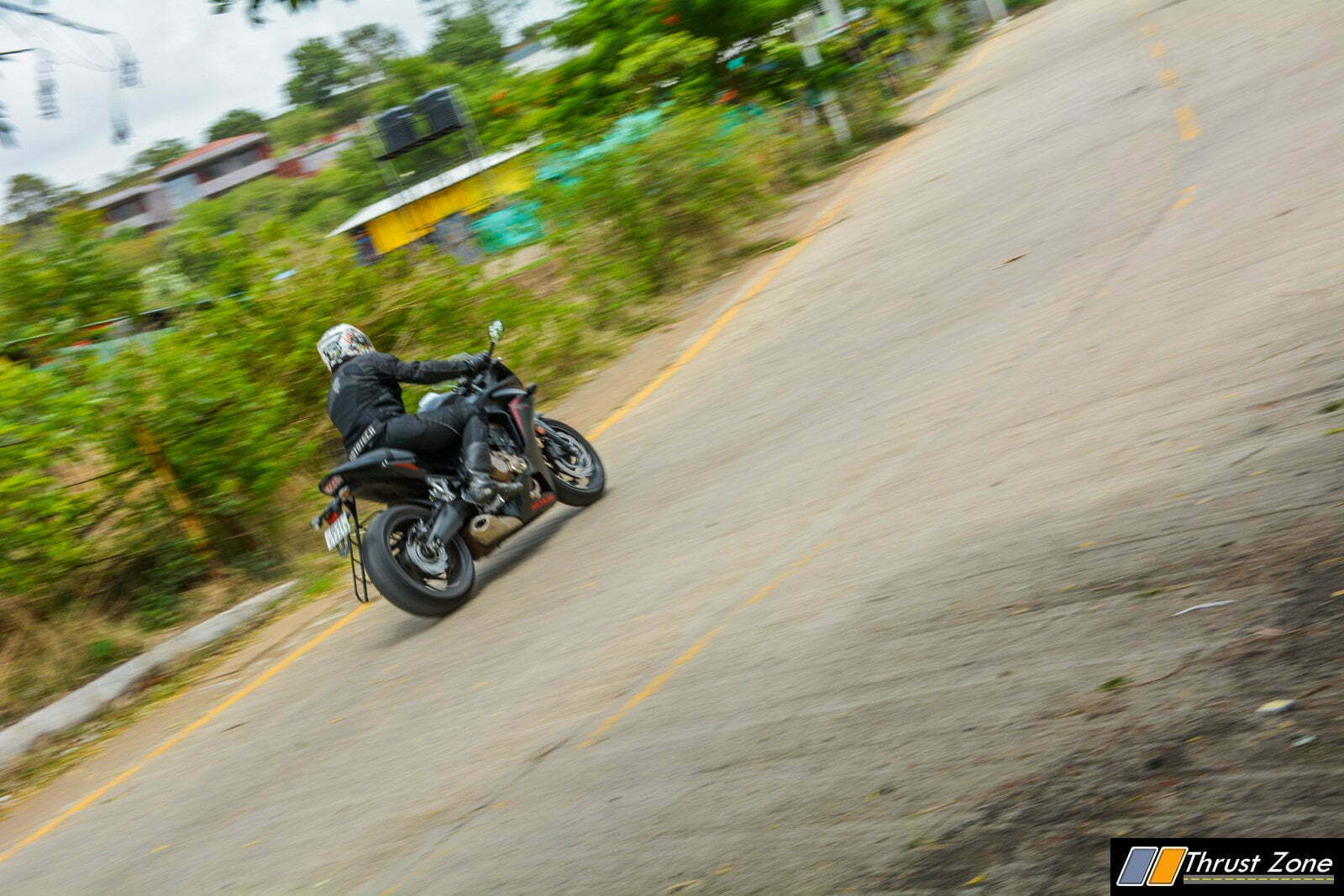 On-off throttle there is a bit of jerkiness, but that is bearable while sport touring. The engine is so linear that it doesn't need traction control because the power is put down in a very controlled manner to the rear wheel via a very smooth and satisfying 6-speed gearbox.
Clutch continues to be heavy surprisingly but again is bearable to a certain extent. Rideability in the city continues to good with just about average low-end torque but the mid-range and top-end continue to be fantastic. The motor pulls cleanly to the redline and now sounds more raspier than before and it does get bassy at the top-end. We got a fuel efficiency of 13.63 km/l which included a fast run on the highway, twisty and narrow roads and included dense city traffic.
Dynamics
Dynamically, there is a lot of effort at the bar to tip the bike into the corner. The motorcycle does feel heavy inside to side transitions and the grip from tyres is good but isn't feedback rich. The long wheelbase and slow front geometry don't allow to do aforementioned items but it makes it very stable and excellent on ride quality part. The ride is also better thanks to the Showa dual bending valve suspension at the front which makes the bike far more easier to live with it at low speeds.
Manoeuvrability effort is a bit high as it isn't very nimble in the city because you do feel the weight, but as speeds pick up, it all vanishes. There is underlying stiffness but the compliance level is spot on. It still doesn't beat the benchmark which is the Stree Triple RS but it isn't far away either in that area. Brake feel at the lever is good and stopping power is in abundance.
Honda CBR 650F India Review, Verdict
The CBR650F as we mentioned earlier adds more value to the package. It gets features and revised suspension and engine which make it a much better bike to live with it. A formula that has been perfected can hardly be reasoned. The motorcycle appeals to a mass audience in India because of its touring capability it can offer and it has engine cylinder configuration and brand to make it stand out.
Honda, however, doesn't get the price right and it feels a bit expensive, despite this 2018 gets more value added to it. If you thin of it, a little premium for this and you get everything you want right now. Should you be getting one in this highly competitive space? Well there is space for everything to exist and CBR650F also fits there, and it fits just fine.
CBR 650F India Review
Design

Features

Practicality

Safety

Performance

Dynamics

Comfort

Value