2018 Jaguar F-Pace Prestige Review: Car comes with a lot of extra kit, is now locally assembled, saves Rs. 20 lakhs and the list of positives is relentless.
Enchanting –
One of a kind aesthetics, stunning design
Superlative chassis, brakes, engine
High on exclusivity and features
High on safety and well priced
Unsatisfying –
There is no denying, it is not just India, but the world now favors an SUV over a sedan. The purist would disagree and still would vouch for a sedan for the way it rides and handles. Jaguar does make some exceptional sedans which handle well and they are catching traction. Outrunning the blue propeller in many ways, it is doing a great job of bringing fun to the table when it comes to driving.
The manufacturer is now seen transferring that magic into SUV as well and making bold claims in every regard. The brand is known for making sedans is now made its first SUV and its called the F-Pace. Clearly, the best place to debate about sedans vs SUV is while standing is at a party full of half-intoxicated journalist and car critics. Let's not join that party anymore and ramble about it. Join us as we finally get our hands on a Jaguar, which is blue in colour, is an SUV and promises Fun and Pace.
Design
JAGUAR! Two boys on their fluorescent colored scooter shouted as they saw the F-Pace first brought to our place on a Friday evening. Even before I could complete formalities and take over the keys of the weekend wheels, I was clearly aware of one thing, the F-Pace is an eyeball magnet in a way that I could never imagine. Things got serious all over the weekend as we went around testing, shooting and driving the car through various areas of Mumbai. Inside and outside the city, the massive grille at the front, the fantastic electric blue color and those cunning set of headlights that had J-Blade type LED DRL on offer garnered serious attention.
The simple yet elegant wheels made a lot of noise and the red Jaguar badge on them help people realize that this is kitty needs to be taken seriously. Side profile of a sedan which was uplifted marvelously and converted into a crossover with the perfectly executed kink in the C-Pillar just oozes artistic flavor. F-type (goose bumps) inspired tail-lamps help the case even further and illumination and style help it get recognition from kilometers away. Overall, the most intimidating SUV ever and Jaguar has built the F-Pace just right. The right amount of muscle in this car with the smaller elements standing is eye candy all the way.
Interior
The interior is a place where it will impress enthusiasts. All black theme, a low mounted dashboard, extremely supportive seats make things inviting. The design may be a bit old school to some, but it has all the goodies and ergonomically placed controls making it modern enough to live with. The theatrics continue with the gear knob rising out and the way entire cabin lights up in the night thanks to the new ambient light option which has 10 colors to choose from. Range Rover hints come from the window controls mounted on the top of the door panel. Space in the back is good, but could have been better. A slightly larger boot would have been appreciated, but we guess JLR has plans to go above the F-Pace to provide that. Despite the healthy list below, it does miss out and Electric tail gate, Andriod auto and Apple Car Play as of now.
Features list includes touchscreen with multi-touch gestures and customisable homescreen, Instrument Panel Display with virtual dials and full screen 3D Map View, Navigation Pro, Meridian™ Sound System (380 W), FM Radio, Bluetooth® and 2 x USB connections, 10 GB of usable memory, CD/DVD Drive, InControl apps, Wi-Fi Hotspot and Pro Services, 19-inch alloy wheels, Rear View Camera, Taurus Leather seats, Chrome side window surround, 10-way Electric front seats with Driver Memory, Rear armrest with twin cup holders, Auto-Dimming rear view mirror, Rear View Camera, Front & Rear Parking Aid, Meridian™ Sound System (380 W).
List continues with Power Fold, Auto-Dimming Heated door, Mirrors with Memory and Approach Lights, Adaptive LED headlights with signature DRL, Pro Services and Wi-Fi Hotspot, Activity Key, Navigation Pro, InControl Apps, Sliding Panoramic Roof, Electrically reclining rear seats and Four-zone Climate Control, electric parking brake, sunroof, push-button start, keyless entry, cruise control, automatic wipers and lights, in control apps, activity key, 10 way electric seats for passenger and driver and etc is on offer with the list. A lot of things are standard while this car has optional extra.
Engine and Gearbox
The engine is the same 2.0-litre diesel motor found on other Jaguar's. The motor here makes 180 BHP of power and 430 Nm of torque. The 8-speed automatic gearbox is almost fast but extremely seamless. The motor is downright smooth and there is a sporty edge to the way it revs and sounds. The diesel clatter is hardly heard in the cabin at any given point of time. Overall NVH levels are really good with this all aluminum engine.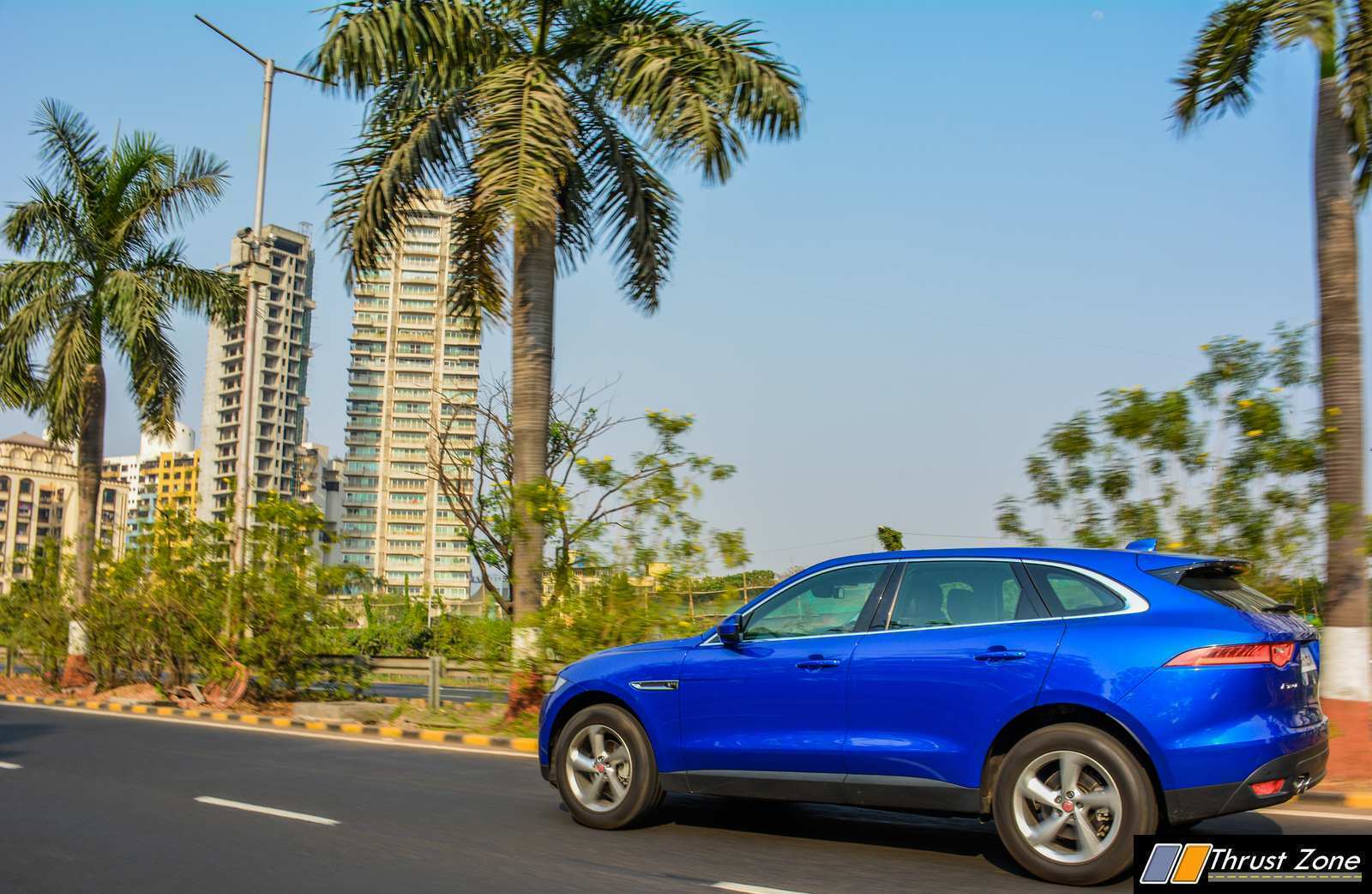 There is excellent driveability on offer at city speeds and there is a healthy midrange, but all that weight of around 2 tonnes doesn't make it the fastest. It is relatively quick enough and does hold high speed well which makes it a cruiser rather than a hard edge performance SUV. If you are interested in that, it's best you choose the R-Sport variant. We got 8.6 km/l in our testing this particular car.
Dynamics
Monocoque chassis equipped F-Pace which has a mixture of steel and aluminum helps the car chassis behave well in the corners. The curb weight just around or under (no curb weight figures from Jaguar) 1900 kgs may sound high, but the suspension is extremely well tuned to mask of all it really well. The suspension is on the stiffer side, but supple enough to absorb small undulations without transferring much into the cabin.
Our test car came with 19-inch wheels and bumps taken with higher speeds does result in a thud inside the cabin which was also well controlled. The suspension in mature for our roads, a lower size of alloy wheels should make it more comfortable and in the league of its comfort-oriented rivals. This is the car with AWD so grip in the corners and doing a launch from 0 km/HR resulted in excellent grip and no wheelspin whatsoever. Steering feedback is good, not great. The brakes, as always, were really good with enough stopping power on tap. The overall chassis behavior is sporty and the SUV truly feels like a car to drive. Body roll is well controlled and it doesn't upset its balance in the corners.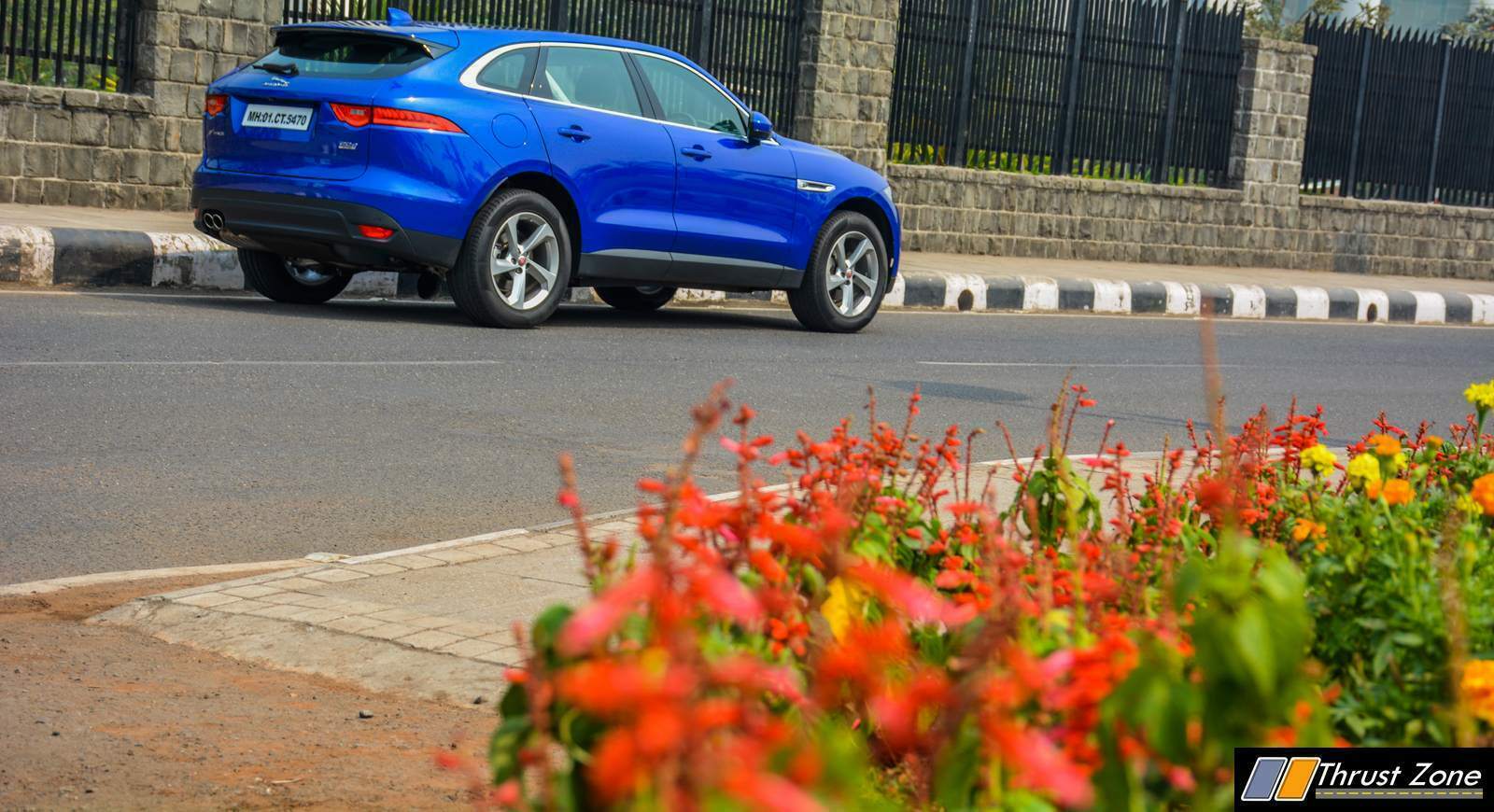 2018 Jaguar F-Pace Prestige Review, Verdict
As we have said in the past for Jaguar's, the cars emit a bespoke feeling, meanwhile, they do lack a bit of a modern touch in some areas. We think that is limited just to the interior. However, the well-sorted mechanicals, the way it rides and the way the design has been carved out, Jaguar sets its cars to stand apart from its competition impresses everyone. The elements in every area are striking and the exclusivity just keeps getting better with modern day Jaguars.
In fact, the ball is still in JLR's court because that interior with its theatrics and old-school aura attracts a set of audience that seems exclusive to it. For a luxury manufacturer, carving a niche is utmost important, Jaguar seems to be doing their homework right. The F-Pace then turns out to be a perfect cocktail we all deserve on a weekend.
Prestige Price: Rs. 60.02 Lakhs ex-showroom
F-Pace Prestige Review
Design

Interior

Performance

Dynamics

Safety

Features

Value

Space

Practicality