2018 Kawasaki Ninja 400 will do well in India only if priced around 3 Lakhs but that isn't happening any time soon
There have been a lot of speculation about Kawasaki's new model to the quarter litre segment, mainly after Honda launched their new CBR that is CBR 250 RR, and Yamaha launching their new YZF R3 which was doing fairly well. As Kawasaki has always been dominating the segment, same way, it is all set to dominate again by coming up with an all-new Ninja series motorcycle, the Ninja 400. Kawasaki has already completely finished the development of the all new Ninja 400 motorcycle.
As for a fact, the bike is ready for launch and was caught filming for its commercials in Milwaukee, USA. This is the first time that the bike has been spotted in a town which has been far away from public and media eyes. This is the city where Harley-Davidsons are made. From the looks of it we can observe that, the bike now seems to have grown in size. The Kawasaki green share with the KRT livery is seen on the bikes caught filming, and it sure does look awesome.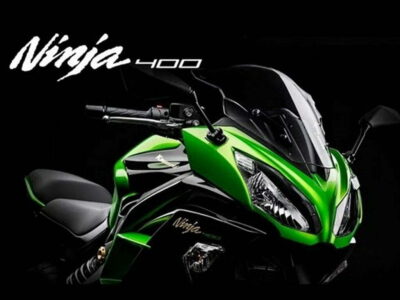 When you look at the spy shots this is what is clearly visible. It has new tail lights, new seats for the rider as well as the pillion, a new fairing which is quiet bulkier than the other models, KRT livery, a new and enlarged wide screen, a new and wider and more cool looking rear view mirrors, new exhaust, wider tyres, telescopic front fork, black rims, and a new speedo meter.
So far there is no news or any sort of information about the specs of this new Ninja 400. But having said that its quiet obvious that the bike will have a 400 cc parallel twin engine, its also liquid cooled and has a horse power of almost 50 bhp. We will come to know about the actual specs when the bike is released. We expect the new Ninja 400 to make a debut soon. So all you readers you have to do is stay tuned for the update.