Mini Clubman India Review: We find out if the Clubman has practicality and despite that, does it impress the critics and the purist
Enchanting –
Four door Mini, still looks like a Icon
Superlative chassis, brakes, engine
Surprisingly comfortable for four with good space
Retro high quality interior
Unsatisfying –
Priced a bit higher
A lot of features are optional extra
Mini, the word puts two things in your mind. An Icon and the size. The cars are known to be small, 'cute' looking and carry the iconic heritage since so many years. Two more things come to the mind of enthusiasts. Fun to drive and practicality. Mini has always delivered fun to drive cars which actually live upto the marketing term which the company has given it to it, Go-kart like feel. However, practicality has been on the scarce side.
Mini seems to have addressed that with a four-door version. Yes, that sounds odd at first to the purist, but it has happened. The car is called the Clubman and it came to the Indian market last year. The original model doesn't go much back, as the first ever Clubman was made in the year 2008. The second generation was seen in production version in 2015. The Clubman, like the Mini has received a host of changes inside and outside while keeping the legacy alive. How is it in its brand new avatar? We find out.
Design
The car sits quite low, the front bumper is split into two. The headlights are large and oval in shape and have a semi-circle LED DRL in them which makes it stand out. The side profile is a typical Mini but which is elongated and has four doors and doesn't have any sort of kink in the window line. Something that ends up helps it stand out. The large glass area and the sheet metal ratio is spot on and gives the car a substantial look.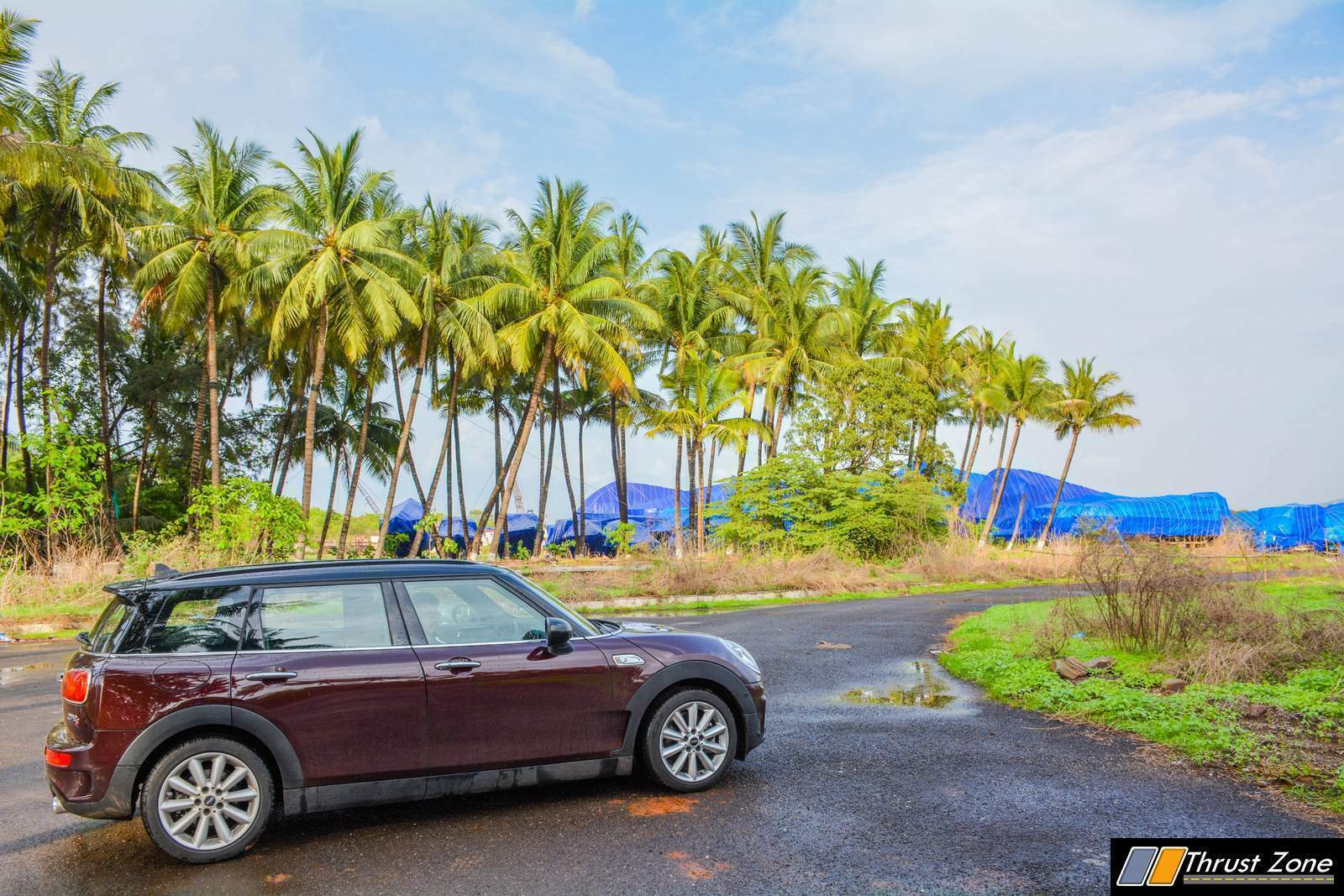 The rear again has a dual split tail gate which is very unique and catches a lot of attention. The huge tail-lamps, the twin pod exhaust again helped the car grab a lot of attention. We saw a lot of people through the IRVM imitating how the doors will open and the signs were quite entertaining. All of this, technically, makes this car a six door. The wheels are typical Mini and our car wore a dual tone scheme of maroon and black which surprisingly caught a lot of attention that we didn't expect.
Interior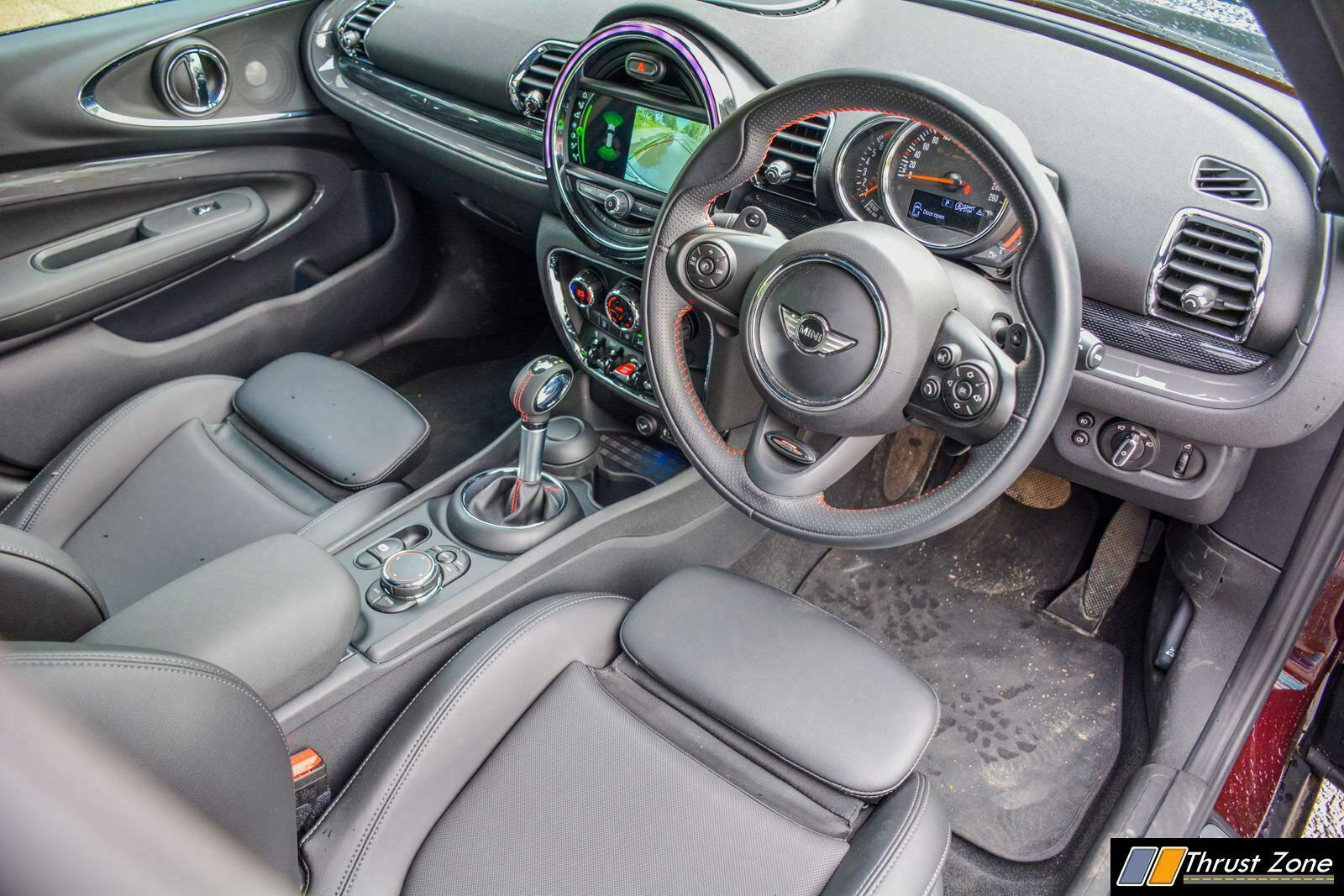 Interior space is the highlight here with good leg, knee, shoulder and just about enough headroom for all types of passengers and it should be comfortable for them for all kind of journeys. It isn't ample, but keeps you comfortable for sure. Boot space of around 360 litres make the boot usable by a good margin.
Interior quality is far better than before and cabin looks more upmarket and funky. The toggle switches feel great to operate, the large 'screen dial' is now a touch unit which is always great. The screen gets BMW's iDrive which can be controlled via knobs and buttons which as we know is extremely easy to use. There are two options where you get 8.0 inch of screen as an option and the 6.5 screen is standard. The Mini logo can be seen in the night once you unlock the car. Parking sensors, driving modes, panoramic sunroof come standard with the car.
Ambient lighting heads up display, electric seats, tyre pressure monitoring system, rear view camera, Harmon Hi-Fi system, dynamic damper control and navigation are optional extras that were fitted to our car. adjustable steering with column mounted speedo meter, manually adjustable seats, LED lights inside and outside are standard with the car. The standard safety equipment comprises of Front and Passenger Airbags, Brake Assist, 3-Point Seat Belts, Dynamic Stability Control, Crash Sensor, Anti-lock Braking System, Cornering Brake Control and Run-flat Indicator.
Engine
Powering our test car was the 2.0 litre petrol engine which makes 190 PS of power and 280 Nm of torque. The engine is great on NVH levels as the cabin is devoid of any kind of noises on the inside. However, push the engine harder and it creates a raspy soundtrack that comes through the speakers and a bit from the engine also comes in. The engine redlines all the way 6500 RPM and the progressive is quite quick for a car of this size and weight.
The engine starts pulling from 2500 RPM all the way 6000 RPM which means it has a punchy mid range, but you can experience turbo lag and a bit sparse low-end torque because the gearbox doesn't shift fast in normal mode. Drive mode into sport and shift gearbox also into sport to experience a far more responsive drivetrain. The 8-speed gearbox at redline is quite snatchy when in sports mode. Overall, a peppy engine which has an oomph once you are in the mood for it and can be relaxed when you want it to. We got a mileage of was 8.25 km/l.
Dynamics
Dynamically, the car changes direction like a go-kart for sure but the long wheelbase, a bit of body roll and weight is felt when you are really pushing it. Normal and spirited driving shouldn't disappoint keen drivers either. The steering is good enough in terms of precision and lightness and it does get heavy in sports mode. The steering weight itself is quite heavy and it is great to hold.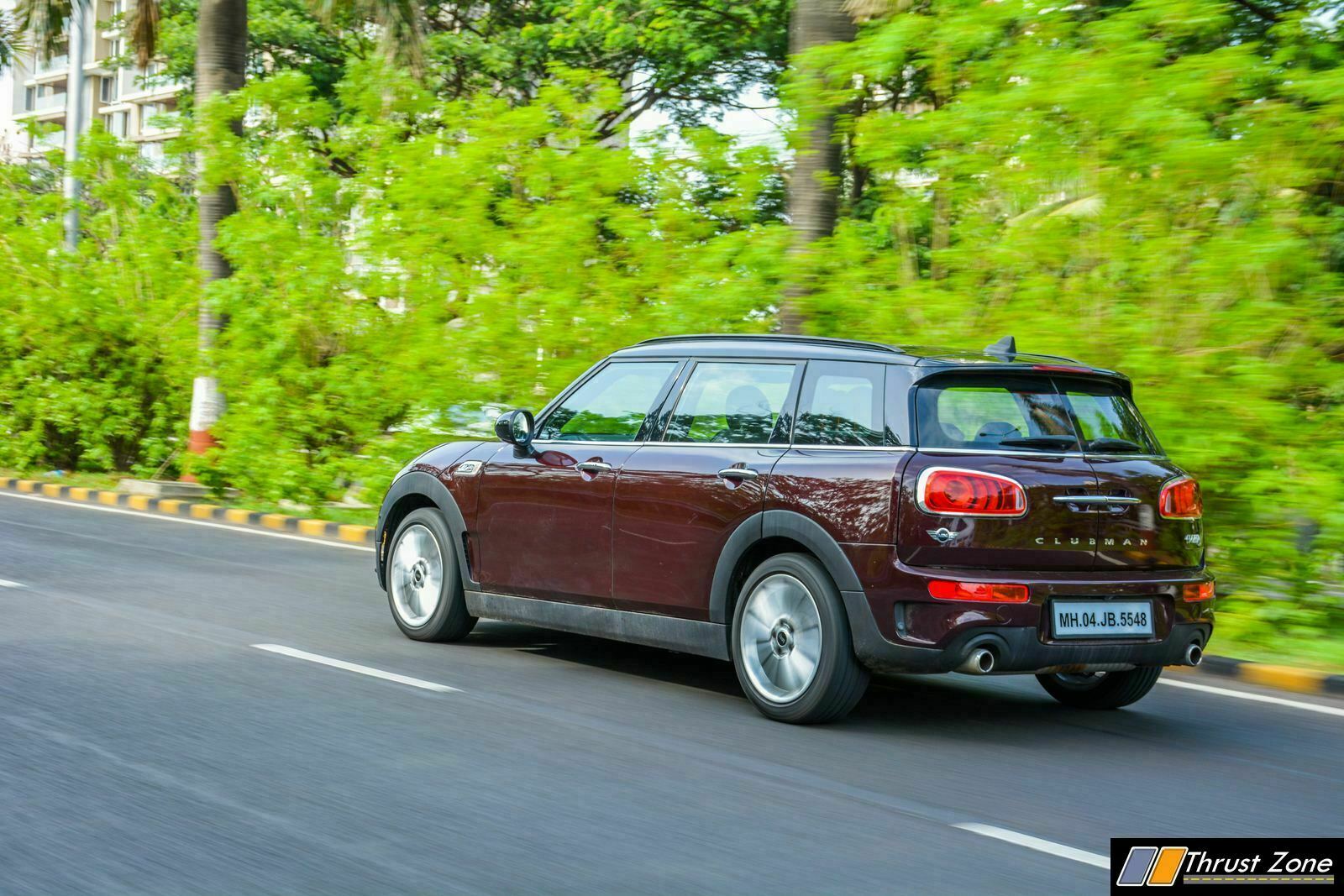 Feedback from the steering is good but isn't super precise as the earlier sportier cars. Ride quality is quite stiff as low speeds which makes it quite confident as the speeds go higher. High-speed stability is spot on and brakes offer great bite at the pedal and a lot of stopping power. The ride on the 17-inch wheels are good enough for our conditions
Mini Clubman India Review, Verdict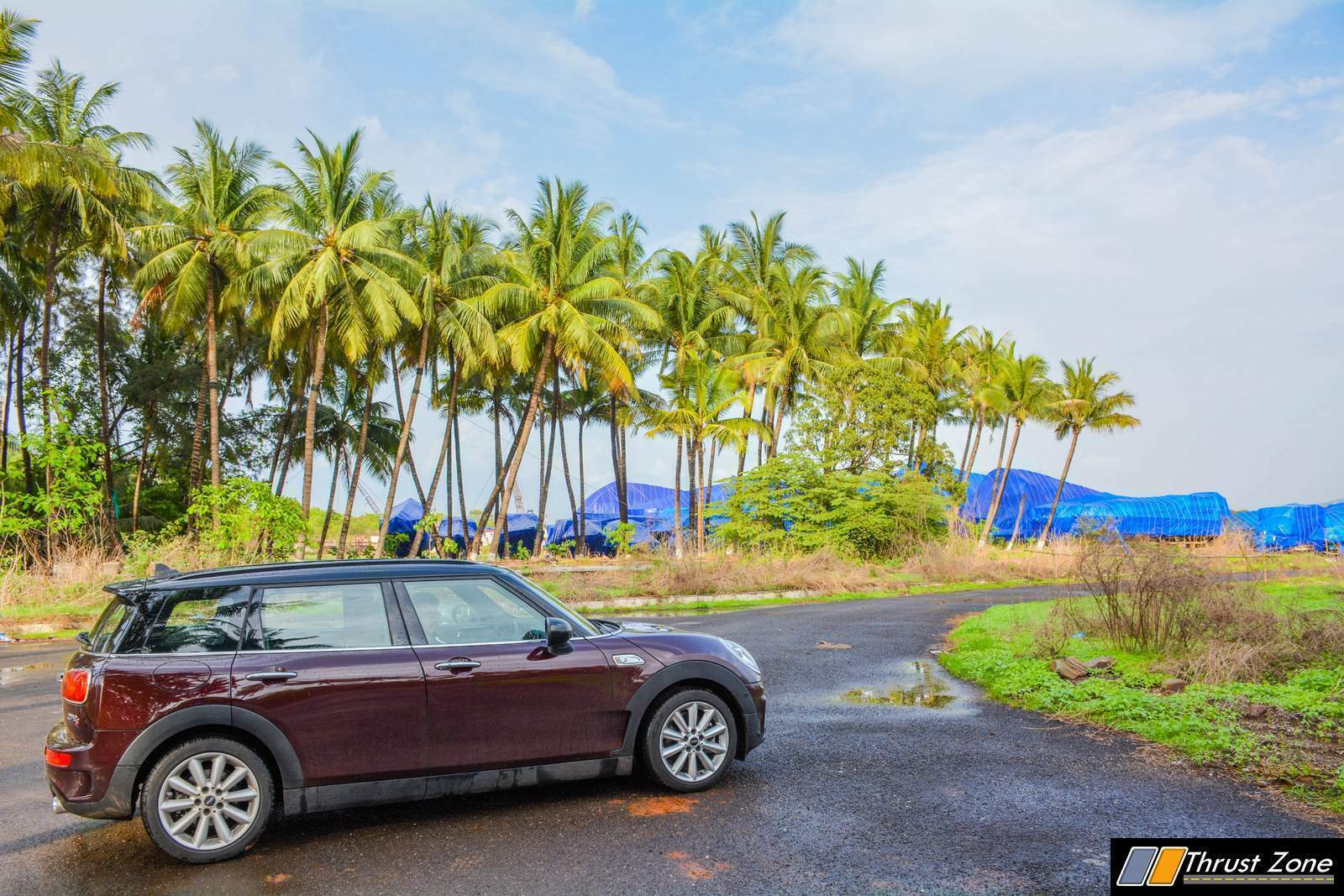 The Mini continues to offer what it always does which is great fun to drive character, funky design and not a lot of features. The list is quite expansive and most things are optional extras. Clubman then offers more practicality, even more, distinctive styling which makes it stand out and that should be a big highlight for its prospective customers.
The pricing starts at Rs 40 Lakhs and goes all the way Rs 50.0 lakhs. Is it worth the extra premium and over it sibling rivals? Yes, you do get a brand name which is iconic and a lot of passive elements which you cannot count and then there is the badge on the bonnet which says Mini.
Mini Clubman India Review
Design

Interior

Space

Features

Performance

Dynamics

Practicality

Value

Space