2019 Datsun redi-GO gets a Driver Airbag, Rear Parking Assist Sensor, High Speed Warning and Seat Belt Reminder across its variants. Datsun redi-GO was also recently refreshed with an Anti-Lock Braking System (ABS) with Electronic Brake Distribution (EBD).
2019 Datsun redi-GO range is powered by the 0.8L and 1.0L iSAT three-cylinder fuel efficient engine which provides 22.7 Kmpl and 22.5 Kmpl fuel economy respectively. Based on Japanese design philosophy called YUKAN which stands for brave and bold, Datsun redi-GO is popular among the young and aspirational generation of India. It features 'Tall-Boy' styling and offers best-in-class ground clearance of 185 mm, extra roominess and excellent external visibility for the driver. The car is available in five colours: Ruby Red, Lime Green, White, Grey and Silver.
ABS with EBD: Providing the highest grade of vehicular safety and control over the vehicle, ABS with EBD offers drivers and passengers new safety benefits. Along with reducing braking distance, it also prevents the locking up of wheels when brakes are applied under heavy loads. ABS, thus, maintains the vehicle's stability and steering balance by monitoring the wheel speed, releasing pressure on the wheel brake's lines in the form of rapid pulses. EBD automatically varies and optimises the vehicle's brake force based on road conditions, speed, and load, to reduce braking pressure, which in turn prevents skidding.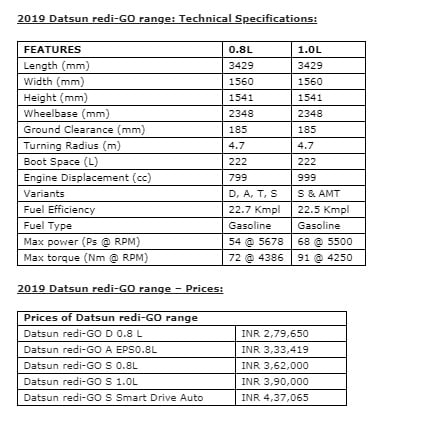 Driver Airbag: Passive safety system which provides soft cushioning to occupants in case of any restraint/mishap and gives driver confidence Rear Parking Assist Sensor: Allows driver to be more aware of obstacles while providing the ease of parking. Obstacle detection range up is to 1.3m by ultrasonic sensors
High Speed Warning: Active safety system to control over speeding above 80kmph
Seat Belt Reminder (Driver + Co-Driver): Active safety system to remind the passenger to put on the seatbelts
The new safety features will be standard across all redi-GO variants: Datsun redi-GO 0.8L, Datsun redi-GO 1.0L and Datsun redi-GO Smart Drive Auto
The Datsun redi-GO comes with an attractive 2 year/unlimited kilometers standard warranty. It also comes with an optional extended warranty for 2 or 3 years/unlimited kilometers. This gives redi-GO owners the option of up to 5 years/unlimited kilometers warranty coverage. Convenience of roadside assistance is provided free of cost with both standard and extended warranties.
Datsun customers also have access to 'Datsun CARE', the most comprehensive service package for new customers of redi-GO that assures complete peace of mind by 100% coverage of parts, labour for Periodic Maintenance along with major wear & tear parts. It also covers Extended Warranty & 24×7 road-side assistance.