Enchanting –
One of a kind aesthetics
Superlative chassis, brakes, engine
Surprisingly comfortable, practical and fuel efficient
Unsatisfying –
Priced a bit higher
Single seat! Pillion seat optional extra
Weight saving, not a lot of chrome and purposeful looking motorcycles are made for the track and to be very fast on the road. They are usually sport bikes. Indian on the other hand thinks this can be done to their cruiser motorcycles as well. Why? They have managed to make cruisers so much fun to ride, easier to live with and elegant to look at, that people asked more of it and they expected all of this and carved out models like this, the Indian Chief Dark Horse.
Based on the Chief which has all the color options, lot of chrome, the less subtle version, the 2019 Indian Chief Dark Horse is for someone who wants to stand in the crowd and be noticed for everything except for shining in bright light. Does it do all of that? Infact, how does it all of that? Allow us to explain.
Design
Everything on the cruiser is so massive yet so well proportioned that you can stopping admiring this cruiser. A large headlamp and a fairing around it. The front fender covers 90% of the front wheel. The front forks covered top to bottom, the adequate not freakishly large fuel tank with two fuel caps (left is faux) gives it the authentic look from the riders point of view.
The single seat, the side and rear profile including the rear wheel covered in a old school way with a touch of modern element on how the fender starts, moulds and ends gives it a purposeful look, which is basically to invoke nostalgia.
The massive exhaust pipes also cut off quite well. The rocket shaped LED tail-lamp, the LED turn indicators which look retro without the clear glass use are ideal fit on the cruiser. A bit of chrome includes around the engine casing, which is a given fact. Overall, full marks to be proportioned and stealthy looking while grab sheer admiration from everyone around you.
Speedo and Switches
Speedo sits on the tank and gets a small digital tachometer which can be operated via the pass light button on the LHS switchgear surprisingly. The pass light button to operate the headlamp is integrated with the high beam button.
Speedo includes all the tell-tale lights, speedometer and solitary turn indicators are on offer. The quality of switch gear and other bits that you touch is good. RHS switchgear has the starter button and a cruise control button which is handy with bikes like this.
Engine
Powering the Chief Dark Horse is the 1811cc engine making 151 Nm of torque from just 3000 RPM. That is 11 Nm and 300cc more than a Honda City! As you can imagine, rideability in the city excellent with power and torque on offer. The clutch is light and gearbox is smooth and effortless enough. Commuting through thick, thin and narrow streets of Mumbai gave us an idea how good the motorcycle is.
Sure, the large engine heats up but not violently, if you keep up the pace. The cylinder bank can touch your inner thigh just like any other large cruiser. The short gearing of the cruiser means you can achieve 120-140 km/hr easily, but post that, the progress is slow to 190 km/hr. This is enough speed for our roads too. The kerb weight is still quite at 352 kgs. Just under 300 kgs would have been better though for more performance. We got a fuel-efficiency of 21 km/l.
The V-Twin engine is smooth, free and quick revving and it is one of the best engines when it comes to sound because it isn't brash like its rival, but also carries the traditional high cubic capacity cruiser sounds like, (of a ground grown vegetable) we cannot mention here. Great fueling, linear power delivery, excellent throttle response makes this a modern engine with nostalgia all over written on it. The engine which is exceptional well geared and tailored for the job, is something you rarely come across. The refinement also comes from the fact that first three gears are straight cut and rest are helical for a smoother shift, optimum performance and reliability.
Dynamically, at first the rake degree is very high and it doesn't seem city friendly. However, you need to plan your turns, u-turns and lane changes slightly in advance to stay in tune with the cruiser. As always bigger and sportier bikes need more attention to ride, this is one of them. As a result of the long wheelbase of 1730 mm and 29 degree rake. Highway stability is spot on.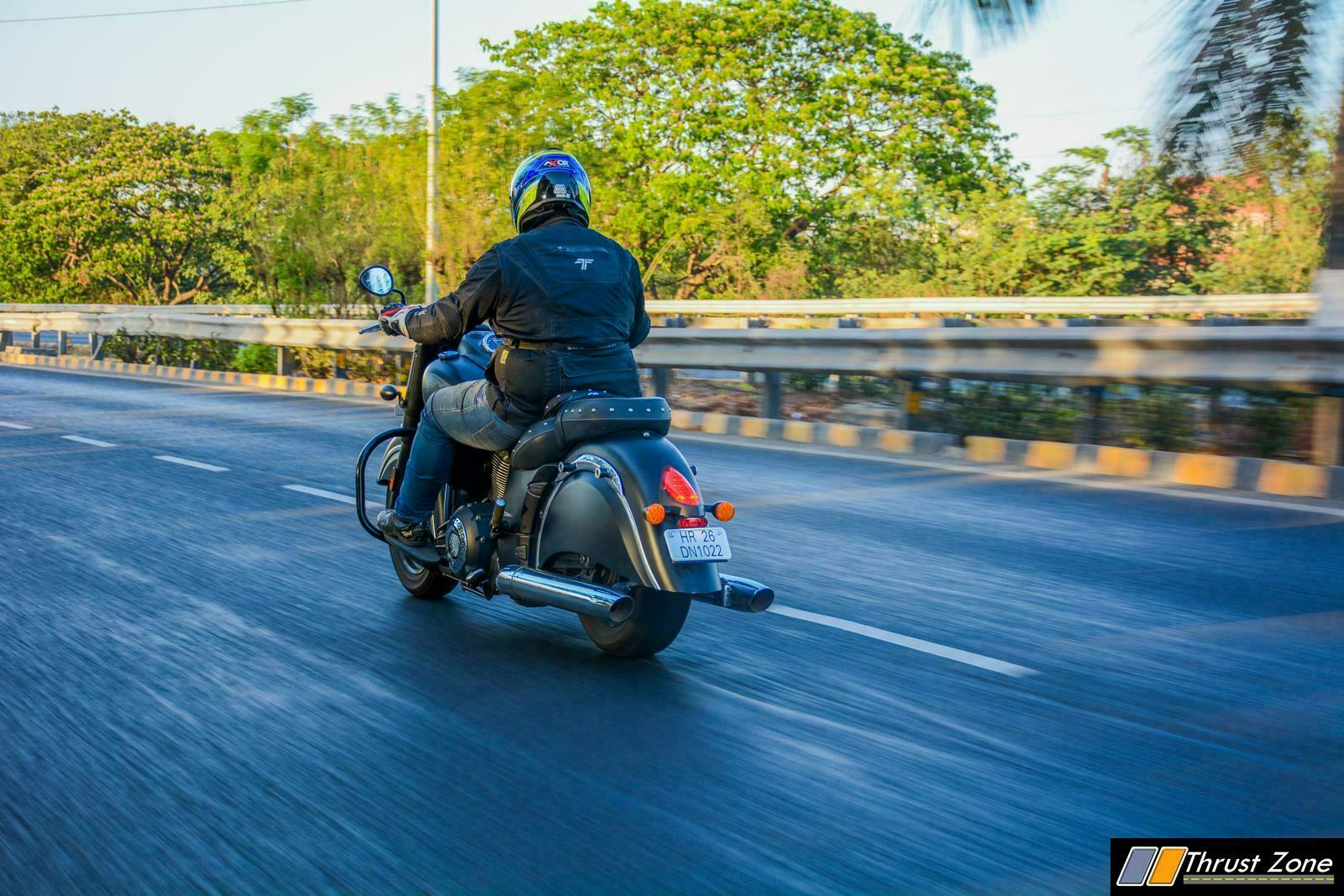 The 16-inch wheels with fat tyres take over all kind of road undulations. Ground clearance is at 140 mm so it scrapes occasionally. Maintain a speed over big bumps and it won't. Brakes were particularly good with decent bite (could be less wooden) at the lever and progression post that was excellent from dual 300 mm disc at front and single 300 mm disc at the rear.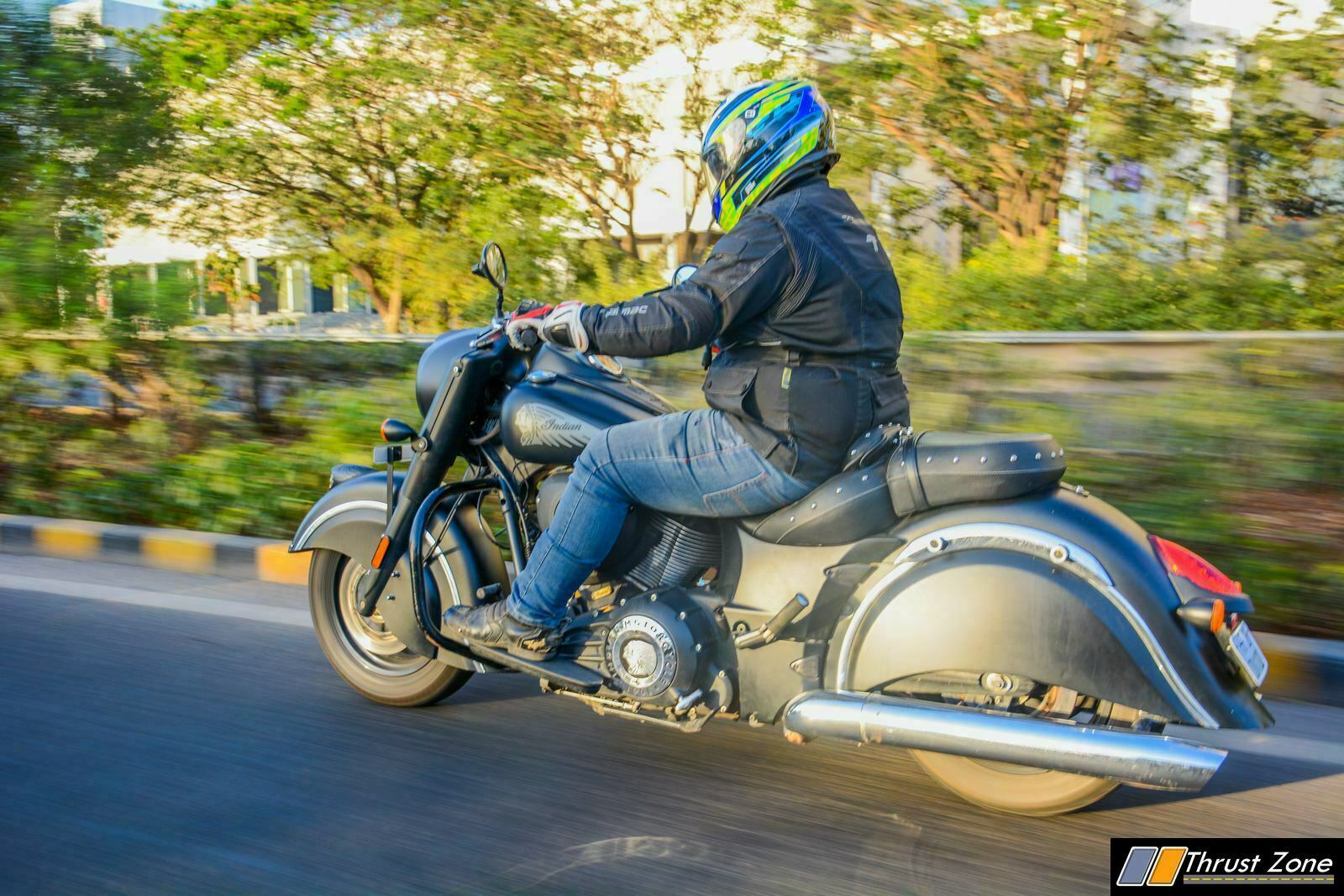 We like how the motorcycle suspension was damped to take on our roads really well. We cannot use the words nimble and agile, but get in tune with the chassis and suspension and you can work your way out of all kind of traffic conditions. That's what we found out after a week of riding.
2019 Indian Chief Dark Horse Review, Verdict
As always, Indian motorcycles are engineered to feel complete. That is what we get a sense every time we ride one. The fuss free nature, once getting used to, is truly enjoyable. We can think of a more approachable bike on the highway will be a very sweet companion.
The Indian Chief Dark Horse is a single seater (pilion seat is an optional extra) and can cost a lot of money. However, if you have the budget you should go for it because there isn't anything that feels traditional, accomplished and confident like the Indian Chief Dark Horse.
Price: Rs. 20.20 Lakhs ex-showroom Pan India.
2019 Indian Chief Dark Horse Review,
Design

Features

Safety

Performance

Dynamics

Comfort

Practicality

Value