Enchanting –
Regal Aesthetics, strong brand and road presence
Superlative chassis, brakes, engines
Spacious, luxurious and practical on the inside
Feature loaded
Unsatisfying –
Infotainment system can be better
CBU Pricing
We auto experts get asked a lot of questions. When we test cars and driving along with friends, family, colleagues or newly joined interns, we answer all the questions they have. We have been accustomed to it by now. Also, we end up answering most questions. But this time when we driving around in this car. The Land Rover Range Rover LWB. I was asked that all Range Rover have some name ahead of them, what is this called? The Vogue SE? I had a tough time explaining that its just called the Range Rover.
This is the flagship car, in its LWB avatar and there is sub-name to it. I could see their confusion and i am pretty sure there are others out there who deal with the same. Allow me to explain in words what is the Range Rover all about as we were able to spend time with this massive SUV navigating through the thick and thin of Mumbai city.
Design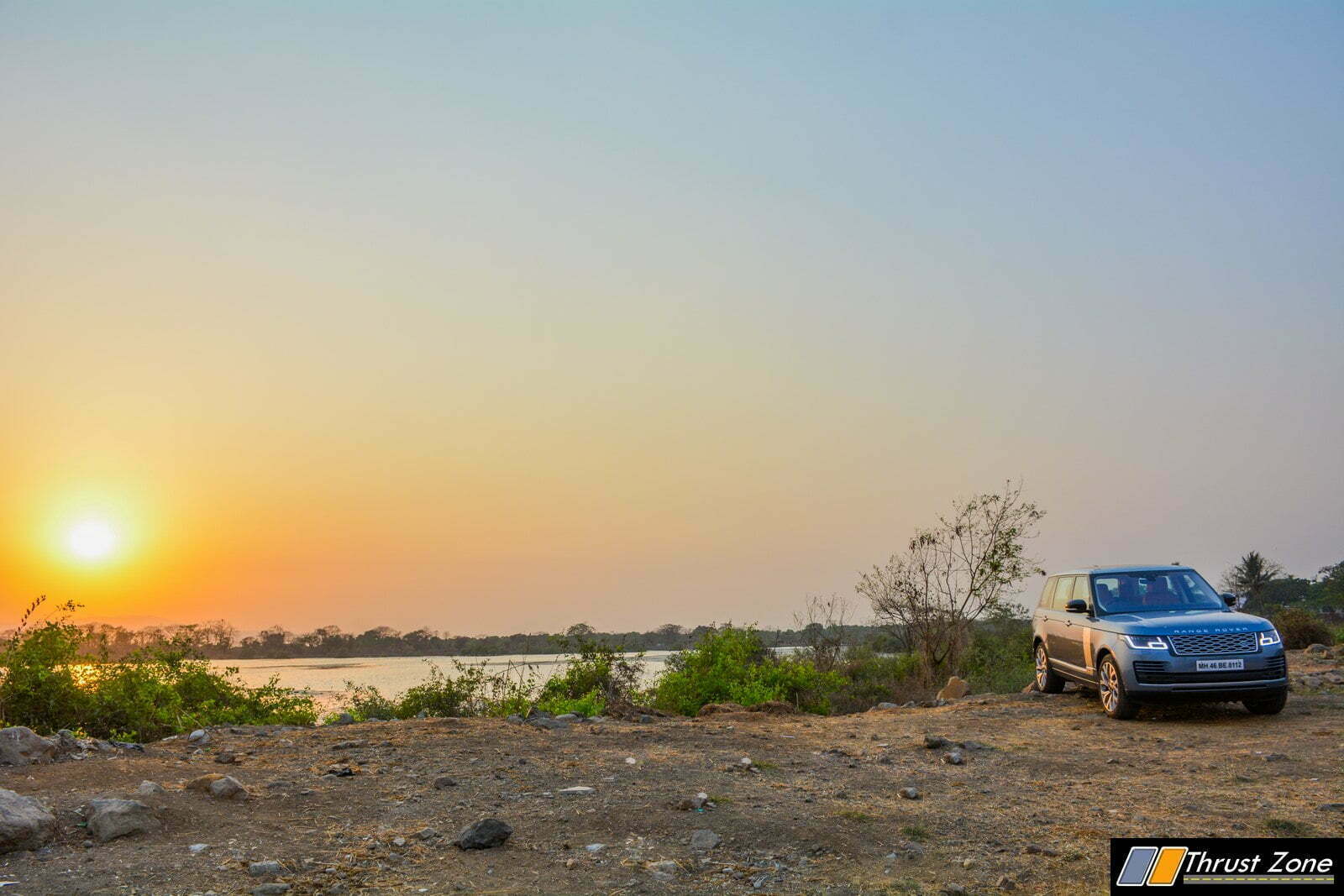 The front design is where everything (grille and headlight) sits flush like the new Velar and that it gives it a look which was designed by machines and look like a robot-ish. The side profile looks like metal and glass has come together to replicate the look of a mansion on four wheels, which are humongous at 21-inch. The rear also has flush sitting tail-lamps which have a square layout of the LED DRL which has been the highlight of the car since its inception.
The rear is very dominating and captivating just like the rest of the car because its sheer length, width and height. The chrome strip starts from the front door and ends in the bumper so sublimely, the three slat slab which looks like a piece of marble on a wall of a palace looks Victorian. All of this, lends it a regal touch to its elegant design and perfectly proportioned despite this is the LWB version. Wow, i just wrote a poetry.
Interior
The interior is barrage of leather and lacquered wood. The smell, finish, stitching, smoothness and orange-ness of the leather forces you to eat cheese balls and rub your fingers all over and still nobody would notice. Subtle use of brush aluminium all around the cabin makes the cabin emit a sense of power that the driver inhales and feels invincible and royal. No, we don't feel this way, we are explaining that this can happen. Auto Experts/journalist aren't allowed to get submerged into the world of luxury.
Features list is quite enormous as well. Ambient lighting, 360 degree camera, front and rear parking sensors, full roof panoramic sunroof, electric and heated ORVM and electric IRVM, rotary dial for the gear shifter, auto park, navigation, terrain response 2, three driving modes, keyless go, start-stop button, auto start-stop, LCD screen speedometer dials, touch sensitive steering wheel controls, four zone climate control, cruise control, heated steering, voice commands,R soft close doors, electric parking brake, fully adaptive LED matrix/laser Lights. There is ventilated, memory, massage, electric seats, electric sunblinds and remote control for rear seat entertainment. You can control the sun blinds, windows, sunroof shade of both sides at the rear through a single touch screen and window button on offer.
Lots of charging points in the front and rear. It also has a Meridian sound system which depends on variant to variant in terms of speakers and watts on offer. Something that we didn't like in the SUV, strangely. The infotainment system was also laggy, which is the top screen, the bottom screen with most function to control, works flawlessly. The A/C works well, the armrest are a bit thin in size for the front two occupants. NVH levels in every regard are spot on and there is barely outside noise seeping into the cabin and it can be termed as the church of library's.
The seats are massive and supportive at the front and the rear passengers are seated in a different post code with acres of leg, shoulder, knee and headroom on offer. Ample of boot space since this is not a 7-seater. All seats can be folded with a touch of the button. The electric tail split tail gate is on offer which makes it practical and commodious at 500 litres. In terms of safety it gets ABS and EBD along with 8 airbags and lane departure warning but doesn't get whole host of electronics that other gets with the inclusion of radar system, something the India spec Range Rover misses out.
Engines
Performance comes the V6 diesel motor that makes 250 BHP of power and 600 Nm of torque. All of this channeled through a 8-speed gearbox. Due to the kerb weight of 2.3 tonnes and gearbox not being fast, there is lag below 2000 RPM that is felt, but that doesn't affect low-end driveability in the city.
Off the line, it takes to accelerate even in sports mode. Post that the mid-range is good and so is the top-end power. It can cruise at its top speed (limited to 215 km/hr) or any speed that you like on the highway, the engine is stress free most of the time. We got 9 km/l too in our testing and 11 km/l on the highway, which is quite impressive.
All that weight loss of almost 600 kgs plus over the previous model has made the SUV far more efficient. Still 0-100 km/hr takes 8 seconds which could have been better, which it does with the V8 diesel motor that 0-100 km/hr in 7 seconds. However, we are most certain mid-range numbers would be far more superior with more power and torque with the burble induced V8 motor.
NVH levels are very low and you can barely hear the outside world. Until unless you are on a concrete road patch where road noise does get tiny bit intrusive only at high speeds. Drive modes make things simpler and we preferred Eco and sport mode given we were either in Mumbai or out of it on the highway.
Dynamics
Surprisingly, it is quite easy to drive in the city, if you use the steering to its full potential. Its light, precise and feedback rich at all speeds. Lock to lock ratio is just 3.03 which is quite impressive. There is AWD on offer and it can off-road like a legend that the Range Rover is despite those fancy 21-inch wheels thanks to terrain response system. The water wading capacity stands at 900 mm! All of this is courtesy of the adaptive suspension which automatically adjusts to all terrains and driving modes that are on offer.
All of this also helps it give it an exceptional ride quality even in the sportiest setting which is the highlight for us. Comfort and Eco mode provide entirely plush ride with almost nothing hitting the cabin and upsetting its occupants. In the corners you can feel the size, but the kerb weight is quite low and is felt less because aluminium has been used to make it feel and stay light at the same time. All of this also means body roll is well in check and it retains a bit of sportiness when the going gets twisty. Brakes were good in terms of pedal bite, power and progression.
2019 Land Rover Range Rover LWB Facelift Diesel India Review, Verdict
We already nicked named it 'the Church of library' because its silent, its massive and demands your attention. What else can describe this car, we are out sterotypes and adjectives for today. The Range Rover is always about been sheer luxury on four wheels, with four wheel drive and off-road capability while retaining long distance touring composure.
The SUV does it all, the original version set a new benchmark that the world followed but this facelift makes it modern and fresh while it was already doing well. Catching up with the times and providing all school luxury and on-offroad capability ask's for a price and this new 2019 Range Rover delivers and is worth it.
As tested – 3.0l Diesel LWB Vogue Rs 1.87 crore ex-showroom
Range Rover LWB Diesel India Review
Design

Interior

Space

Features

Quality

Performance

Dynamics

Practicality

Safety

Value