As always, Mercedes India continues to lead the charts be it winning the sales chart race to pleasing its prospective and current owners. Luxe Drive Live has reached new dimensions when it comes to offering car enthusiasts a bit luxury, great food to taste and ofcourse the smell of burning rubber. The Luxe Drive Live takes new dimension this time in Mumbai at the Raymond facility outside Mumbai, in Thane. The second largest district in the Mumbai area is home to some serious car loving enthusiast and luxury connoisseurs. We were privileged to be a a part of it. The event, now in its fifth year, gave current and potential owners a unique taste of the Mercedes-Benz lifestyle.
This included an exclusive opportunity to test drive an impressive range of Mercedes-Benz cars, enjoy live musical performances with MTV and the chance to sample gourmet cuisine courtesy celebrity chef Ranveer Brar.
The experience lined up together back to back gave you an perfect schedule what was to be achieved in the 3-4 hours you would spend. Reach, register for self drive or demo drive. Do a slalom test with the sleek and agile CLA sedan. Get directly into the mighty GLS for some really hardcore climbing challenges that range in the 35 degree incline/decline. Get in the GLC to experience its ride quality over four really tough broken roads situation.
Then head towards Mr. Signhanis hand built and Mumbai's only hardcore karting track to experience the LWB E-Class get you out of tricky and dangerous situations like nothing ever went wrong. Come out and smell the burning rubber and then head back to enjoying food that is specially made for you and sit back and relax as the music festival begins.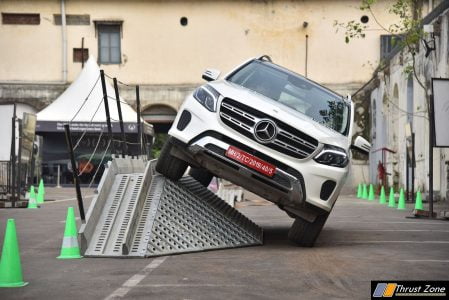 The three pillars of experience were:
Adrenaline:
Adrenaline is designed to give a holistic product and brand experience to our prospective customers. With this key principle, Luxe Drive Live 2019 enhances the drive experience by adding a more thrilling off-road track. To increase the drive experience and product exposure for all our SUVs, Mercedes-Benz also has a specially designed self-drive zone with extended drive duration.
Highlights
• Self-drive experience of new-generation Mercedes-Benz cars such as CLA and GLA
• Self-drive experience on a specially designed off-road track for GLA, GLC and GLE 250
• Demonstration of GLE 350 and GLS
• Pre-safe demonstration in the C-Class and E- Class
• Innovative car displays comprising a range of new product launches and brand shapers
Gourmet: Gourmet has been the most successful engagement pillar for Luxe Drive over the years, as it presents a perfect blend of luxury and lifestyle. Mercedes-Benz continues its association with celebrity chef Ranveer Brar who will travel to all the Luxe Drive Live event sand cook up a delectable spread of dishes. He will conduct an exclusive workshop on gourmet and food photography.Chef Brar will also introduce the industry-first LuxeDrive Culinary Academy to bring in more exclusivity to the gourmet pillar. Entry to the Academy is through participation in social media contests and the winner will get an exclusive hamper, while all other participants will receive certificates.
Music: Music is a high-attention grabber and is capable of enhancing brand reach across the country. Keeping this in mind, Mercedes-Benz created the extra 'Music' pillar at Luxe Drive Live to offer participants an electrifying and a memorable weekend. In an industry-first initiative, Mercedes-Benz India has associated with MTV for musical events that include a series of live musical gigs showcasing the works of reigning musicians as well as some of India's highly-talented artistes and bands.
On the occasion, Mercedes-Benz India also hosted a live demo of the recently launched 'Mercedes me' Connect app at Luxe Drive Live Mumbai for customers. It enables customers to connect with their vehicles from anywhere and at any time. The 'Mercedes me' app will offer over 25+ unique features. Some key features are Remote lock-unlock, Parked Vehicle Locator, Send destination 2 car, Remote retrieval of vehicle status, Valet Protect, Speed Alert, Tele-diagnostics, etc.