Enchanting –
Clean lines, and intimidating for a soft-roader
Superlative chassis, brakes, engine and gearbox
High on safety, comfort and features
Peace of mind with after sales and service packages
Unsatisfying –
Priced a bit higher
Cooled seats missing
The market sentiment for the Volkswagen group was always that they are late to every party. The lack and update of products all together meant VW group has a weak future in India. The 2.0 India project changed that dramatically and something we expected. The day emission and safety norms would reach to the European standard in India, VW group would flourish given ease of playing in the field now. The group did just that and at the right time too. It introduced the SUVW campaign which was a sign of many SUV's to come, which the Indian market loves. However, the MQB platform still has some flaws considering the Indian aspect such as height and length which are critical for mass appeal.
In all sizes, VW SUV's are ready for launch and two of them are here. The Tiguan AllSpace and T-Roc. Others are yet to come, but what set the base is the lovely Tiguan. My favourite SUV of the lot because it wasn't loud and it did everything an urban customer asked it to do which included handling off-road situation within the poor road infrastructure and wading through water.
The Tiguan in my social circle has gone through hell and stands rock solid even after a lot of beating, so that is some personal insight I am sharing with you, free of cost here. Tiguan AllSpace had me excited initially, but then I heard diesel won't come any time soon. However, official launch changed that fact after we heard it is getting some serious petrol tugging power under the bonnet apart from much more that VW has to offer over the normal Tiguan. What is the Tiguan AllSpace all about? Let's find out then!
Design
Volkswagen is famous for its clean lines and this SUV is no exception either. The width and length of the car along with clean lines, a captivating front end thanks to chrome bars and chunky headlamps, makes the SUV come in your face, but in a no intimidating way. The large bonnet makes this car look quintessential European. The height isn't that great and that is the first thing you notice but that is how VW does SUV which lends a lot more than butch look and that is practicality. Roof rails also help accentuate the butch look to a certain extent.
Only if VW could raise the height of its SUV, it could be acceptable in the Indian market and get the masses attention. However, the group says they want 5% market share that means that they are not into that idea already. For a soft-roader, this is more than enough height. The rear is our favourite though the way it looks compact but muscular thanks to its oval shape and F-shape illumination of the LED inside the chunky tail-lamps makes it look very unique and sophisticated SUV that it already is from all angles thanks to the subtle use of chrome and large 18-inch wheels.
Interior
Our brand new car with 300 kms on the odometer with a sanitized interior and brand new leather seats was extremely welcoming. Something you can look forward to when you buy this car which will be quite a sight. The quality was top notch with good quality plastics all around along with a soft-touch dashboard. The large panoramic sunroof, the huge green heat-insulated rear windows, Heat insulating windshield on both ends make the cabin very airy. Our white leather upholstery and a gloomy day of rain just went by and we didn't even realize our time is up with the SUV.
The minimal dashboard, the large touch screen is fantastic to use, it has all the gadgets you'd expect at this price. The touch, the speed, the tactile-ness made it great to deal with while driving and of course great when at standstill. Space in the back was good enough, but a bit more was expected in knee room. Shoulder, leg and headroom were in abundance despite a large panoramic sunroof. The third row of seats as always is best described as adequate for kids under 12.
Digital cockpit for the driver shows all the information you need from the car and there are three view options to choose from, which adjust the RPM and speedometer and show the information of navigation, driving data and much more in the middle. You can connect via Apple Car Play, Android Auto and Mirror Link. There is a voice command function which works well. There is the usual convenience kit such as keyless entry and go, start-stop button, heated mirrors, ambient lighting, parallel park assist, driving modes, electric tailgate with kick function. Cruise control, steering mounted control, heated seats, 360-degree parking sensors, reversing camera with guidelines, all LED Lights, automatic wipers and lights along with a fantastic sound system on offer.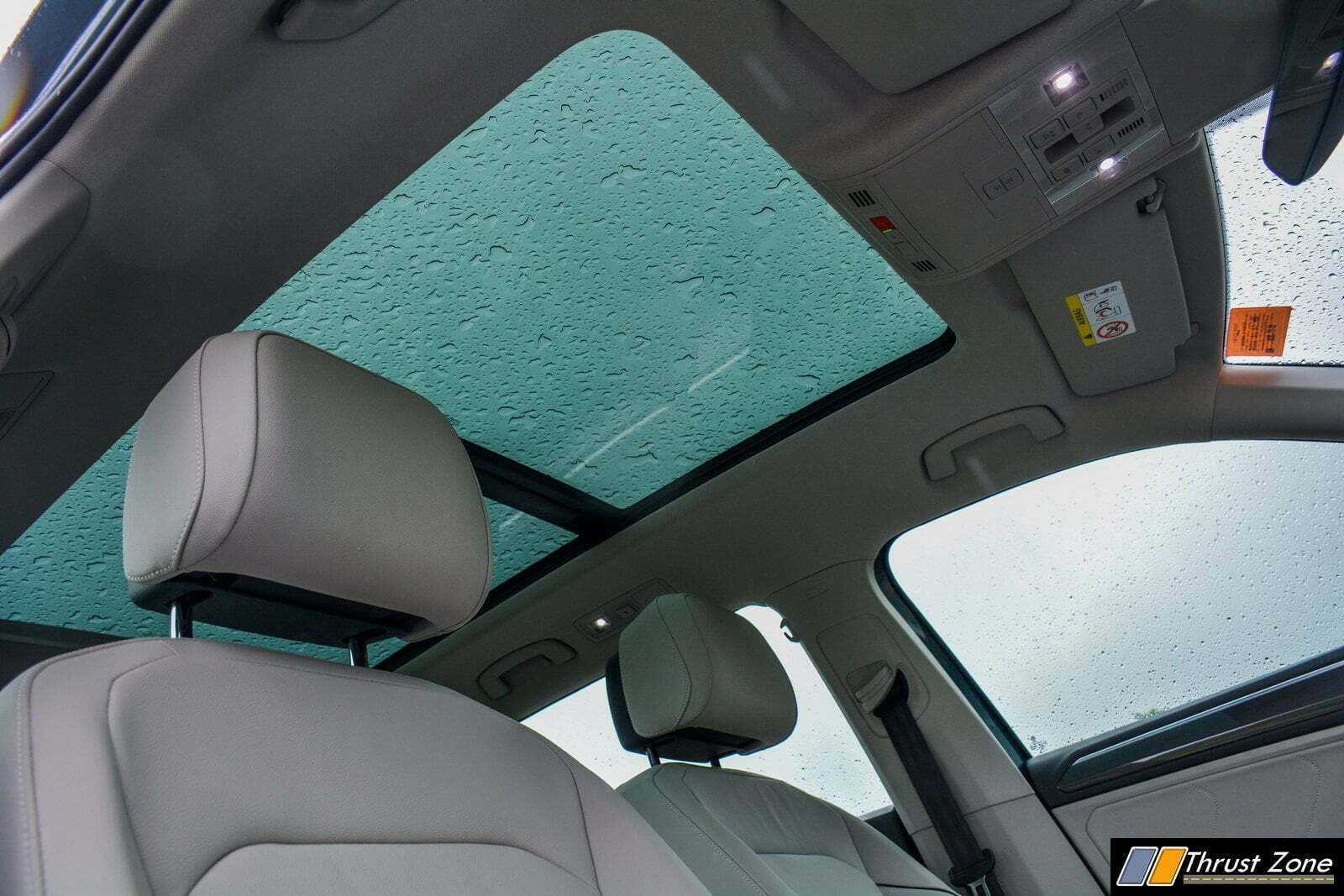 Safety kit includes 7 airbags, Electronic Stability Programme (ESP), Anti-lock braking system (ABS), SOS call button for emergency, lane assist, Electronic differential lock (EDL), Dynamic cornering lights, and Tyre Pressure Monitoring. The biggest feel-good factor was the thud from the heavy doors which was reassuring and a rarity in the Indian market.
Driving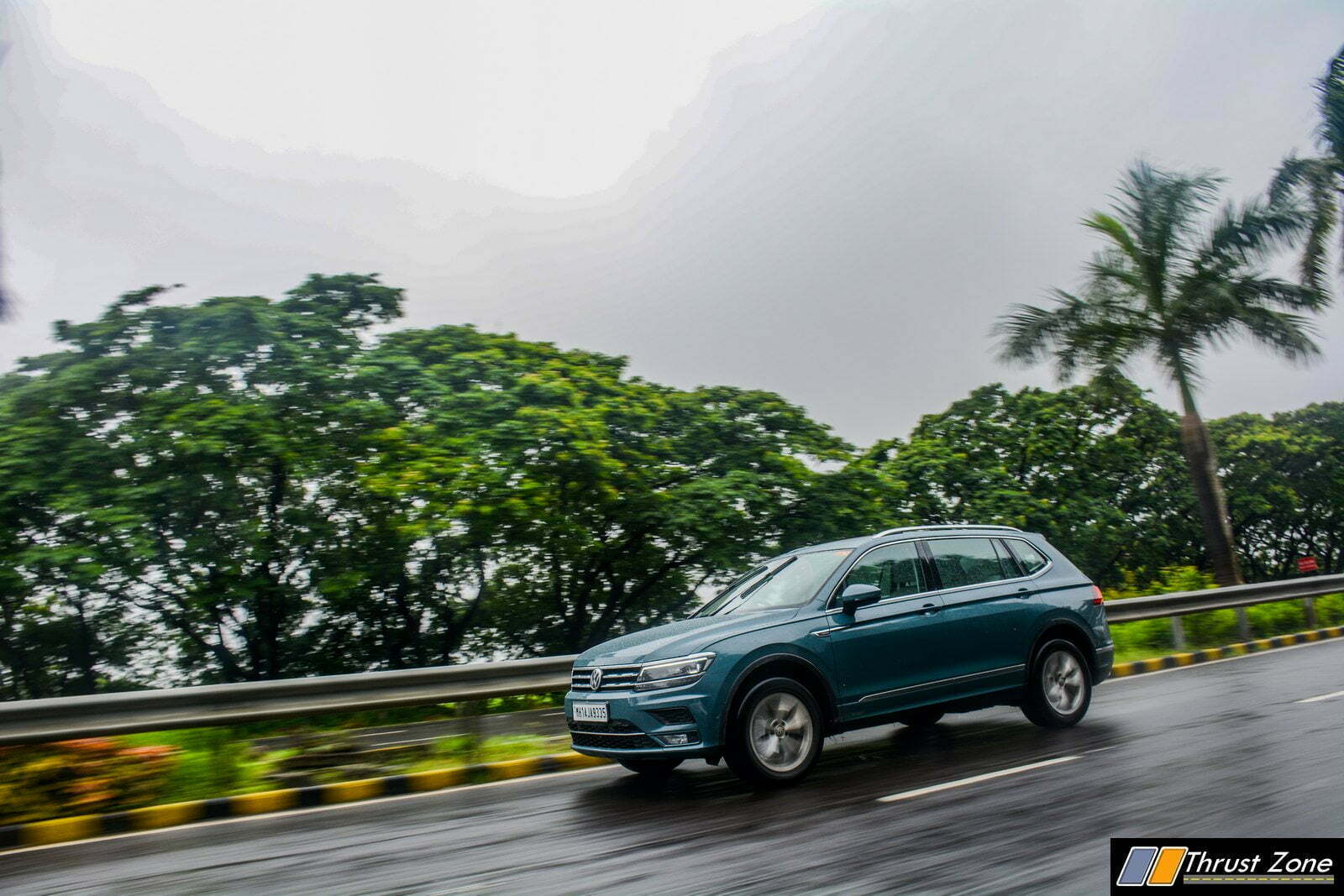 Powering the VW Tiguan ALLSpace as we know is the new 2.0 TSi motor which makes 190 PS of power and 320 Nm of torque. The motor is downright flexible with torque in the low and mid-range. With a fast-shifting 7-Speed DSG gearbox, it will be in a gear and accelerate when you go easy on it and downshift instantly when you floor the pedal. With a very healthy top-end power, which isn't easily and quickly accessed thanks to large size and kerb weight of the car of just under 1800 kg, but it can reach autobahn speeds easily and sustain them too and be in total comfort at the same time.
The motor loves to rev hard and fast and gearbox supports as it changes cogs quickly making the overall fun factor quite high. NVH levels are downright brilliant except for wind noise post 150 km/hr which is bearable. The best part is the lack of road noise from the car makes this a fantastic mile muncher at any given speed. The engine isn't the most fantastic sounding motor, but it is got enough thrill to keep us enthusiast smiling. Driving modes make a difference. You can drive it in Eco mode and expect it to deliver 10-11 km/l, which we got. In normal mode it can deliver 9 km/l and sport mode will take it down to 7 km/l but performance will be on the tip of your toe, no need to use the whole foot!
Ride and Handling
Dynamically, the SUV is very stable through fast and slow corners as there is very little body roll. Stability on the highway at very high speeds is excellent in true VW tradition. Ride quality can be a bit jittery, but that's how VW's ride in India. Play with the air pressure like VW customers, you will find your balance in a few weeks. The steering gives enough feedback and is very precise at all speeds.
The brakes are great with a good pedal feel. Tyres are good, but a softer compound swap will be great if you intend to keep it on the road. If you want it to take it off the beaten track, stick to the originals because we didn't get stuck in a very mushy field when we tried to have some off-road experience. The off-road mode and these tyres along with all-wheel drive kept us reassured all the time and not to forget, they got us out of a sticky situation.
2020 Volkswagen Tiguan AllSpace Review, Verdict
Overall, we think the Tiguan AllSpace is charming despite its cousin has been more appealing to most consumers. We like the subtle styling and the colours on offer make this our choice easily in this segment. Yes, the price is a bit high but then you get everything you would ever need to commute in a city which floods, has bad roads, noisy 24×7 and has great roads outside it to explore. The Tiguan AllSpace can conqueror all of that with five adults and two kids and still put a smile on the face of the driver. With reassuring peace of mind packages and lowered maintenance cost assurance, the Tiguan AllSpace is a worthy contender if you are looking for an upmarket SUV in this bracket.