The BMW X4. The coupe SUV from the manufacturer that aims to take on the likes of the Mercedes GLC Coupe and upcoming Audi Q4 is something we waited for a long time. BMW has an aggressive strategy of launching a lot of SUVs and other products to make sure it hits the right cord. This SUV is no different either. X4, based on the highly successful X6 format, is BMW's very important product in the entire portfolio.
Be it on the inside and outside, it has what it takes to impress a set of consumers. The smaller X6 has been doing rather well for the company already. After all, the BMW X4 is meant to be the most stylish SUV as it serves mid-level premium customers. Like always there is a lot to talk about any BMW. We find out what the BMW X4 30d xDrive MSport offers to a clientele that cements BMW in the higher-end of premium luxury space.
On the outside, the SUV has a stance of its own despite couple lineage runs in the family strongly. The height is low and the wheelbase is quite long which makes it like a coupe SUV but it with more restrain than the brash and original X6. The elements on the car make it stand out. The cladding, the very unique notchback design of the tailgate and a busy front-end make it look restrained yet shouting character and bespoke appeal. The build quality on the outside seems and sounds great and it scores high on crash tests like any other BMW. The large wheels, unique head and tail lamps with LED's unlike any other SUV from the portfolio make it stand out. The propionate grille always helps it stand out to gain a more subtle look while being a tad bit brute.
On the inside, the build and quality are good and so is the expansive feature list we have explained time and again in our launch reports. You get every feature possible in the SUV. Right from automatic lights and wipers to reversing cameras, front and rear parking sensors, and projector lamps, the SUV has a large panoramic sunroof, wireless apple car play and ambient lighting to speak of the top few features. The LCD screen in the instrument cluster area is welcome and host of feature including navigation and all fuel economy indicators.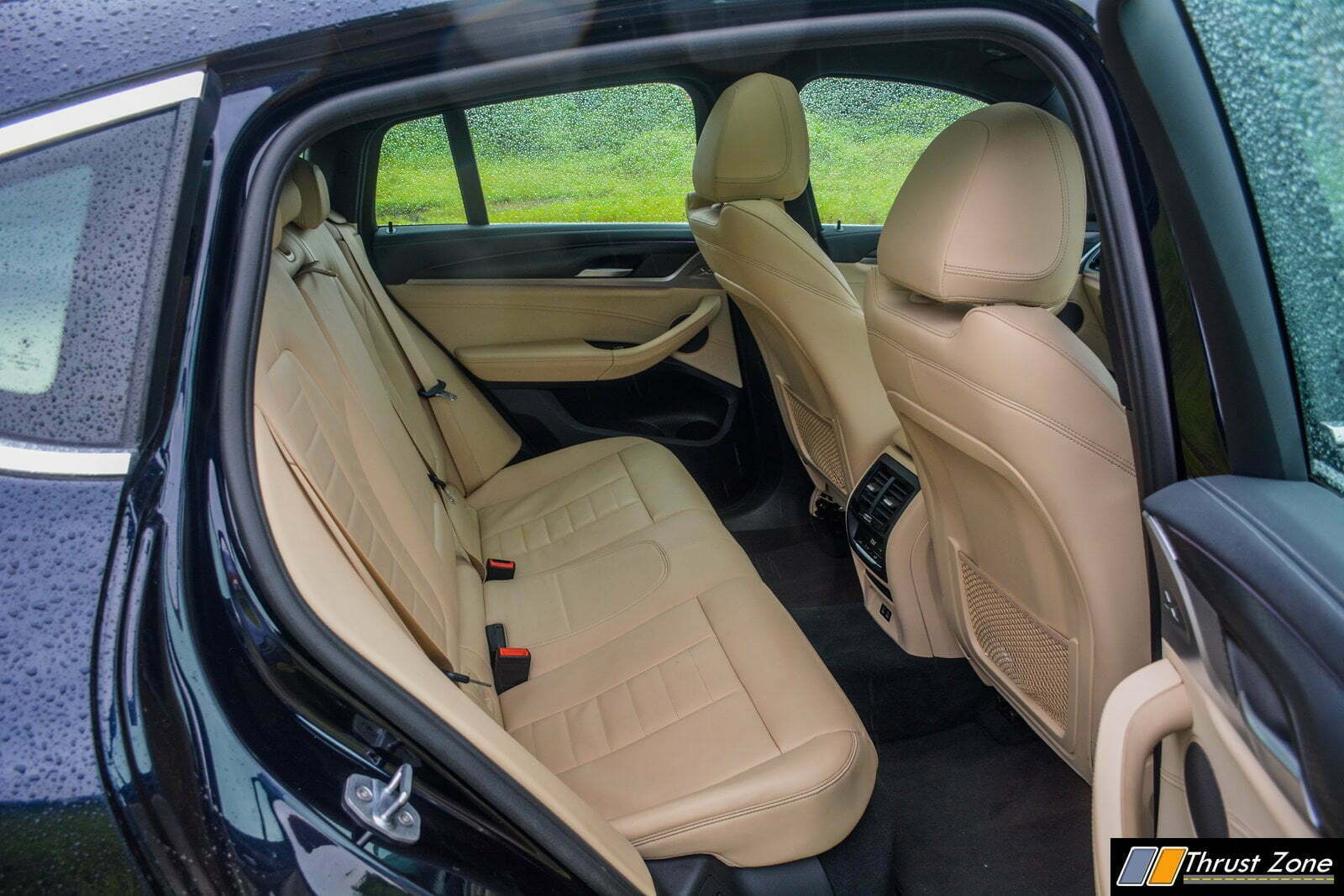 Space is sufficient with enough shoulder and knee room you expect, is here. Leg and headroom continue to be in good supply, but could have been better. The boot space is massive as the layout is accommodating. Road and wind noise inside the cabin is also well controlled despite some of it making it inside due to large wheels on offer. Like any other BMW, it is still a pleasant place to be. Safety kit continues to be high with electronic stability control and eight airbags, Hill Hold Assist, ABS and EBD, and more come as standard.
All BMW engines are smooth, free-revving, and low on NVH and the one on the X4 is no different. Be it in any part of the rev range. Low and mid-range are good on the diesel that makes a massive 262 PS and 620 Nm of torque going through the fantastic 8-speed automatic. The engine is even peaky in Comfort and Eco pro mode showing how flexible and powerful this engine is.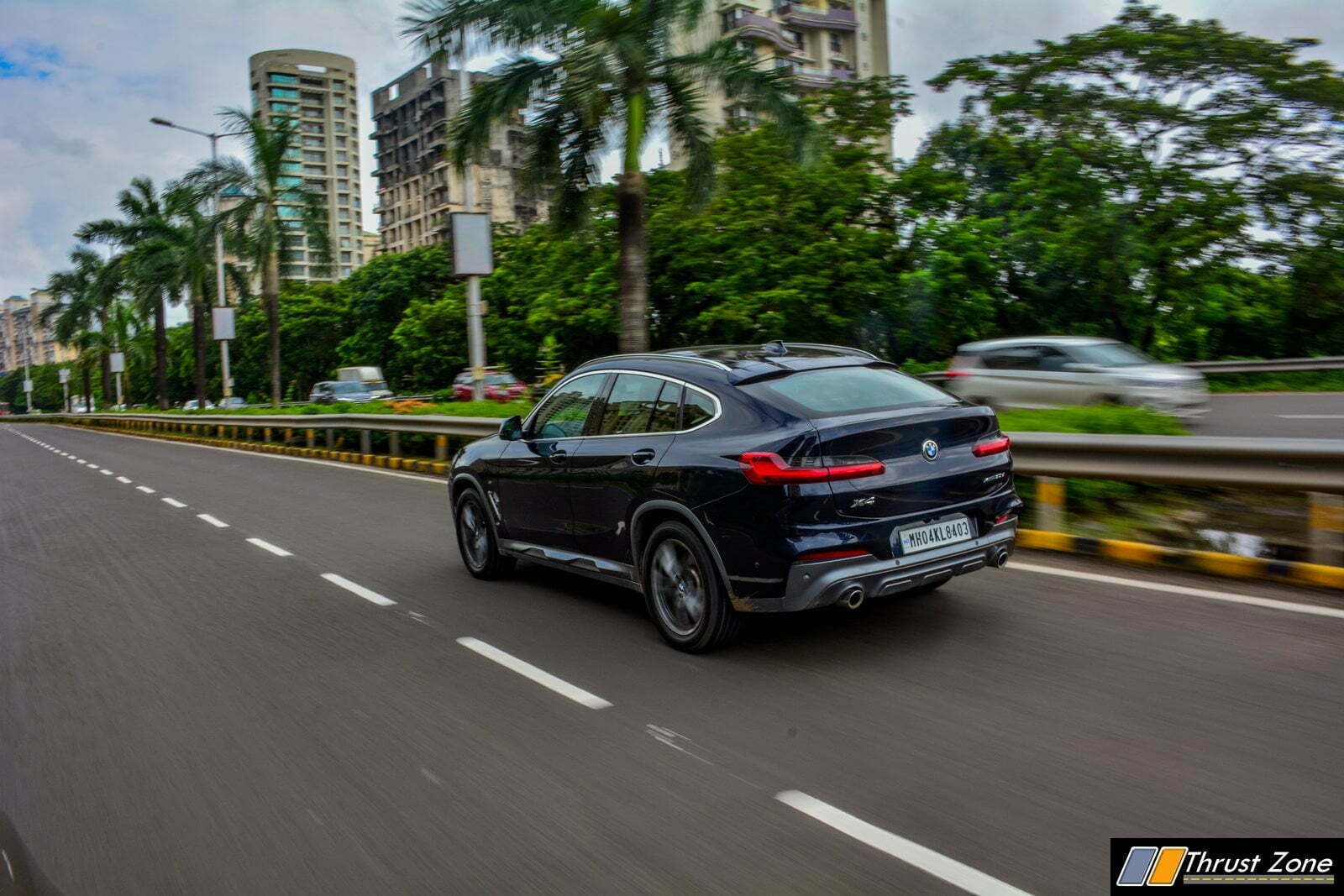 Top-end is good enough for a diesel engine and it cruises at legal speeds and higher than that, quite easily. This makes it good enough for city and highway duties and makes driving comfortable enough thanks to the precision in every driving mode. 8 km/l for the diesel in the city and 13 km/l on the highway is what we got in our Mumbai-Pune run. Like most BMW SUV's, the ride quality is good at all speeds most of the time, but it can feel punishing at very slow speeds. High-speed stability is spot on thanks to the ideal balance of underlying stiffness and compliance.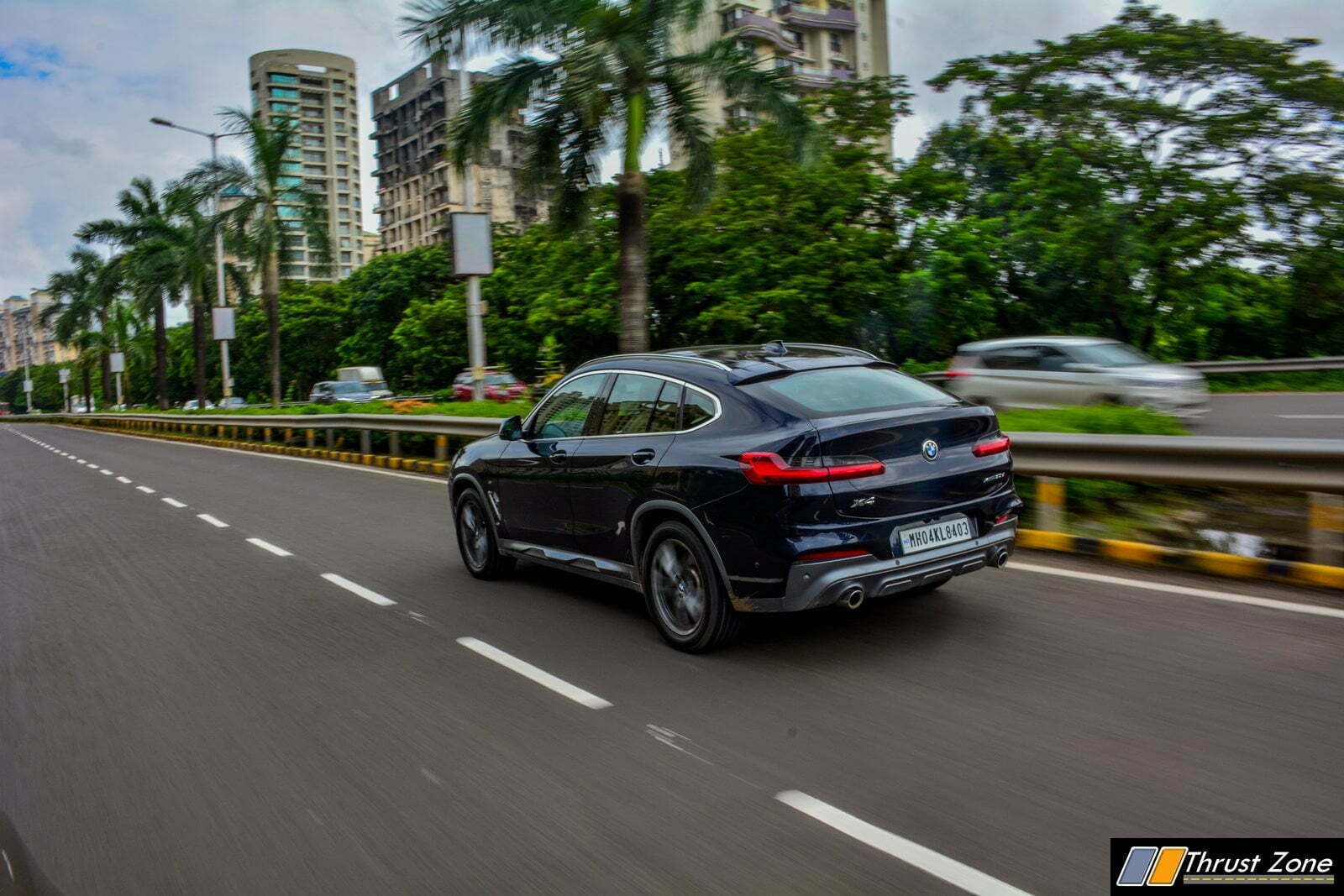 Body roll is well in check at all speeds and changing lanes at high speeds is a very confidence-inspiring input. Steering is light, precise, and has just about enough feedback on offer which makes the car fun and 100% confidence-inspiring to push harder despite the massive kerb weight and long wheelbase. All passengers in comfort most of the time Brakes are good with good pedal bite and more than enough stopping power. Overall, very easy to drive and quite fun to drive but this time, the rivals have caught up and BMW does not have complete dominance in this regard.
2021 BMW X4 India Review, Verdict
BMW has priced the X4 right with six-cylinder engine options only right now with two special variants named M Sportx being available only. Previously, 4-cylinder engines were offered but they are now limited to X3 only. All BMW cars are quite reliable, have warranty schemes that suit your needs, and have enough reach and quality when it comes to after-sales service too.
You now also have a petrol variant to choose from but the lack of AWD may matter to some but not all, that is quite certain. Overall, it is efficient, stylish, massive fun to drive with six-cylinder motors.
X4 xDrive30i M SportX: Rs. 67,50,000
X4 xDrive30d M SportX: Rs. 71,50,000