Kawasaki worldwide is known for their reliability, peace of mind, and exceptional practicality. The Ninja 1000 SX is exactly that motorcycle over the years and with continuous update, it remains the same. However, that also means it has some things that Kawasaki isn't fixing to make sure the success mantra continues as people find beauty in flaws. However, we have to talk about both. Kawasaki has again updated with a host of features, design updates and subtle changes everywhere to make it special. How good is it this time? The first time behind the 1043cc BS6 motor tells us a lot. Let us find out!
When it comes to design, the headlamp has an angular design with twin LED DRL and LED lights that makes it stand apart from the crowd. The illumination and spread of the headlight are impressive in pitch-black darkness with the high beam on. The tank is big and muscular and dominates the entire motorcycle's design. The rear tail lamp is huge and is LED with indicators being LED as well.
The wheels are multi-spoke units and are black in color making it look befitting to the over design. The side panel looks sleek and has a big vent on it. The rear subframe is huge and so are the seats on it. The grab handle is basic, large, and does its job. The exhaust also looks befitting, extra large, and mounted upwards. Excuse the humungous barbeque saree guard that should be removed on the delivery itself. Overall, a motorcycle that looks good, is proportionate enough, and grabs attention thanks to its size and well-done elements.
The instrument cluster is a digital layout below it showing a fuel gauge, trip meter, eco-driving manner, service indicators, and speedo meter housing all the telltale lights. The tachometer is also digital and slightly small, making it hard to read at times. However, it blinks in orange as you get closer to the redline. This is the same meter, sadly, as the Versys 650 which makes it not so ideal on an expensive motorcycle. All though, it is still a big step up from its previous generation.
The ergonomics are comfortable with the seat positioning being upright and the tank can be grabbed perfectly well for the sizes of riders. 835mm seat height suits anyone above 5'7. The handlebar is not as wide as other superbikes. It is also stretched ahead a bit because the seat and tank make it a bit of a reach. All this does make it easier to live with spraining your upper back. Footpegs are rear set which helps grab the tank rather well. Seat comfort for rider and pillion is above average. Mumbai-Pune runs during our road test did not result in derrière aching as we clocked the 300 km run and did the Mumbai traffic run of almost 100 km. The switchgear is new and the LHS side controls the cluster and the right side button controls, the ignition and kills switch together. Mirrors offer a good view of what is behind but could have been bigger for guys who are on the wider side.
Powering the motorcycle is a 1043cc engine making 142 PS and 111 Nm of torque from a 4-valve, DOHC, liquid-cooled four-cylinder engine. The motor is mated to a 6-speed smooth-shifting gearbox that operates with a fairly light clutch action. The refinement is spot as NVH levels are well in check. You can rev it all the way up and there are negligible vibrations on the handlebar, seats, and footpegs. Low and mid-range torque is where it is good and at the top end is where it truly excels. The cruising speed is around 140-160 km/hr, if you can find the road. The Ninja 100 SX does that in a calm, smooth and effortless manner before making it easy to live with and control-able to newbies who are entering the liter-class segment for the first time from their 400/600cc motorcycles. The top speed is 250 km/hr on the speedo and 0-100 km/hr takes under 3.5 seconds.
The soundtrack, be it intake or exhaust note are typical Kawasaki of the past with slightly lower decibels. Throttle response is precise and power delivery is linear as always. Fueling is sorted throughout the rev range and makes it easy to ride in the city at low speeds. We were getting 20 km/l in the city and 22 km/l on the highway. Overall, we are impressed with the engine and all its parameters making it an all-rounder. We tried premium fuel and normal fuel and found a substance in the way the throttle and intake note behaved and economy jumped by 1.5 km/l over the aforementioned numbers as well. 19-litre fuel tank only delivers 320 of range if you open the throttle all the time. That can be extended to 400 if you keep it under 140 km/hr.
Dynamically, the front rake and trail are sharper making it easy to chuck into a corner. Composure while cornering is great thanks to a solid chassis setup thanks to a large wheelbase on offer. The suspension is exceptionally compliant. It is apt on our Indian roads. Despite that, it has excellent cornering and highway stability. The front forks are adjustable and so is the rear suspension. Feedback from the front is good enough from the Showa suspension. The rear suspension comes with an adjustable knob which makes life easier to adjust at a moment's notice. High-speed stability is good too with a light or heavy rider.
120-section tires at the front and 190-section are on offer and just like other Kawasaki's they could be better and grippier. We highly recommend premium tires on the Ninja 1000SX. While braking, there was a good bite at the lever and solid performance from twin 300mm discs at the front and 250mm at the back. Those numbers are not segment best, but they do a job on a tourer! Ground clearance at 135mm is a bit low. Speed breakers should be taken at speed while standing up to avoid contact.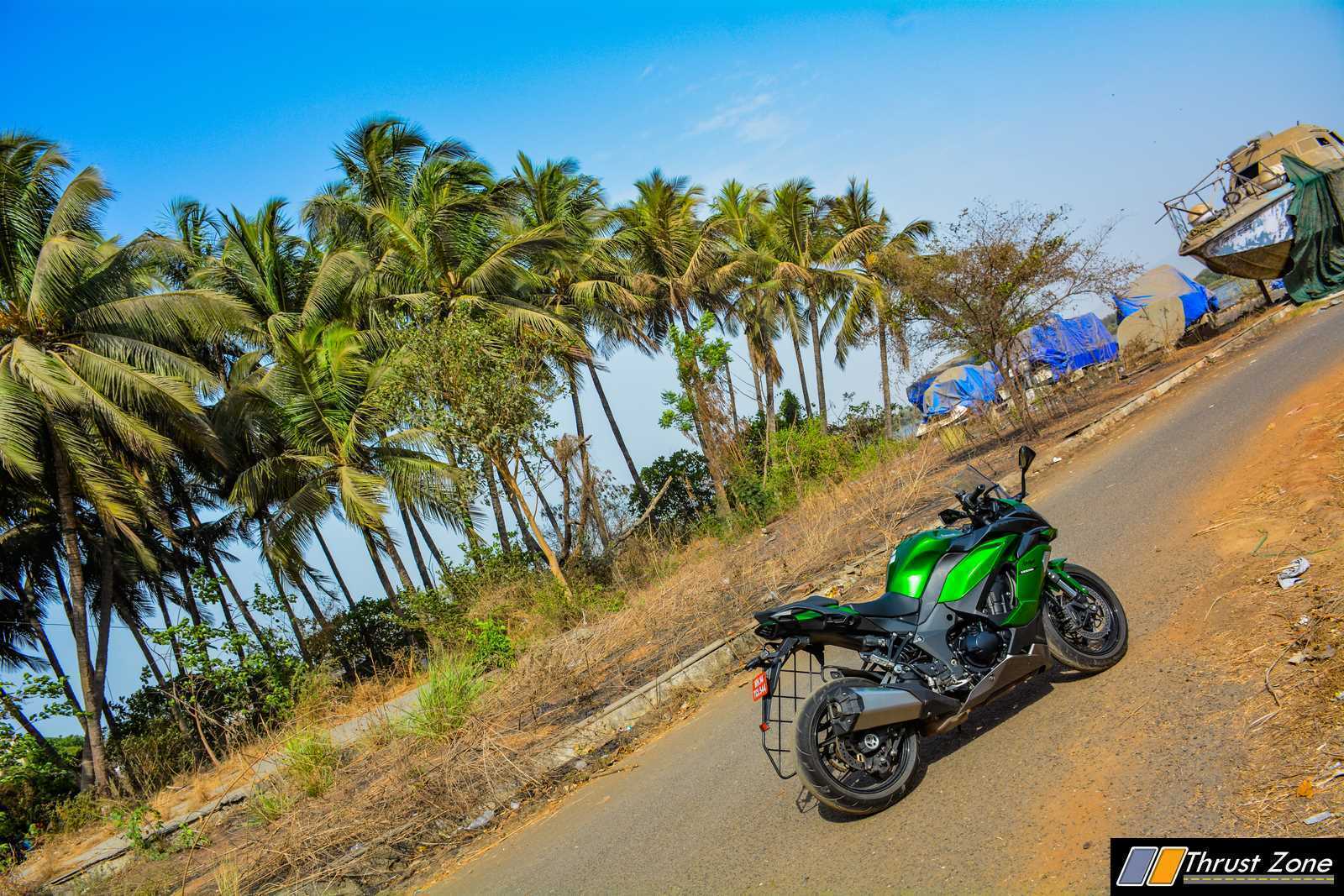 Maneuvering at low speeds requires less effort and including at parking speeds. Overall, a motorcycle that can be a bit of an issue to live with on a daily basis considering its heavy 238 kg curb weight but the way the chassis has been tuned to be comfortable, sporty, and be easy on the rider, it should make things easier as time passes by. We were getting the hang of it on day 5'th before we had to give it back!
2022 Kawasaki Ninja 1000 SX Review, Verdict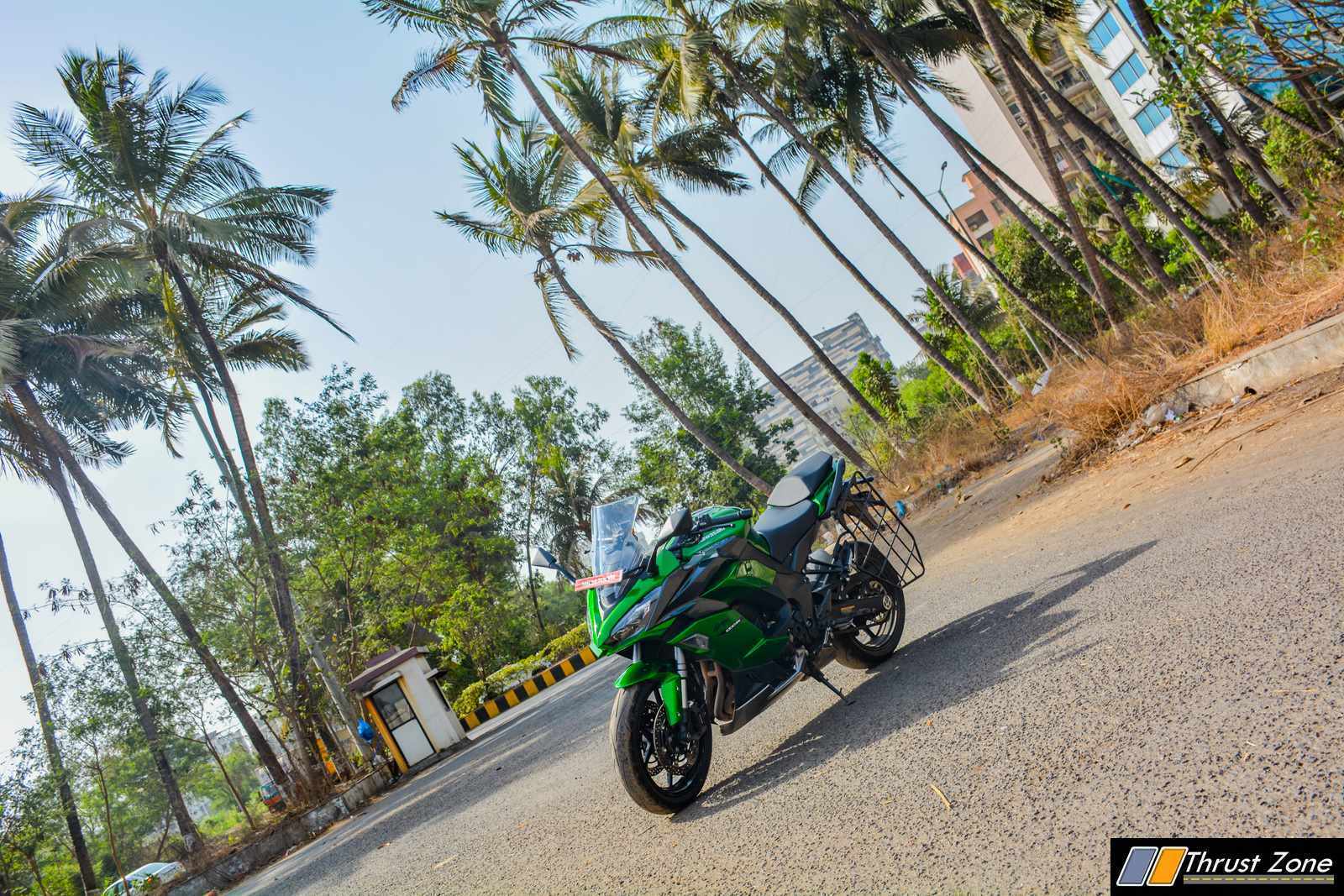 Come to think of it. Our third time behind the handlebars of the Ninja 1000SX tells us that it does not need a new motor or styling. It has all that well in place. Kawasaki needs to work on the chassis to make it lighter, fun and stable at the same time. Lighter wheels and suspension would be ideal too. However, this success mantra, which I said in the beginning helps Kawasaki to keep the prices in check.
Kawasaki Ninja 1000 SX is the best seller in this category by a long shot against its Japanese rivals and ahead of the Europeans as well. At Rs 11.40 lakhs, it makes a lot of sense. A motorcycle that can do road based touring, is comfortable, does all of it rather well, and does not get heavier on the pocket but probably on your wrists. Service continues to be similar in terms of costs and quality, which makes the Ninja 1000 SX a serious contender in this segment despite it now showing its age.
2022 Kawasaki Ninja 1000 SX Review, Road Test
Design

Performance

Dynamics

Practicality

Comfort

Features

Value

Safety