AN SUV that needs an introduction, but something we haven't driven in a long time needs to be introduced. The Legender came last year and we have been waiting to get our hands on it ever since. The SUV is based on the Fortuner and we reviewed that years ago, so not many changes to tell you about. However, getting the keys handed over a few days with an SUV like this also delights us because we see so many on the road, and like we say here, always, we are fortunate enough to get our hands on machines like this. Why? For us to tell you how is it like, the enthusiast such as us and you. What does this highly popular SUV be like to drive? Reviews have never been kind to Fortuner which in turn should not help it clock sales, but it still does. Reason? Let us find out!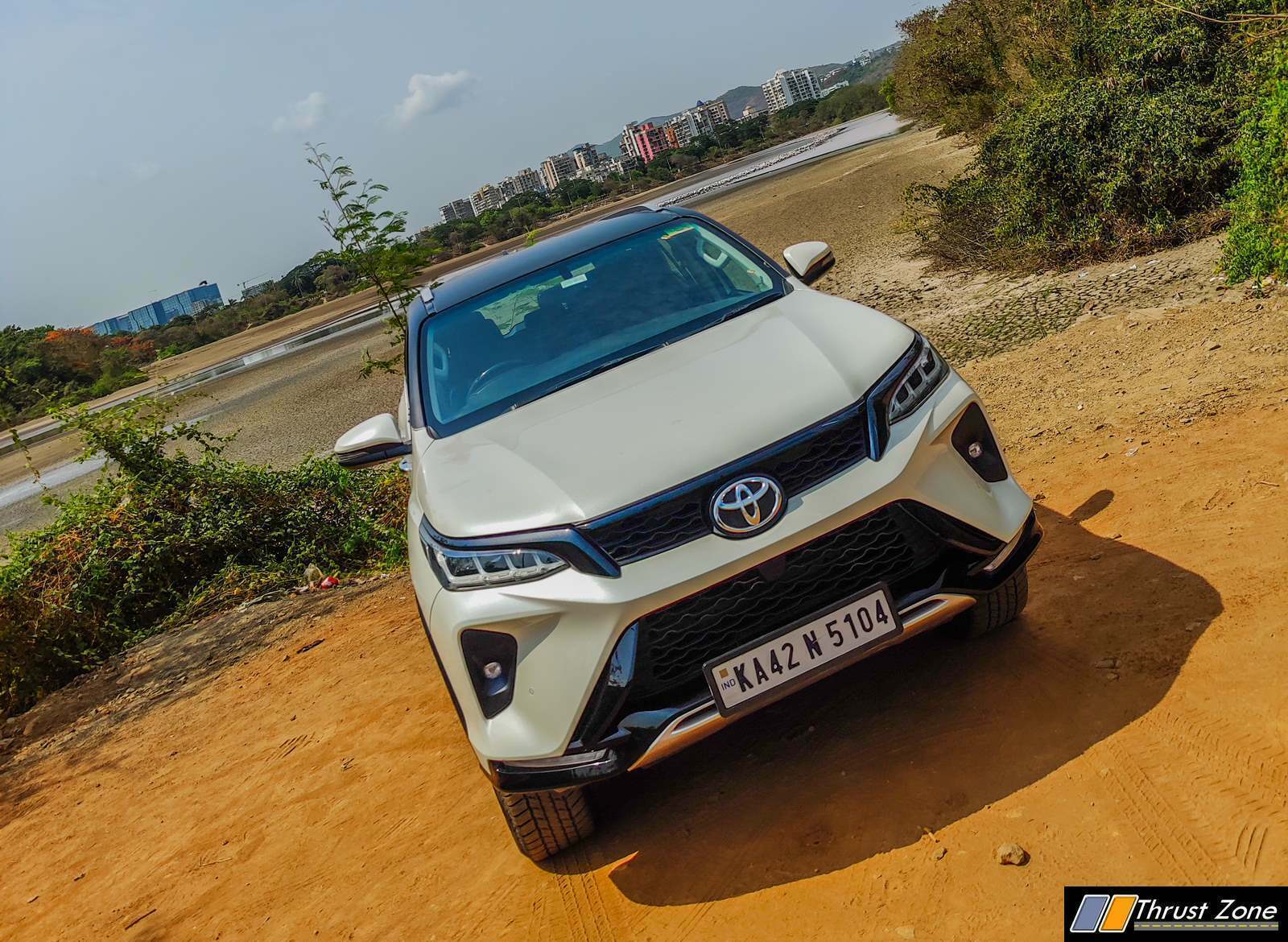 On the outside, the flush and very long tail lamps are a new and fresh design aspect of the Legender. Given the fact they have dynamic turn indicators, it makes it even cooler to look at. The new angular three-part LED DRL at the front with LED lights, projector and fog lamps do their job and provide a fresh look over the normal Fortuner. The front turn indicators mount is extremely low which could be subject to regular wear and tear.
The simple, large and bold grille makes the car look like one of the best Fortuner iterations to date. The imposing stance thanks to a large wheelbase, segment-best height and width make sure that it delivers what the customer truly looks for. Especially, in this pearl white and superb-looking 18-inch wheel scheme, it has a road presence and command that truly belongs to all types of people.
On the inside, the build and quality are good and so is the expansive feature list on offer. Apart from the lack of a sunroof, Toyota has added a lot to the interior. The interior looks dated, especially the upper half of the dashboard resonates with the outgoing design. However, soft-touch material on the left side and top of the instrument cluster makes things a bit more luxurious. The steering wheel looks good, but has come of age. You get features such as automatic lights and wipers to reversing cameras, front and rear parking sensors, cruise control, keyless entry, start-stop button, wireless charger, ambient lighting, and ventilated seats. The SUV continues to be void of Wireless Apple Car Play and Android Auto but has a wired one.
The old-school screen which is downright simple and easy to use makes things easier for its target audience but is not modern enough. The sound system is good enough for an SUV of this price but could have been better. Electric and leather-equipped seats with adjustable seat belts are on offer. Leather quality also could have been better at this price point. Connected Car Technology (Geo-Fencing, Realtime Vehicle tracking, Walk to car & many more)
Space is generous with enough shoulder and knee room you expect, is here. Leg and headroom continue to be in good supply and it can seat three at the back in relative comfort. A car that can seat your family in comfort with this performance is already sounding like a bargain! The boot space is good enough at 500 liters and so is the overall practicality of the interior. Road and wind noise inside the cabin is good, not great. The safety kit continues to be high with electronic stability control and seven airbags, Hill Hold Assist, ABS and EBD, Active Brake Assist, and more.
Toyota engines are smooth, free-revving, and slightly high on NVH and the one on the Legender is the same. BS6 Toyota engines have seen a reduction by almost 50% in their decibel levels inside the cabin and Legender continues with that. There are drive modes on offer. Eco-mode feels sluggish and the normal and sport mode makes it come alive. The 2.8l motor has 204 PS and 500 Nm of torque. Low and mid-range are good on the motor and are almost instantaneous. Top-end is great as always the engine can cruise at legal speeds and higher than that, quite easily. This makes it good enough for city and highway duties and makes driving comfortable.
Power is going through an almost quick-shifting, smooth, and seamless 6-speed automatic that has paddle shifters that work well but is not really required. With four-wheel drive on offer, losing traction is not an option. Although our test ride car was a 4×2 version. We saw 7 km/l in the city and 12 km/l on the highway. The tank range is quite high too delivering almost 600 km in one 80-litre tank if you keep the right foot in check and use the ECO mode.
The ride quality is quite stiff for our roads. This is clearly the best setup to keep body roll well in check. It isn't outrightly uncomfortable. There is compliance which makes it bearable. The ground clearance is not a problem with six people on board. The steering feedback is good, could have been better, the Fortuner Legender is good to drive to a limit before electronics step in to save you as the limit is nowhere near a monocoque-equipped SUV.
High-speed stability is spot on thanks to the ideal balance of underlying stiffness and that tiny bit of compliance. The brakes were good too with great pedal bite and a lot of performance on offer. A good amount of body roll makes its presence felt while changing lanes at any speeds, but it feels confident while doing so. Overall, an SUV requires some effort to drive but you can get used to it pretty easily.
2022 Toyota Fortuner Legender Review, Verdict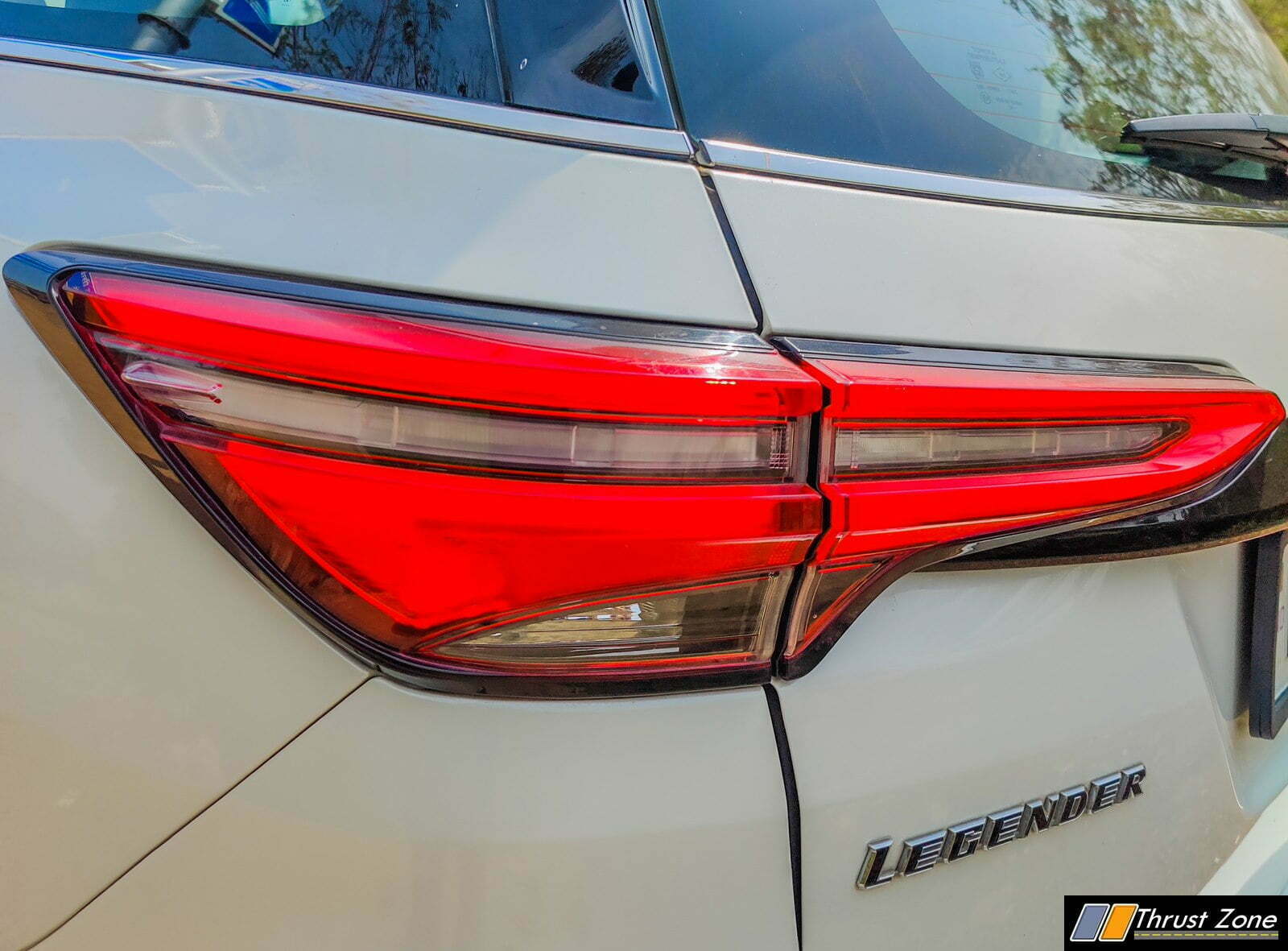 Again, as you can see our point being clear, The Legender does not really shine in the way it delivers everything. However, it is the realibility, the faultess powertrain, the strong body on frame chassis, the suspension that feels like us it can take it all. The commanding driving and seating position for all inside the cabin along with the promise of Toyota's cheap and cheerful service, makes the Legender an SUV that is a default in its class. Other SUVs are better, but it is the Legender with the Toyota badge, which means peace of mind in India and is trusted by millions around the world helps people cut a check of Rs 50 lakhs without any hestitation.
2022 Toyota Fortuner Legender Review, Road Test
Design

Interior

Features

Space

Value

Safety

Performance

Dynamics

Practicality