The most waited Jag which is also referred as the Baby Jag, has entered a segment which is growing very rapidly worldwide. Yes you got us right we are discussing here about the Jaguar XE. It was launched back in 2016 at the Auto Expo which was held in the nation's capital and it retails at a price tag starting from Rs 39.09 lakh (Ex-Showroom). With this, it makes the XE the most affordable car from Jaguar's stable that you can get your hand on and hence we have also noted down different plus points of the same.
Styling and Aesthetics
The styling on the Jaguar XE is top notch and it is head turner. If we have a look all round this sedan, we get to know that the XE gets many hints from the XF and the XJ from Jaguar's stable. Well this is a deal breaker and a very positive aspect for the XE as both the XF and the XJ do get some premium styling. Upfront, the bonnet gets muscular lines along with Jaguar's signature horseshoe front grille. Also we move to the side profile the sloping roofline gives this sedan a GT feel and finish. Although the XE looks like the perfect family car it does get many sporty touches to it.
Luxury and Comfort:
Just like its elder siblings such as the bigger sedans, XF and XJ, the XE is also rooms of spectacular luxury. Along with luxury, the XE also gets a strong functionality which helps it cater the needs of the different automotive markets world wide. The XE comes equipped with dual zone climate control along with dual rear AC vents for utmost comfort. And for those long highway runs, the XE does come handy with Cruise Control. The seats get soft leather which provides good support to the passengers and does make those long drives very tiring.
Features and Equipment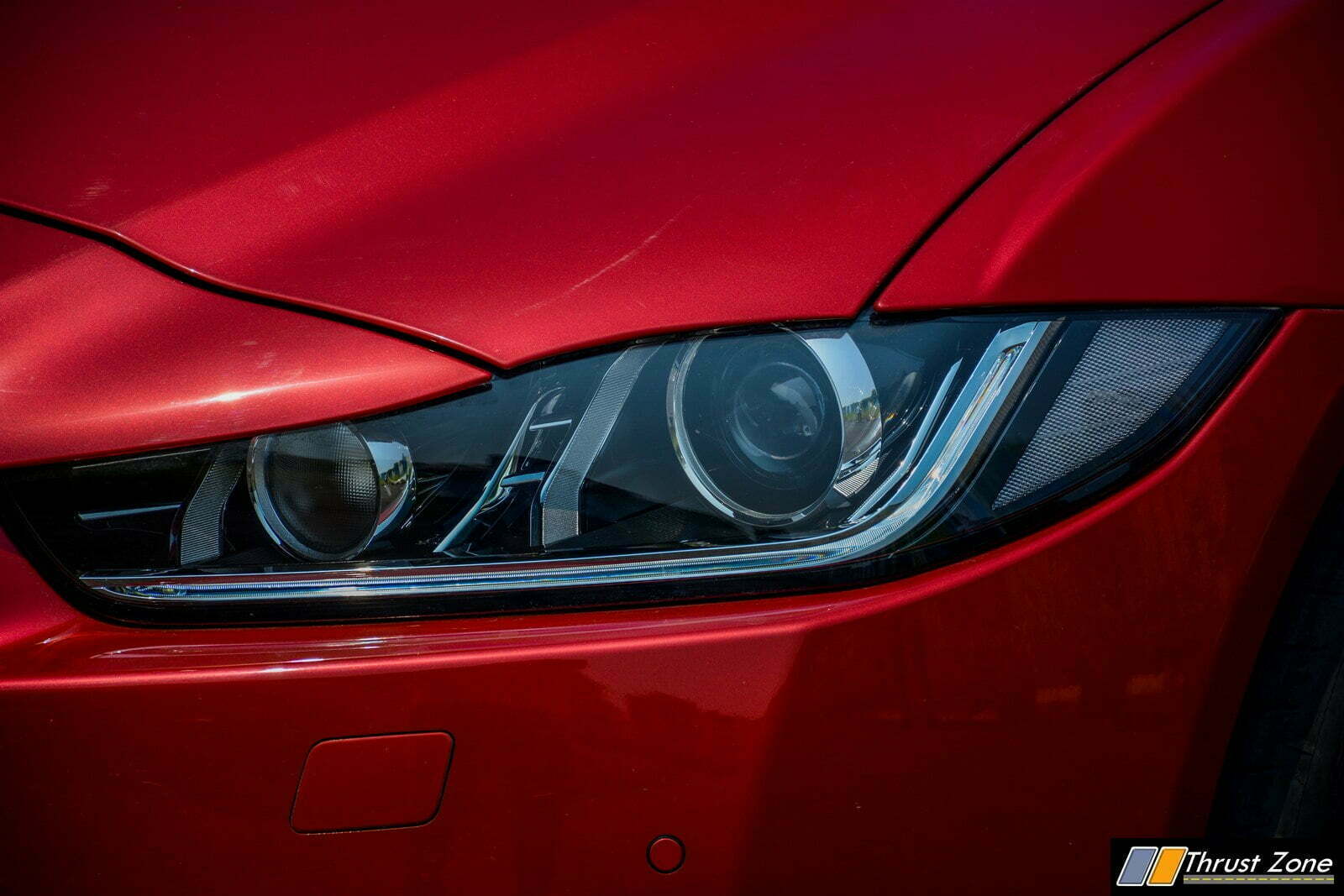 The XE is offered with a 'handshake' gear knob which rises up from the lower centre console. This is enough to indicate that Jaguar has equipped the XE with futuristic features. Inn addition to this, Jaguar has also introduced something which is known as the InControl app feature, that helps to connect the car with the user's smartphone and it allows them to perform various functions. Upfront on the dashboard it gets a very cools heads up display unit and it shows various crucial driving information without the driver taking off their eyes off the road. Topping off the list os the Meridian audio package and it provides a very enjoyable listening experience.
PowerTrain:
Globally, Jaguar offers the XE with three different engine options to choose from and these engine options are also then sub divided into five engine specifications. The most practical power house is a 2.0 litre diesel unit which comes matted with an eight speed automatic gearbox and it is available in two power output iterations- 160 bhp and 177 bhp.
If you're out there looking for a sports car like performance options, well Jaguar has that in option too, the XE S model is powered with a 3.0 litre V6 motor which also powers Jaguar F-type sports cars. Something we been asking Jaguar India to bring soon! In addition to this, Jaguar also has an engine option for people who prefer a balance of both performance and efficiency, it is the 2.0 litre petrol mill which also comes in two power options- 197 bhp and 236 bhp.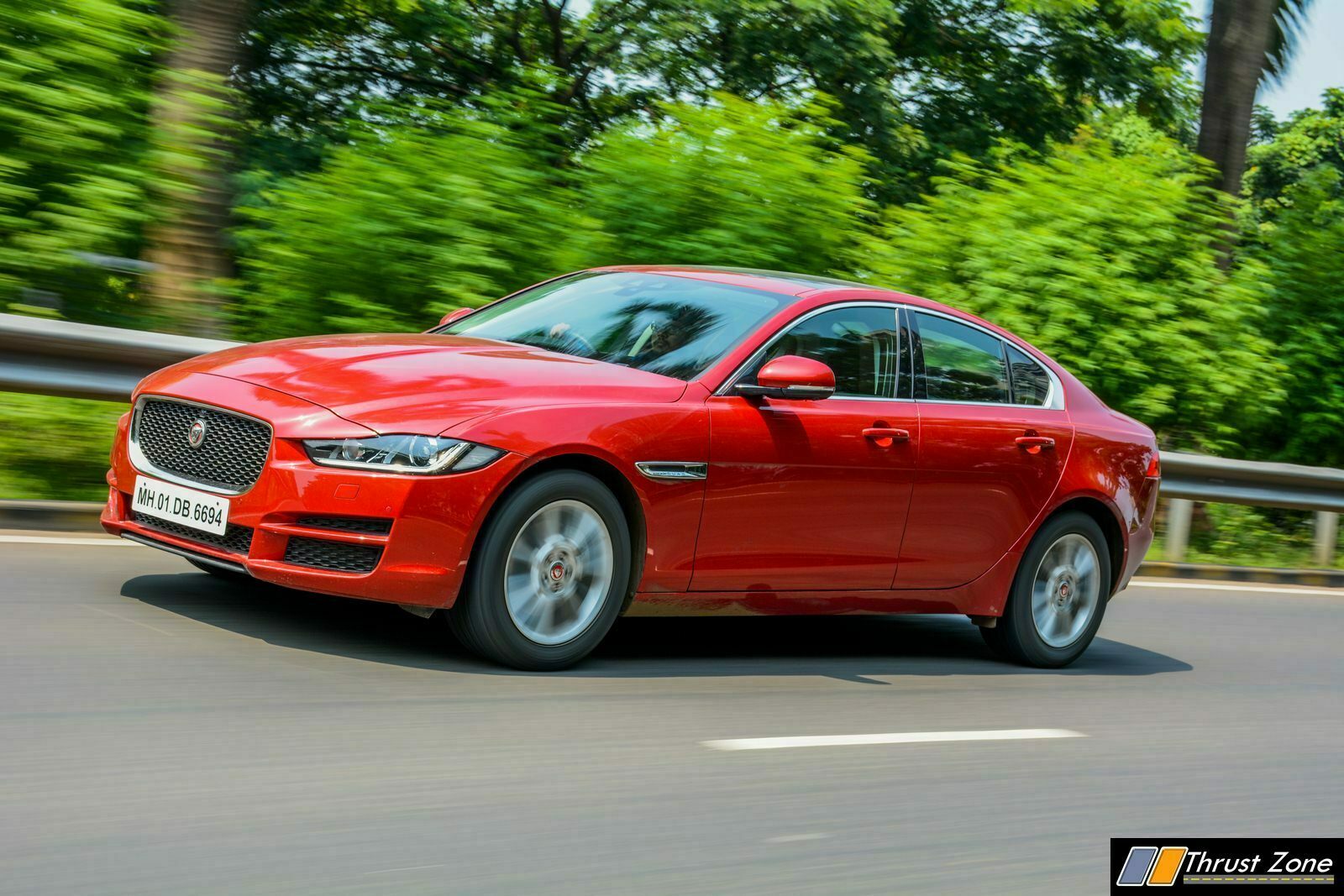 Performance:
This is an added advantage for this Jag, and it also very surprising for the car of its league. The four cylinder engine options are matted with an eight speed automatic gearbox and it also comes with an manual paddle shift unit which is quick in response. In terms of performance figures the Jaguar XE sprints from 0 to 100kmph in 5.1 seconds and it is electronically-limited upto a top speed of 250kmph.
Branding:
Even though the XE is the most affordable car to roll out of Jaguar's stable, this sedan does justice to the brand with styling comfort and powerful engines. We all know, Jaguar as an elegant brand that has built magnificent cars and to cover all this into a light price tag, must have been a challenging task. However, the XE still manages to overcome this aspect and competes magnificently in the Indian automotive market. Let's not forget a dynamic ride thanks to best in class suspension setup for the world and surprisingly Indian roads.
Competitors:
As we mentioned earlier that the XE is a product which competes in the most competitive segment worldwide. It locks its horns with the Mercedes Benz C-Class, Audi A4, Volvo S60 and the BMW 3 Series. Now that the Mercedes Benz has launched a new model for its C-Class, the competition has also become more intense. On the other hand, the Jaguar XE has better looks, styling, design and performance which are its strength in this competition. Although the interior space and the after sales network isn't much strong in comparison with its rivals, the XE is still very promising and a very fun drive sedan.
Editors Note: Jaguar did give us a chance of sampling the car time and again and we think it has what it takes to put a smile on the enthusiast face, the people who look at this car just for the opulence that the car offers in sheer aesthetics combined with bold lines and powerful front fascia and let's not forget the proportions are of a sedan which is incredible lineage of sports car and iconic sedans built into one.