Maruti Brezza Crash Test Results in Four Stars along with Tata Nexon. After the Kwid it's the Renault that scored zero stars in India
2018 Global New Car Assessment Programme (GNCAP) announced crash test results for Three Indian cars including Maruti Vitara Brezza, TATA Nexon and Renault's' Lodgy. The Maruti's SUV Vitara Brezza and TATA's SUV Nexon both made in India scored an impressive Four Star rating in the latest crash tests.
In the adult occupant protection category both Maruti's Vitara Brezza and Tata's Nexon scored a four-star rating while in the child occupant protection rating Brezza scored Two stars while Nexon scored one point higher and got Three stars. The overall body shell rating of both the SUV's have been rated as stable. A rigid body is one of the key aspects of the safety of the car as it absorbs the initial impact.
The Vitara Brezza a Tata Nexon went through a frontal offset crash test conducted at a speed of 64km/h. The Global NCAP stated that the head and neck protection for the driver and passenger is good while the chest protection is adequate. Overall, both the vehicles performed really well in the crash tests. Both were equipped with Two airbags each.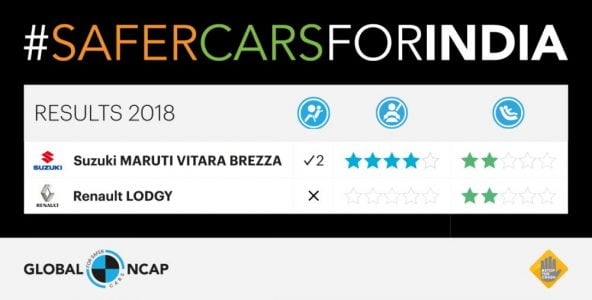 The Tata Nexon offred better child protection than Maruti's Brezza. Both are equipped with standard safety features such as driver and passenger airbag, seatbelt pre-tensioners and ABS (Anti-Lock Braking System). All the safety features played a vital role in scoring an impressive four-star rating and the body structure is also rigid and stable.
The Renault's Lodgy which was crash tested without airbags got zero star rating in the adult protection crash test but surprisingly Two stars rating in Child Protection. Global NCAP is in India to make sure there are new rules applied for car crash testing. Among many other features such as reverse parking sensors, ABS, EBD, traction control, now, blind spot monitoring and autonomous braking are going to be standard.